The Biñan City Youth and Sports Development Office (YASDO) celebrated the Annual International Youth Day and Linggo ng Kabataan 2022 with the theme "Intergenerational Solidarity: Creating a World for all Ages". In line with this celebration, YASDO conducted a Youth Entrepreneurship and Cooperative Seminar entitled "Usapang KKK: Kabataan, Kabuhayan at Kooperatiba", last August 19, 2022 at the 2nd Floor, People's Center, City of Biñan, Laguna.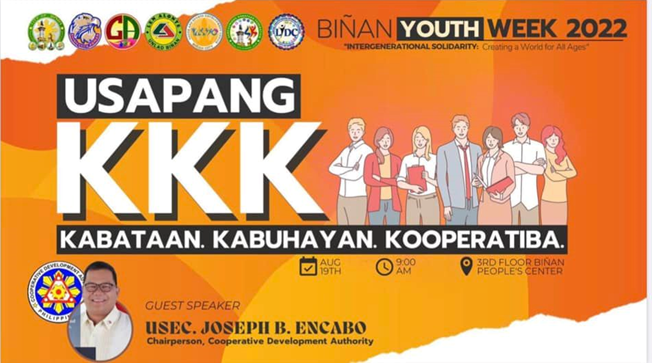 Usec. Joseph B. Encabo, the Chairperson of the Cooperative Development Authority, was invited as Guest Speaker on the said event. Usec. Encabo commended the youth, whom he directed as the future leaders and cooperators of the society.  He praised the youth for being resilient, strong and passionate in all their endeavors despite all the challenges they are facing. He believed that the cooperative movement is in need of the innovative and dedicated minds and talents of this generation, serving with passion and compassion.
He highlighted the important benefits that the cooperative movement offers to the young people if they decide to join, such as: (a) eliminates unemployment, (b) trains them to be good future leaders and business people, (c) helps them to become good citizens, (d) stops them from doing elicit and unwanted activities, (e) develops their characters and personalities, and (f) posters camaraderie among themselves. Usec. Encabo concluded his speech with a challenge from a quote from Dr. Martin Luther, Jr. which states "A genuine leader is not a searcher for consensus but a molder of consensus."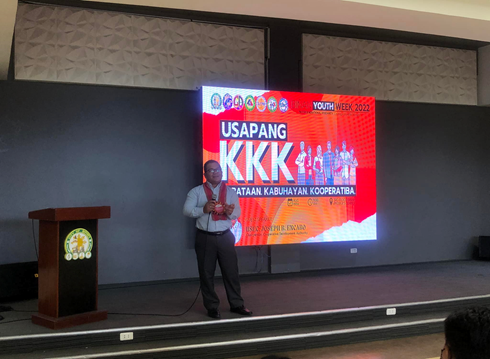 He said that youth ages 18-35 having common bond of interest may organize a cooperative. He imparted that they can use their skills to the fullest especially those who are "techie" and gifted with natural talents. They can also join a primary cooperative upon reaching the age of majority.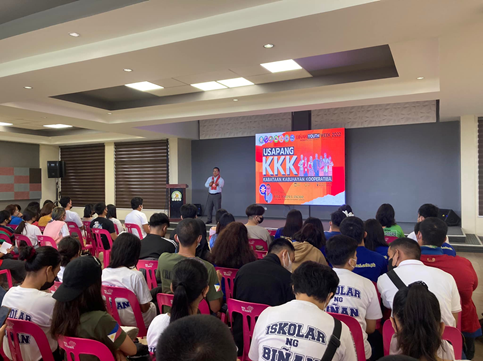 Also, in the event as a Resource Speaker was Ms. Nora E. Pangan, the City Cooperatives Officer of the City of Biñan. Ms. Pangan seconded the speech of Usec. Encabo as she shared a youthful talk on the true and basic meaning of Cooperative and the opportunities the movement offers, especially for the youth sector. As a hands-on City Cooperatives Officer, she also shared her experiences and observations given the technological advances of the current cooperative systems of the CDA how advantageous to have youth members.
Ms. Pangan further encouraged the young people not to worry and emphasized the assistance and support that the City Cooperatives Office provides for prospective cooperatives as well as organized cooperatives in Biñan in providing relevant trainings and seminars that further guide and help the cooperatives grow in numbers and in profits. She also emphasized the close partnership that the City Cooperatives Office has with the City Cooperative Development Council and the Cooperative Development Authority, giving the cooperatives in Biñan a solid support system in their pursuit for economic and social growth. Ms. Pangan closed her speech with encouraging words which says "Together we will learn, Together we will work, Together we will grow, Together we will succeed, With God, we will not fail!"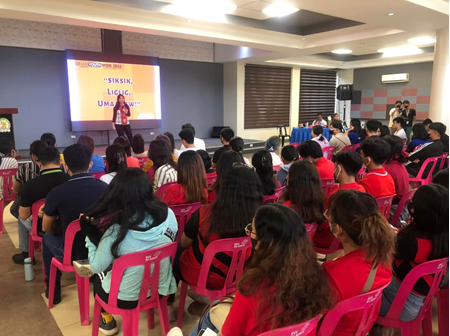 The event was also supported and attended by the Regional Director of CDA CALABARZON, Dir. Giovanni T. Platero.  In his message he recalled the first youth forum "KOOPERATIBA PARA SA KABATAAN, PROGRAMA, OPPORTUNIDAD NA PANGKABUHAYAN (K-POP)" was held last March 5, 2020. It was  sponsored by the City of Binan Cooperative Office, attended by youth from the provinces of Batangas, Cavite, Laguna, Quezon and Rizal with no less than ASEC Virgilio Lazaga as the Keynote Speaker.  It was a successful activity which served as an inspiration to the YDASCO to conduct this year the Usapang KKK .   Also present is the Cooperative Development Specialist of Biñan, Ms. Ester P. Pelaez. CDA CALABARZON commends the Biñan YASDO and City Cooperatives Office for a successful and insightful event which was attended by different youth organizations and universities around Biñan.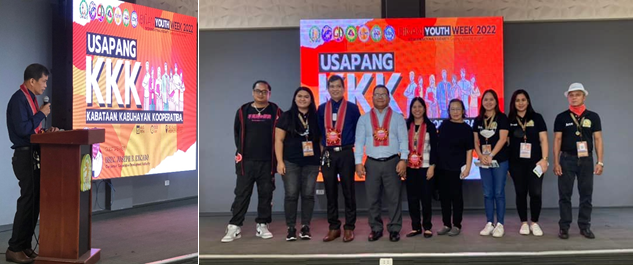 Youth participants on the event included representatives from University of Perpetual Help System Laguna, Southville 5A Integrated National High School, Lakeshore Educational Institution, Guardians Bonafide for Hope Foundation Inc., Polytechnic University of the Philippines Biñan Campus, SIKLAB Malaban, SIKLAB Biñan City and Junior City Officials 2022.