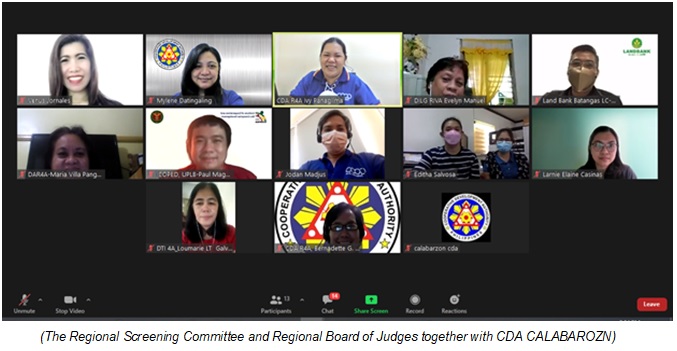 CDA CALABARZON, through its Cooperative Research and Training Section (CRITS), held its Regional Validation for the Gawad Parangal last July 28, 2021. The Gawad Parangal is one of the flagship programs of the Agency which is an award system to recognize the exemplary performances, best practices, and good governance of cooperatives and cooperative development partners.
The virtual validation was conducted with the participation ofdifferent agencies and academe in Region 4A,specifically the Department of Agriculture (DA), Department of Agrarian Reform Program (DAR), Department of Trade and Industry (DTI), Department of Interior Local Government (DILG), Institute of Cooperatives and Bio-Enterprise Development (ICOPED), and Land Bank of the Philippines. As observers of the activity, also present were representatives from the CDA Region VIII, Ms. Venus M. Jornales, Supervising CDS, and Mr. Jodan A. Madjus, Senior CDS.
The program was facilitated by Ms. Ivyrene Rose Panaglima, Senior CDS of CRITS. She presented the policies and guidelines of the validation process, followed by the deliberation of the nominees for the Most Outstanding Cooperative and Special Citations on Exemplary Performance inCooperative Social Responsibility, Membership and Expansion Growth Program, Cooperative Resiliency and Stability, Financial Inclusion Services, and Best in Gender and Development (GAD) Mainstreaming.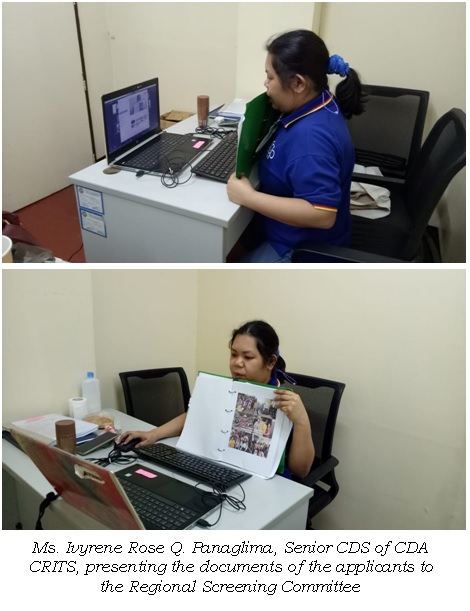 From the validation proceeded the shortlisting of the nominees for the Most Outstanding Cooperative, to wit: one (1) in Micro Category, three (3) for the SmallCategory, four (4) for the Medium Category, two (2) for the Large (Millionaire) Category, and one (1) for the Large (Billionaire) Category.On the other hand, for the Special Citations, there would be one (1) nominee per category for each type of cooperative to be recommended.
The activity concluded with the presentation of the results and finalization of nominees. For the Most Outstanding Cooperative Category, one (1) Micro Cooperative, one (1) Small Cooperative, and two (2) Medium Cooperatives were endorsed to the National Level.