Last August 27, 2021, the Cooperative Development Authority (CDA) Region IV-A conducted back-to-back signing of partnerships with two (2) government institutions which are the Overseas Workers Welfare Administration (OWWA) and Development Academy of the Philippines(DAP). These collaborations are in line with the agency's continuous commitment in providing full support for the needs of the cooperatives within the region.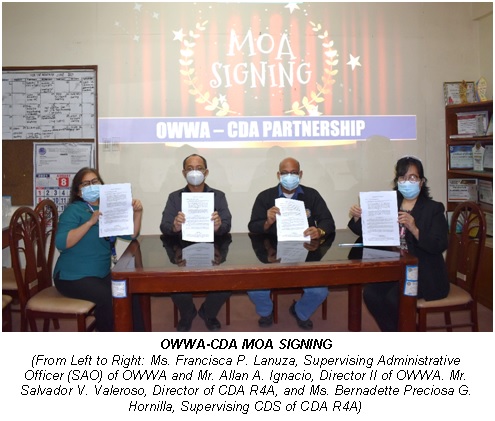 The MOA signing between CDA and OWWA took place at the CDA Region IV-A Office, Calamba City, Laguna. CDA has recognized the program of OWWA titled"Tulong Pangkabuhayan sa Pag-unlad ng Samahang OFWs" alsoknown as "TulongPuso."This program aims to assist qualified Overseas Filipino Worker (OFW) organizations informing, enhancing, and restoring livelihood projects by giving a one-time grant.
The "TulongPuso" program encourages OFW organizations to engage infeasible and sustainable business ventures. OWWA was represented byMr. Allan A. Ignacio, Director II, and Ms. Francisca P. Lanuza, Supervising Administrative Officer (SAO) during the MOA signing.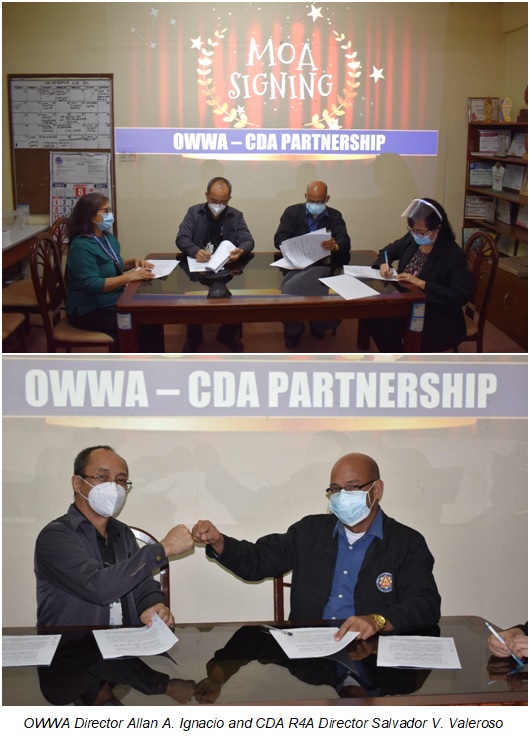 On the same day, the Memorandum of Understanding (MOU) for the CDA-DAP SPARTA (Smarter Philippines Through Data Analytics, R&D, Training, and Adoption) project was officially signed via Zoom platform.  Besides enabling the industry of Data Science and Analytics (DSA), this project was granted by the Department of Science and Technology (DOST) to establish necessary online education, research and development mechanisms, and infrastructure for enriching the smart governance practices.
The MOU was signed by Mr. Salvador V. Valeroso, Director of CDA Region IV-A and Mr. Celso C. Santiago, Jr., Managing Director of DAP, witnessed by Ms. Bernadette Preciosa G. Hornilla, Supervising CDS of CDA Region IV-A, and Mr. Alan S. Cajes, PhD, Vice-President and SPARTA Project Lead.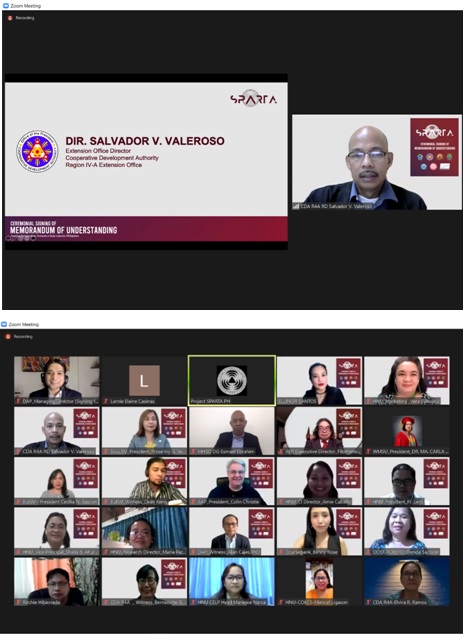 Director Valeroso said during the event that the agency is looking forward to a stronger partnership for the attainment of its mandate to promote the growth and development of the cooperatives as instruments of social justice, economic development, and equity.