The Cooperative Development Authority (CDA) in its initiative to strengthen the cooperative sector has established a partnership with Technical Education & Skills Development Authority (TESDA) under the Cooperative Development and Management Level IV Course.  The graduation ceremony of Batch 2 trainees was held at Nawawalang Paraiso Resort and Hotel, Brgy. Camaysa, Tayabas, Quezon last December 15, 2022.
The program was conducted via an online platform from September 1, 2022 to October 27, 2022. A total of twenty-two (22) participants satisfactorily completed the course comprising the personnel of CDA Region IV-A, TESDA Region IV-A, and Cooperative Development Officers from different cities and municipalities in CALABARZON.
It was participated by the officials of CDA and TESDA as well as the trainers from CDA Region IV-A and Cooperative Development Officers.
Mr. John Immanuel Garcia, CDS II, and Ms. Dazelle Joyce Miranda, CDS I, facilitated the said activity. For the opening remarks, CDA Region IV Director Giovanni T. Platero gave his welcome remarks. In his speech, he mentioned that human capital development is essential. Through this program, the trained trainees will be able to upscale the performance of the cooperatives in the countryside.  A video message from Asec. Abdulsalam A. Guinomla, CDA Board of Directors, Head, Education, Advocacy and Union Cooperatives Cluster was also presented.
On behalf of the TESDA IV-A Regional Director, Ms. Ma. Loredee S. Unson, Senior TESD Specialist of TESDA Quezon, represented the agency and gave her message to the graduates.
CDA IV-A Regional Director Platero, Assistant Regional Director Bernadette Preciosa G. Hornilla, Legal Officer Atty. August Owen Magdato, CDA Head Office Deputy Administrator Ray R. Elevazo, Supervising Cooperative Development Specialist, Head Office – Registration Division, Mr. Inocencio Malapit, and Ms. Unson issued the certificates to the graduates. The said graduates are the following: Ms. Marites I. Bagting, Mr. Ronald P. Bautista Jr., Ms. Ma. Agnes T. Boniog, Mr. Adonis M. Calimlim, Ms. Basilia M. Casumbal, Ms. Michelle Yvonna B. Dinglasan, Ms. Carol G. Hernandez, Mr. Nelson C. Labio, Ms. Maica M. Malabanan, Ms. Alma Arellano Medina, Mr. Melvin T. Olicia, Ms. Sheryl M. Recto, Ms. Loiza C. Salonga, Ms. Merlita R. Tapales, Mr. Rens Mar L. Turdanes, Ms. Christine Joy A. Villamor, Ms. Maricel R. Bacud, Ms. Janice  Burgos-Diesta, Ms. Juliet Alyssa  Cabael, Ms. Ma. Teresa O. Daño, Ms. Jennifer Gandia, and Ms. Dianne April V. Matel.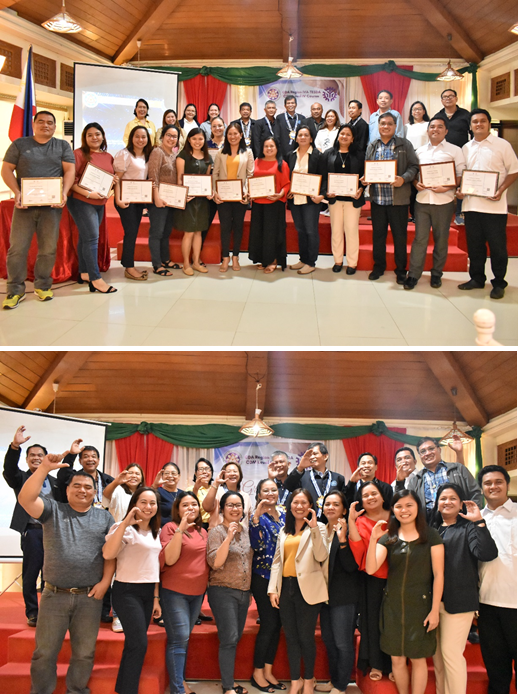 Among the graduates, the top-performing learners were recognized. The top 1 is Ms. Janice Burgos-Diesta, Senior CDS of PCLEDO- Cavite, for the top 2 Ms. Michelle Yvonna B. Dinglasan, CDO of OCVAS-Batangas, and Ms. Sheryl M. Recto Administrative Aide VI of PCLEDO – Batangas.  As representatives of the graduates, Ms. Michelle Yvonna B. Dinglasan and Mr. Adonis M. Calimlim, shared their testimonials about the program.
CDA Deputy Administrator Ray Elevazo delivered his message to the graduates. He said that this partnership with TESDA is in preparation for the new cooperative movement which is in line with the development of RA 11535 or the creation of Cooperative Development Officers in Local Government Units.  He acknowledged all the efforts of CDA Region IV-A and TESDA for leading the implementation of the program. He encouraged all the graduates of CDM level IV to capacitate all the new officers and leaders of the cooperatives.
As the program concluded, Ms. Bernadette Preciosa G. Hornilla, Assistant Regional Director of CDA Region IV-A, gave her closing remarks. She said: "Everyone should be God's instrument of peace and love to promote and enhance the cooperative sector and achieve Ambisyon 2014 na maging matatag at maginhawa ang ating bansa."