The City Cooperative and Development Office (CCDO) Biñan City sponsored a 4-session Financial Management webinar entitled "Session 1: Bakit Nga Ba Tayo Naghihirap?" on June 23, 2021, "Session 2: Sweldo Nga Ba Ang Problema?" on June 30, 2021,"Session 3: Investing: Making Your Money Work For You" on July 7, 2021, and "Session 4: Understanding the Stock Market" on July 21, 2021 via Zoom and Facebook Live.
The Speaker, Mr. Marcelo "MJ" P. Julao, Jr. is an Electrical Engineering Graduate from Manuel l. Quezon University. In 2008 he started his career with Unleash International Corporation, a training company that engages in unleashing the highest potential in people thru the conduct of seminars and conferences.  He was trained and gained experiences as Unleasher (trainer) under the supervision of the power couple Vic and Avelyn Garcia.  He also does script writing and co-hosting on their radio and Tv program "Tulong Ko Pasa Mo" aired before in 7020ZAS, TV 5 and DZMM Teleradyo.  He is an active volunteer speaker of I Care for my City Foundation (ICCF).
In Session 1, Mr. Julao cited that the leading cause of our financial problems is the lack of skills to manage money and that spending hard-earned money without a financial plan which can be likened to driving into unfamiliar territory without a GPS. He also enumerated the three (3) K's of our financial problems. Katamaran, Kayabangan at Kakulangan sa Pagpaplano. Likewise, he discussed the Financial Planning Pyramidthat what we need to prioritize. First, Emergency funds (cash, savings accounts, UITF or Money Market, Time Deposit), Second, Basic Protections (Health Plan, Life Insurance, Life Plan, Non-life Insurance), Third, Investments (Mutual Funds, UITF, TBills, TBonds) and Fourth, High Risk Investments (Stocks, FOREX, Cryptos, Golds).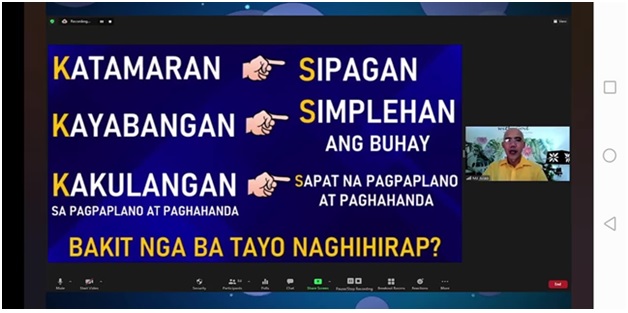 In Session 2, Mr. Julao considered house rental, telephone bills, insurance, tuition fee as fixed expenses whilefood, groceries, water and electricity, transportation as variable expenses. He also shared the 10-10-30-50 Budgeting Principle. He gave tips on how to cut our expenses by living in a budget and stick to it. "Kung hindi kaya ng budget huwag nang ipilit para hindi magipit at sa bandang huli magkaipit-ipit." He informed.More so, hecited examples of good debts (for business capital or business expansion) and bad debts (credit card loan, housing loan, and car loan).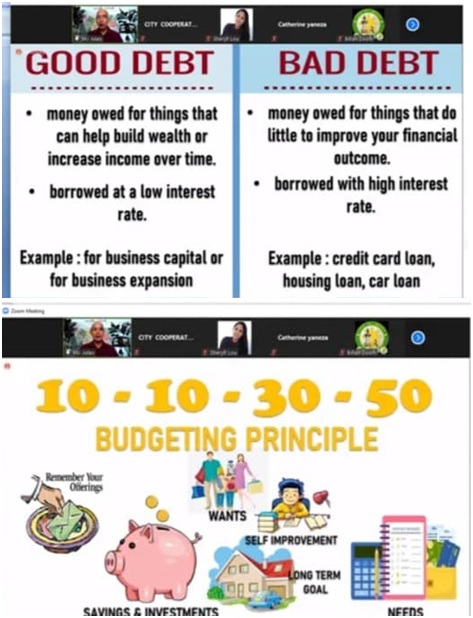 In session 3, Mr. Julao defined investing as taking some of your money and trying to make it grow by buying things you think will increase in value. He stressed that Investing is Stewardship and Preparation. As Warren Buffet said "The best investment you can make, is an investment in yourself. The more you learn, the more you will earn." He also shared that we need to – Invest in Knowledge, and quoted "of what use is money in the hand of fool, since he has no desire to get wisdom?" – Proverbs 17:16, Invest in our Physical Health because if we are fit and healthy, we can earn and buy whatever we want. But being financially wealthy does not assure us our health and no amount of money can buy back "health" once it is lost. Invest in your Relationship because the greatest gift we can give someone is our time. When we give our time, we are giving away a portion of our lives that we will never get back. And lastly, Invest in our Relationship with God, as mentioned in Luke 6:38 that "give and you will receive. Your gift will return to you in full – pressed down, shaken together to make room for more, running over and poured into your lap. The amount you give will determine the amount you get back."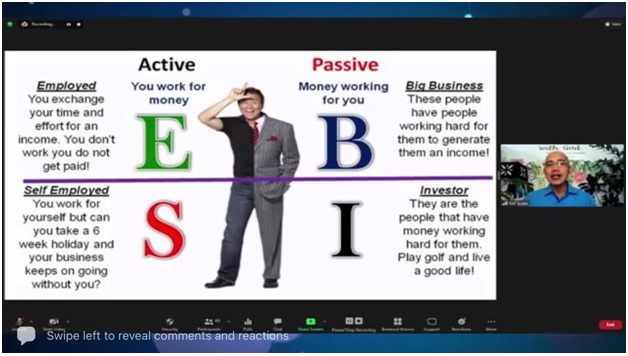 In session 4, Mr. Julao taught how stocks work. He also discussed how to earn in the stock market. First is the capital appreciation where each stock has a corresponding price. It happens when the price of our stock increases. It is the difference between the price we paid when we bought our share and the current market price. Second is the Dividends. Corporations issue dividends represent the earnings of the company to be shared either via cash or additional shares of stocks. He also discussed the factors that affect the stock market such asthe economics, politics, natural and Man-made Disasters and market psychology. He said that we must never invest our emergency funds in the stock market, rather, we should invest in ourselves, join a community (Support group) and invest for a long haul. Mr. Julao identified the types of investors in the stock market such as the day traders/ speculators, the passive investors and the active investors. He also said that we do not invest all our money in one stock.
The following cooperatives joined and attended the webinar: Biñan City Employees Multi-Purpose Cooperative, Heartlink Transport Multi-Purpose Cooperative, Biñan KapitBisig Multi-Purpose Cooperative, Langkiwa Credit Cooperative, Sunpower Multi-Purpose Cooperative, Isuzu Philippines Corporation Employee's Multi-Purpose Cooperative, Infinity8 Credit Cooperative, and Newton Consumers Cooperative.
 Here are few comments from the attendees…
Session 1
"The information I gained in this webinar is the most useful knowledge in life, and also I enjoyed how they start the webinar with some games. They make sure that their participants will be active and enjoy."
"The topic is worth reflecting and will really inspire you to reflect on how you manage your resources. This is what is most enjoyable during the webinar."
"The topic is relevant at these trying times because we're experiencinggreater poverty due to pandemic. Not only in this pandemic shouldwe learn how to combat poverty but in the future. Preparedness and knowledge about poverty is crucial for men in order at least to alleviate or either prevent it."
"It is a very informative kind of webinar. Thanks to the organizers. More of this kind of webinars in the future"
"Modest lifestyle should parallel the income of a person. Expenses should not exceed the income or salary a person. Proper budgeting is important in order not to indulged in exorbitant spending."
"It is really helpful to know the causes why people are having money problems and also to know what should I prioritize first when it comes to financial management. I also enjoyed the quotes that was mentioned in the webinar, they were very inspiring!"
Session 2
"One of the useful or enjoyable part of this webinar was tip on how to save money and invest."
"Thank you for this enlightening webinar, for me this is very useful. Now, I am more knowledgeable on how to manage financially."
"I have learned the ways on how to cut my expenses and how to budget or manage our expenses. It is very relevant especially in these times since we all know that lots of people are struggling financially. That's why I think it is very helpful for me and my family as well."
"The topic is timely and very interesting. I learned the ways to cut expenses and how to manage the salary. And I also learned the ways and means to reduce expenses to do a budgeting plan."
Session 3
"I really enjoyed on the concept of starting a funny game like guessing the commercial line and so on in order to catch the attention of the listener and be alive at all times. The topic is very interesting and helpful especially when you are planning for future investment. Congratulations! Looking forward for more informative webinar like these."
"The webinar is not just about financial management, on how to be rich and where should we put our money, and what is the best investment, but also on how we put our trust to our Lord and strengthen our faith."
"This kind of webinar is really helpful most especially to us, members and officers of the cooperative and we congratulate the organizer for preparing such seminar…kudos!"
"When it comes to investing, nothing will pay off more than educating yourself. You have to be necessary research and analysis before making any investment decisions"
Session 4
"This webinar gives idea on people on how to invest stock for the beginners even if they will start in a small capital."
"In entering into stock market, you really have to learn/ continue learning the company you want to invest in order to gain income."
"Never invest in a business you cannot understand you have to learn and you need to take care of the money before entering ang kind of business."
"Think before you invest your money and read some reviews about the company you want to invest and don't spend too much and not important"
"Eto ung seminar na noon pa naming nirerequest. Thank you, City Coop, for granting that wish. Ung buong webinar very informative. Lalo na yung sa investment."
"The ideas and opinion of the speaker gives motivation and braveness to make the people or person to enter market stocks"