The City of Cabuyao Cooperative Development Council (CCCDC) was established and mandated under Executive Order No. 95 Series 1993.  It was further emphasized in the new charter of CDA (R.A. 11364) that CDCs shall be established in order to provide the cooperative movement with a system for policy consultation and program coordination.  The City of Cabuyao Cooperative Development Council, headed by Chairperson Maxima N. Macaraig, the Local Government Unit (LGU) in Cabuyao City, thru the City Cooperative and Livelihood Development Office (CCLDO) headed by Mr. Christian Benedict T. Bueno, and the Cooperative Development Authority (CDA) as the lead government agency,are itspartners in promoting the viability and growth of the cooperatives as instruments of equity, social justice, and economic development.
The mission of the Council is to support and empower the cooperatives in strengthening the community development by: a.) providing an enabling environment for cooperatives; b.) promoting cooperativism as a vehicle for socio-economic transformation; and c.) enhancing the delivery mechanism for cooperative development services.  Cooperative Community Development Program for Social Actions is among the areas of concern of the Council which aims to have the "Kooperasyons a Komunidad," facilitated by the primary cooperatives in the City of Cabuyao. The objective of the program is to underscore the importance of social responsibility and community service among cooperatives. The council believes that community service is exactly what it sounds like: services that we do to benefit our community.  Community service can take a lot of different forms since there is so much that can be done to help folks out in any area.
The project of the council "Kooperasyon sa Komunidad" was already done and implemented in the last two (2) years with different programs of the three (3) Clusters (composed of primary cooperatives). In October 2019, the project was the Bench for the Pulo National High School and Gift and Health Kit Giving to the Indigent Children, Women, Men, Senior, and PWD in the rural areas in Cabuyao City.   Last year, the project and activities were done as part of the celebration of Cooperative Month.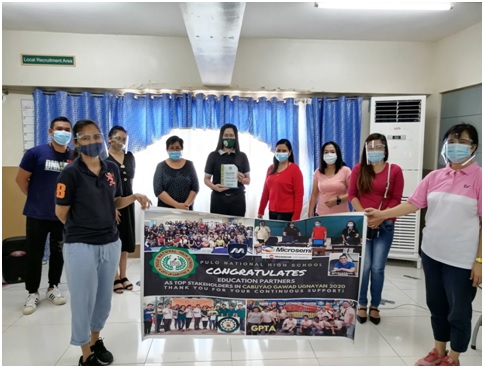 Through the project Bench for the Pulo National High School, the City of Cabuyao Cooperative Development Councilwas awarded as the "Education Stakeholder" by the Department of Education in recognition to the invaluable service of the cooperatives in public schools with impact exhibiting the spirit of volunteerism towards Quality, Accessible, Relevant and Liberating Basic Education through Partnership. The award was given last December 4, 2020,on the occasion of the 3rd Gawad Ugnayan: Recognition of Education Stakeholders at Cabuyao City, Laguna, Philippines. It was an honor to the members of the council and the primary cooperatives that the effort and volunteerism of the cooperatives to the community was recognized. To God be the glory. (By: Ms. Maxima N. Macaraig and Ms. Ann M. Acoba)