The Cooperative Development Authority- Region 4A (CALABARZON) conducted its 10th E-COOP Forum entitled Empowering the Youth, Person with Disabilities and Elderlies on October 11, 2021. Ms. Bernadettte Preciosa G. Hornilla welcomed all the participants who joined through the Zoom Platform and as well as those in the CDA FB Page Live.
Ms. Imee Sigua, Senior Technical Education Development Specialist from TESDA shared the list of Training Centers in the CALABARZON. She discussed their various programs, namely Enterprise Development, Apprenticeship, Competencies, and Scholarship Programs which accommodate Training for Work Scholarship, Special Training for Employment, UAQTEA, and Tulong Trabaho Scholarship under the RA 11230 or the Tulong Trabaho Act. Ms. Sigua also discussed the CDA-TESDA Memorandum of Agreement which was signed last March 19, 2021 which established a strong partnership between the CDA and TESDA.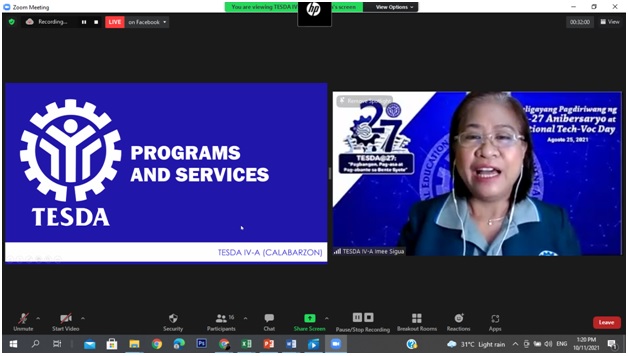 The Program Manager of DOLE 4A in the person of Ms. Ma. Angelica Ordoño, Senior Livelihood and Employment Specialist, discussed the DILEEP Programs Livelihood or Kabuhayan Program. It is a grant assistance for capacity-building on livelihood and entrepreneurial ventures for the working poor, either for individual or group livelihood projects, namely Kabuhayan Formation, Kabuhayan Enhancement, and Kabuhayan Restoration.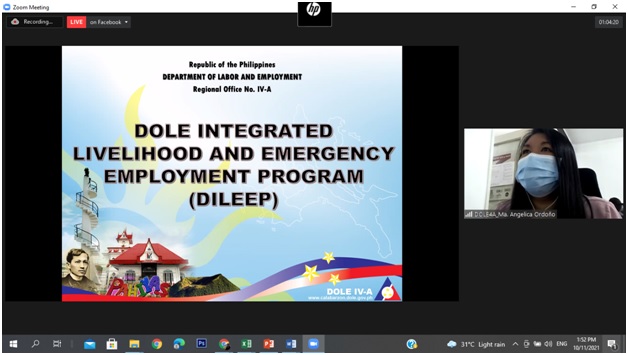 Mr. Anthony Rebenque, a volunteer of MSWD Sta. Cruz, Laguna and representative from the Federation of PWDs discussed the programs of the Provincial Government of Laguna to PWDs. He also mentioned the sports, talent and art competition which was done prior to Covid 19 pandemic.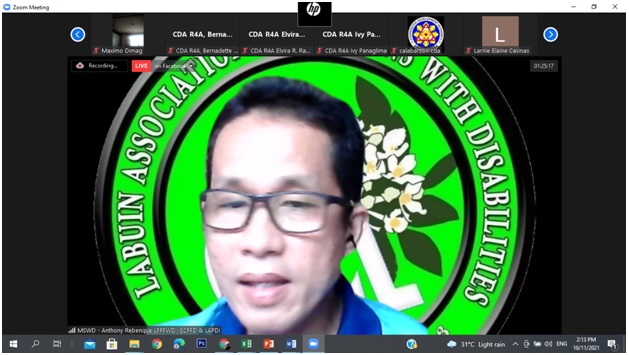 Mr. Rebenque's Ways Forward is the Local Implementation of Executive Order 417 which promotes the economic independence of PWDs, Creation/Establishment of Persons with Disability Cooperative, partnership programs with the CDA.
More than fifty (50) cooperatives attended the e-coop forum coming from the five (5) provinces of CALABARZON. There were three (3) cooperative reactors during the forum namely: Mr. Pablo Aranas of Lingkod Banahaw MPC which experienced loss of income due to the lack of contract from the DepEd;Ms. Angelie Mabulay, Chairperson of Vibes Multi-Purpose Cooperative,an organization with visually impaired members, and also experienced more than one year of non-operation; and Ms. Myra Ebora of Malalim MPC who extended gratefulness to be part of the e-coop forum which would help them on planning their assistances for their members.
The cooperative reactors appreciated the program assistance from the national government agencies as well as local government units. Mr. Romel P. Mabilangan, CDA 4A's Senior Cooperative Development Specialist for CPDAS, reminded the audience to share with others what they have learned from the e-coop forum so that the government could reach more Filipinos to serve.
More power to the cooperative movement and looking forward to the next E-Coop Forum! (By: Ms. Celeste M. Castro)