Mandatory Training Conducted to a Cooperative in Brgy. Laiban, Tanay, Rizal – June 16, 2021
It was December 2019 that a cooperative in Brgy. Laiban, Tanay, Rizal was registered. Laibanis a Barangay in Tanay, Rizal within the Kaliwa Watershed and Forest Reserve. To empower the community and local organizations, sustainable livelihood projects are deemed as vital steps. And to make such aspirations happen, linkage with strategic partners for skill-building activities such as the Livelihood and Enterprise Development component of the Miriam College Environmental Studies Institute, in partnership with the Forest Foundation Philippines is very helpful. The idea of organizing a cooperative was introduced during a Community Development Training in July 2018.Thus, in 2019, a Pre-Membership Education Seminar was conducted by Cooperative Development Specialist, Ms. Princess Anne Bulalayao of CDA R4A. The name Empowered Laiban Community Producers Cooperative has been proposed and approved.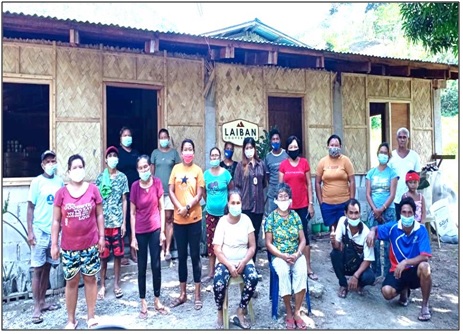 The cooperative is composed of 25 members who are permanent residents of Brgy. Laiban and some are members of the Indigenous Community of the Dumagat Tribe. Although there is progress being made by the cooperative toward their economic development they are still struggling. Despite the fact that the members' farm-produced products are already being marketed in less than 2 years of operating as a cooperative which kept it thriving, some challenges become unbearable for them, especially with the effect of the pandemic on their income generation. It came to a point that they already wanted to quit as a cooperative. Their officers had lost hope because they thought they would never be capable of running a cooperative particularly when being bombarded with unfamiliar challenges.
Through their Chairperson, they have decided to undergo trainings to empower their officers and members. The capacity building for cooperatives organized by this group of Indigenous Peoples is an inspiring story of self-help and perseverance. Indeed, the provision of capacity would help a cooperative to further develop and would also in still the necessary confidence to the participants. Consequently, a mandatory training for cooperatives was successfully conducted on June 16, 2021 at the cooperative's office in Brgy. Laiban, Tanay, Rizal. It was attended by 19 members of the cooperative.
 During the course of the training, participants gave all their attention and eagerness to learn.  Aside from gaining more knowledge about cooperative, at the end of the training, cooperative members stated that aside from the information they have learned, they believe that building relationships, building skills, working together and promoting commitment would make them a greater cooperative.
CDA Rizal Field Office Successfully Conducted the 1st Forum for the Committees of Cooperatives – June 17, 2021
With the skills and knowledge gaps of the different committees of cooperatives, the CDA Rizal Field Office, in collaboration with the CDA CALABARZON, successfully delivered the1st Forum with the Education Committee, via Google Meet Platform on June 17, 2021.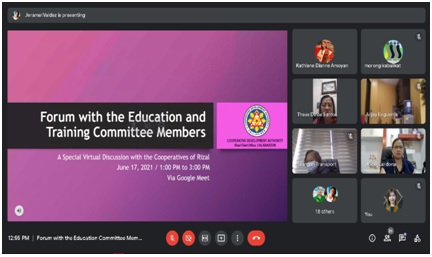 The forum involved a total number of 69 cooperative members from the Province of Rizal. A special message to the participants was given by Ms. Bernadette Preciosa Hornilla, Assistant Regional Director, CDA – CALABARZON, "…this kind of activity for the development of our coops in Rizal…we're optimistic na mas lalakas ang mga coops natin". Ms. Hornilla said.
The forum was conducted in two parallel topics. The first set is on the functions of the Education committee and some tips on how to formulate a continuous education program which was discussed by the Provincial CDS of Rizal, Ms. Jeramel B. Valdez. Some of these tips included the preparation of the List of Officers and Training Attended (LOTA) and conducting a training needs assessment to officers and staff of the cooperative.
The 2nd part focused on How to Conduct Pre-Membership Education Seminar for the incoming members of the cooperatives conducted by Ms. Ivyrene Rose Panaglima, Senior CDS, CRITS, CDA R4A. Ms. Panaglima highlighted in her discussion who should conduct the PMES, the things to prepare before conducting PMES and topics to be discussed by the cooperative.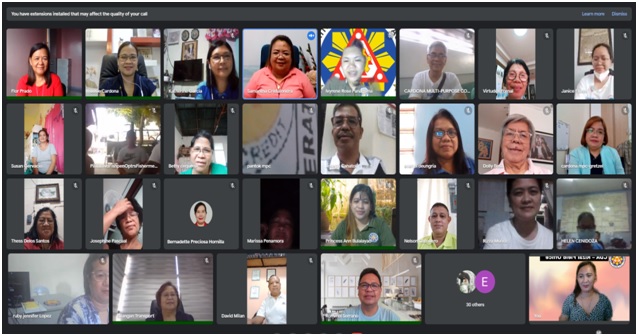 During the forum, two cooperatives from Rizal shared their knowledge on how they conduct PMES. Ms. Nova Mones of Darangan Water Service Multipurpose Cooperatives shared some tips on how to be an effective trainer. She said that being a trainer, one should be confident with their ability, be prepared, be observant, be open-minded, and be a team-player. "Good trainers are not born, they are made. And for us to be an effective one, we have to take the first step, keep on moving the ladder and continuously develop ourselves to achieve our goal…," Ms. Mones said ending her presentation.
Participants also got the chance to have an overview on how a cooperative conduct their PMES through Ms. Joselita Cardona, CEO of Most Holy Rosary Multipurpose Cooperative of Rodriguez, Rizal while she presented a sample on how they conduct PMES on their cooperative.  Ms. Cardona shared that being education committee is on a "come and go" status, so their cooperative has established a Membership and Services Department who catered all the needs of their members. Its functions include the conduct of PMES and their Education Committee focused on capability building and values enhancement of their officers, members and staff. One of the best practices of their cooperative is that they did not end their role on just the conduct of the PMES, "…after ng training napakahalaga ng follow up, na kung yung umattend ba sa training ay tuloy sa pagmemember, kung hindi ay alamin kung ano ang dahilan." Ms. Cardona stated. After the PMES an evaluation of the activity was done because it is important for them to know the participant's feedback.
Through this simple forum or discussion, CDA hopes to equip and empower them with the knowledge and skills they need to be more effective and efficient in their role as Education Committee members. (By: Ms. Princess Anne C. Bulalayao)