For 53 years, the Sorosoro Ibaba Development Cooperative( SIDC) – one of the largest agri-based cooperatives in the country, has been helping farmers and its members to be empowered for success. There is now a marked increase in participation in the agricultural value chain among members. And access to more lucrative and dynamic markets through collective action has been enhanced.
Tracing back its history, SIDC was known because of its good governance and vibrant principles in helping people who wanted to contribute for the betterment of the community. SIDC is a key driver that enables small farmers to take advantage of the economic opportunities associated with them.
Sorosoro Ibaba Development Cooperative, or SIDC, was founded on March 19, 1969 in Barangay Sorosoro Ibaba, Batangas City, Batangas, by Mr.Victoriano E. Barte, a simple yet resourceful and dedicated farmer who wished to serve and improve the quality of life of his companions and neighbors. Mr. Barte and 58 other co-founders started the "Sorosoro Ibaba Farmers Association" and contributed two hundred pesos (200 pesos) each, raising a capital of eleven thousand eight hundred pesos (11,800). The money was used to start a small sari-sari store.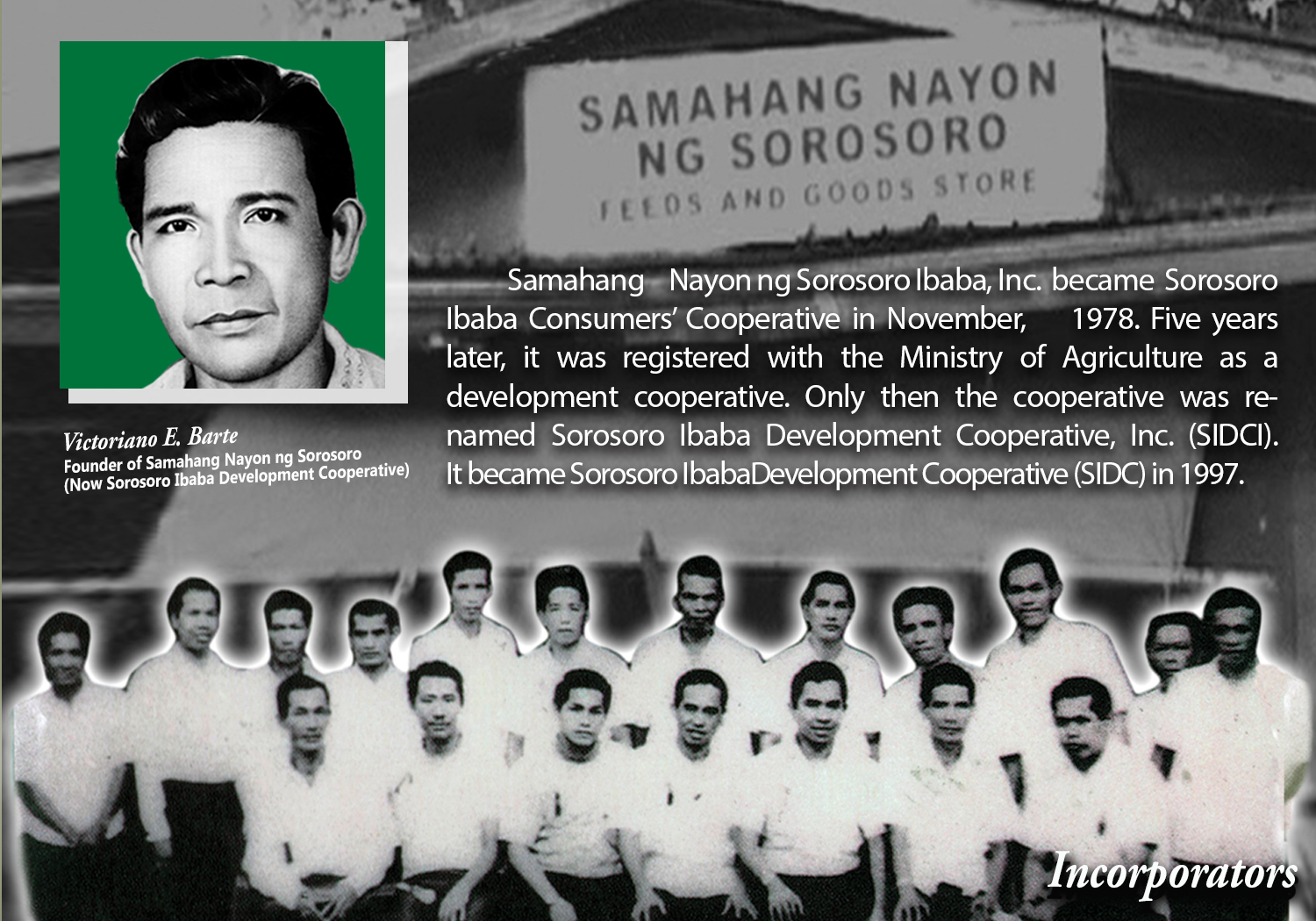 From a sari-sari store, it expanded its business with the addition of piggery and poultry operation and helped members to become knowledgeable in raising livestock. Later, SIDC capitalized on the demand of animal feeds and put up a feed milling business in June 1987 that produced the well-known, SIDC Feeds and Bigboy piglet feeds. And because of the cooperative's perseverance and wise investment management, SIDC built its own pig farm, broiler farm, layer farm, organic fertilizer production, converted its sari-sari store to Coopmarts and Supermarts, Koop Hardwares, and gasoline stations.
With the end in mind of improving the life of rice farmers, one of SIDC's greatest accomplishments is its Mindoro branch operation, which started with a rice mill on January 28, 2002. Ever since, the growing number of members in Mindoro has greatly contributed to the operation's success. On November 18, 2021, SIDC officially inaugurated its state-of-the-art rice mill with a capacity of five tons per hour to grind rice, for rice farming members to make sure of market access and assuring sustainable income in their livelihood as well as continuously improving the quality of its rice products and adjusting its production to the delight of its members / consumers while maintaining consistent patronage of other customers.
SIDC expanded its operations not only in agriculture but also in retailing, bank-like operations, and trading services. The e-coopmart (online store website) was also launched as part of SIDC's initiatives to keep up with the current digital trends by implementing new technologies and promoting the safety of its members and consumers while shopping. SIDC has now seventy (70) consumer retailing branches as of September 22, 2022, fourteen (14) of which were opened in the year 2021. In various regions of SIDC's operation, these stores include 40 One Stop Shops, 7 Coop Supermarts, 12 Coopmarts, 9 Coopmart Jr., 21 Click Shop Convenience Stores, and 8 Koop Hardwares.
With SIDC's effort of helping farmers, livestock raisers, its members, and communities; it is now being recognized by the Land Bank of the Philippines and Cooperative Development Authority as the largest, most organized and outstanding agri-based cooperative in the Philippines. Presently, the cooperative has more than 61,000 members as of September 2022 and consistently expanding as SIDC also opens itself for merging with other cooperatives.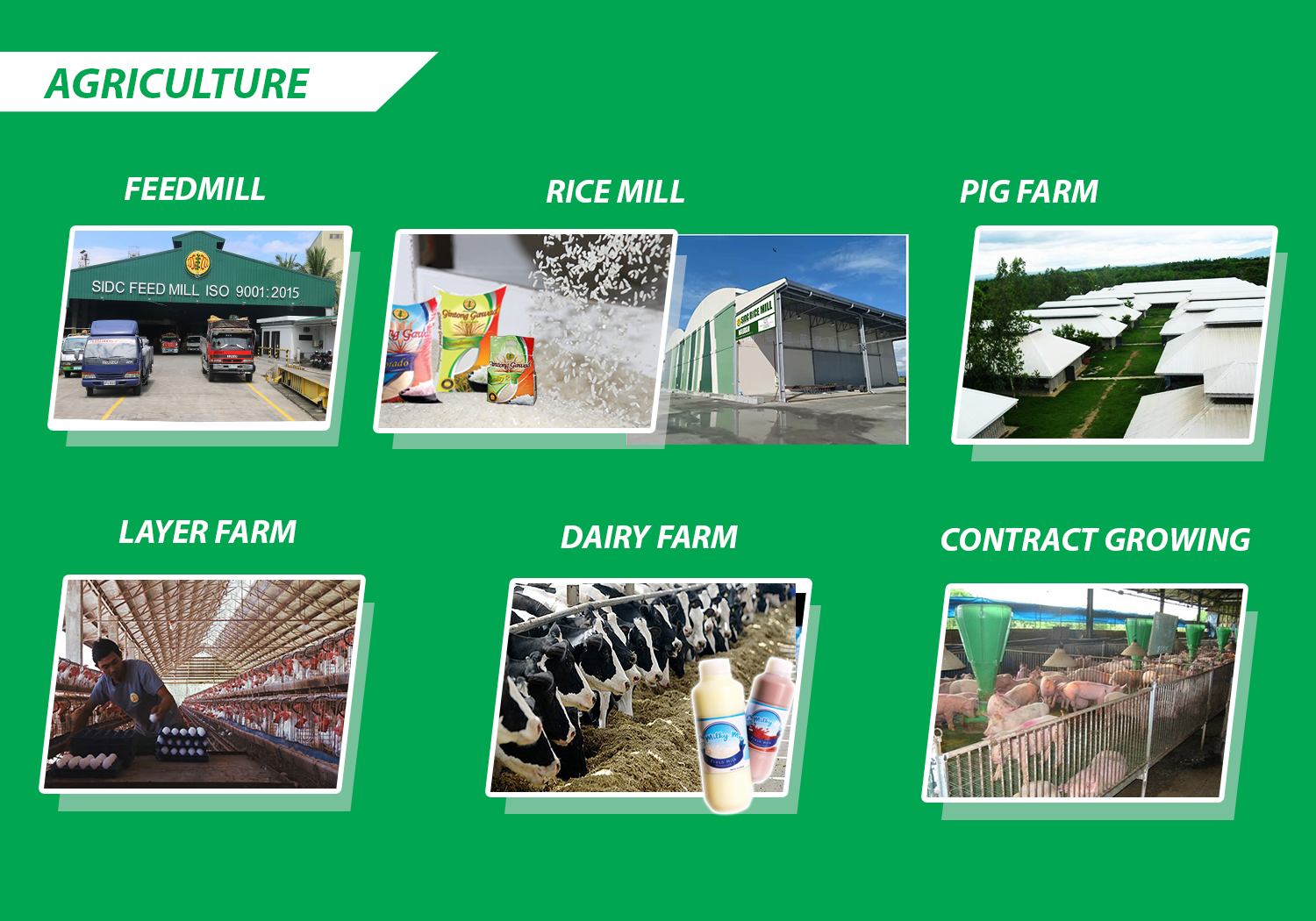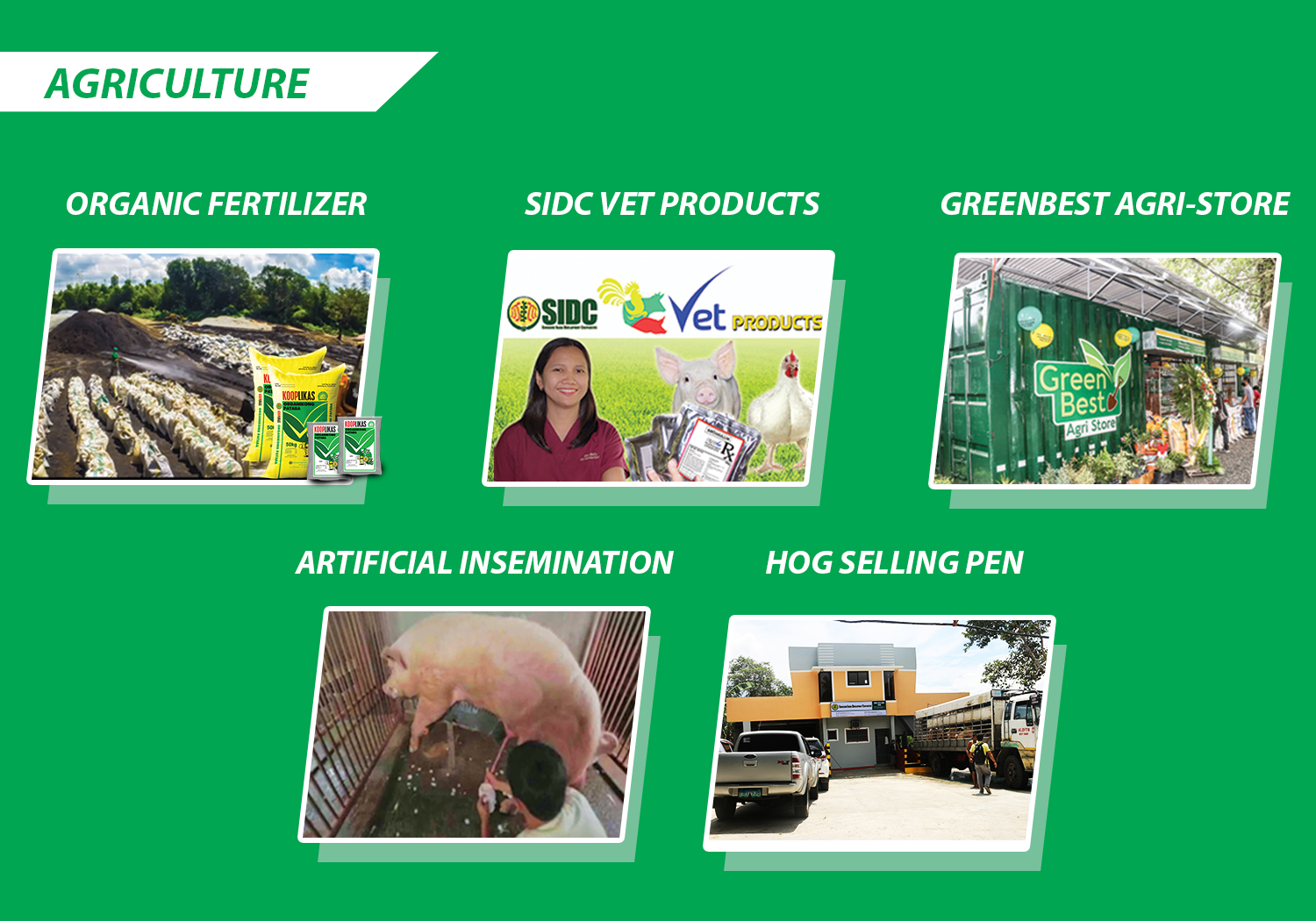 SIDC has expanded its operations from Batangas to CALABARZON, Northern Luzon, South Luzon, Mindoro, Visayas, Romblon Island, and Palawan, with plans to expand further throughout the Philippines. Also, in the works is the exploration of opportunities in Mindanao, one of which is the corn production tie-up with several agricultural cooperatives and agencies.
In terms of corn, SIDC is also collaborating with the Department of Agriculture's Philippines Rural Development Project and the Batangas City LGU to establish a Grains Terminal and Trading facility to further business competitiveness in terms of guaranteeing the supply of yellow corn for its feeds production, as well as ensuring that corn farmers who are members of coops will have market access.
As of 2021, the value of SIDC's assets exceeded 5.33 billion pesos, while the value of the members' share capital increased from Php11,800 to over 1 billion pesos. SIDC has grown from 59 farmers/founders to now more than 61,000 members and is being operated by 1,676 employees who help carry out all of the cooperative's business growth with the active economic participation of its valuable members.
Being a cooperative, SIDC is a social enterprise with the goal of assisting the underprivileged and the community. Furthermore, SIDC also places high priority on giving as a means of forging enduring bonds with its members and neighborhood communities. Since SIDC has its own "Sagip Kasapi Foundation," the cooperative consistently supports the local communities through the initiatives and projects of the foundation. Apart from that, through the establishment of the Barangay Development Fund by SIDC, various barangays were able to receive the support they required as well as assistance in promoting community initiatives carried out by the local government units.
SIDC has made a positive impact on the lives of its farmer-members since its inception. It was not easy for Sorosoro Ibaba Development Cooperative to get to where it is now; it has faced challenges, but with the help of its stakeholders and the Overseas Filipino Workers who are now engaged with SIDC, it continues to thrive and achieve its vision of becoming a world-class cooperative.
"If cooperatives like ours will be fully supported particularly by the government to reach for more farmers, I think it will be a lot easier to reach out and provide the necessary assistance for them to have a more sustainable livelihood," according to SIDC Chief Executive Officer, Rico B. Geron.
The year 2020-2021, when the COVID-19 Pandemic struck the country, was also difficult for the organization, but SIDC has learned that it must be more diligent when it comes to expanding and developing operations in the face of adversity.
"We have come a long way but it is still just a new challenge to further what we have and to continue to be useful even in the next generation. Through the guidance of God and your continued support, I believe that in more than fifty years our cooperative will reach new successes." says SIDC Chairperson Dr. Angelito Bagui.