The Provincial Cooperative Livelihood and Enterprise Development Office (PCLEDO-Quezon), Provincial Cooperative Development Council (PCDC), League of Cooperative Development Officers of the Philippines (LCDOP), and the Cooperative Development Authority (CDA) joined forces to conduct dissemination campaign of a newly-passed law in the Province of Quezon, beginning in Real, Infanta and General Nakar. The initiative turned out a success, which effectively garnered positive responses.
Republic Act 11535 or Cooperative Development Officer Act amended specific provisions of RA 7160 or The Local Government Code of 1991by mandating the creation of the position Cooperative Development Officer in all Local Government Units which was previously optional. The essence of cooperatives in the economy is rising. Its increasing number and expansion of membership are evident. Thus, Congress passed the law in order to enhance the capacity of government to develop cooperatives as an instrument of social justice and economic development in every locality.
In the said law, all provincial, city, and municipal governments are required to ensure that the position of Cooperative Development Officer is in place and guided by the qualification, powers and duties provided therein.
With the goal of immediately disseminating the law, courtesy calls were conducted to the Local Chief Executives (LCEs) of Real, Infanta and Gen. Nakar last June 7, 2021. The meeting was also organized to give thanks to the said LGUs for their unwavering support to the Cooperatives.
Mr. Rizaldy Veranga, PCDC Chairperson, briefly discussed Republic Act 11535, PCLEDO shared the team's one-week plan in REINA and Ms. Ivyrene Rose Panaglima from the CDA shared updates on CDAs upcoming programs. The meetings ended up with positive responses on the role of the cooperatives in the municipalities. It was indeed comforting to know that the cooperatives will soon enjoy dedicated LGUs support and assistance.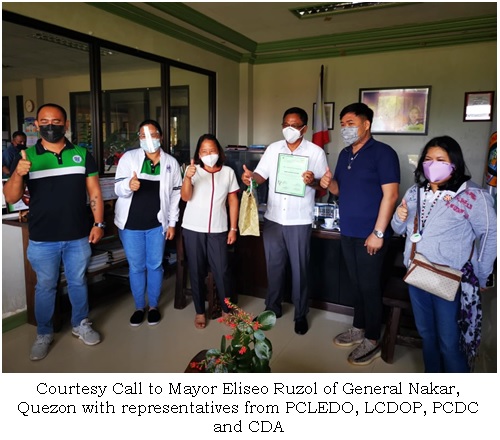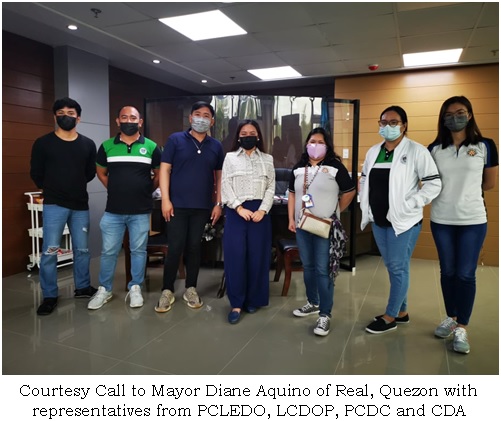 The team also visited the cooperative development councils in REINA. One of the best parts of this event was the rapport built between the team and the councils as well as the heart-felt and warm welcome that they have received.
The whole week of the visit was full-packed as planned. There was supposed to be mandatory training to the Indigenous Peoples Cooperative in Brgy, Sablang, Gen. Nakar, monitoring of PCLEDO beneficiaries, training on computerized GAD Monitoring tool for Cooperatives and Annual Inspection on a face-to-face modality. But due to some unfortunate circumstances and health protocols, most of the activities planned were cancelled.
Despite of the setback, the team was not deterred completely. The training for the computerized GAD Monitoring Tool for Cooperatives was held in a virtual modality (via zoom) on June 9, 2021.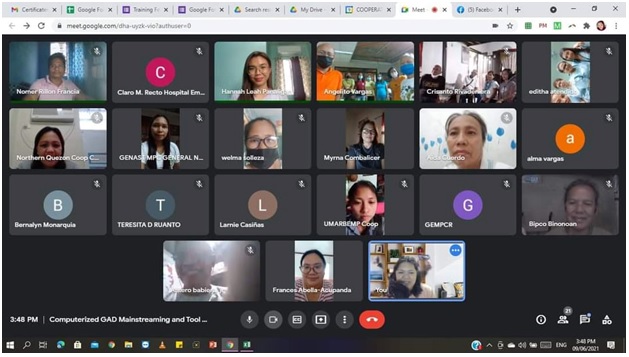 Indeed, despite some challenges along the way, it is still worthy to say that all things worked together for good. (By: Hannah Leah V. Panaligan, CDS-II)