The Philippine Coconut Authority initiated the celebration of the Coconut Festival commemorating its 28th anniversary, highlighting the tree-planting activity envisioned to give hope and symbolize the abundance of coconut trees in the near future. The coconut, considered the tree of life, is deemed a top income-generating product and a key to developing Philippine Agriculture. The Philippine Coconut Authority in partnership with the Cooperative Development Authority and other National Government Agencies, pledged to adequately respond to fulfill the promise to the coconut farmers by enacting strategic planning and implementation in a holistic approach to the project.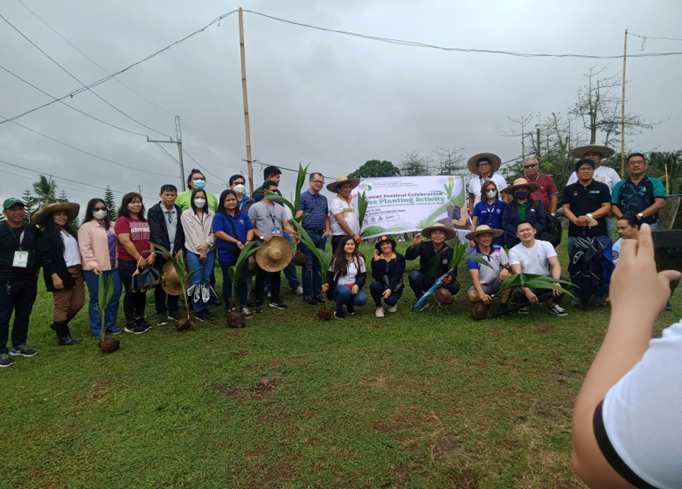 The tree-planting activity held at Brgy. San Jose, San Pablo City, Laguna last January 13, 2023, were attended by National Government Agencies (NGAs), like the Cooperative Development Authority (CDA), the Philippine Crop Insurance Corporation (PCIC), the Philippine Center for Postharvest Development and Mechanization (PHILMECH), the Department of Agriculture (DA), Development Bank of the Philippines (DBP), Landbank of the Philippines (LBP), Department of Science and Technology (DOST), Department of Trade and Industry (DTI), and other private institutions.
Afterwards, an Information Caravan was held at the San Pablo City Multipurpose Convention Center, San Pablo City, Laguna, where various public and private organizations showcased their programs to more than a hundred coconut farmers in attendance.
The Cooperative Development Authority (CDA), hand in hand with the Philippine Coconut Authority as a partner agency, gave assurance that it will fulfill its commitment through the dissemination of relevant information about the existing programs to all farmer-members of the cooperatives and Farmers Cooperatives Associations (FCAs), provision of technical assistance on the procedures to implement the engagement of the cooperatives in its projects, and assisting in the promotion, organization, and registration of cooperatives in the National Coconut Farmers Registry System (NCFRS).