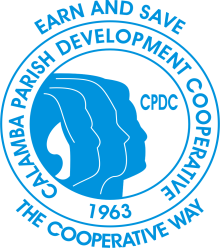 Its humble beginning started on January 1963 when the members of the Knights of Columbus spearheaded by the Parish Priest Rev. Msgr. Elias Dimaculangan the formation of a cooperative.
In the year 1962 when Calamba is still under the Diocese of Lipa, and  before it's the final conceptualization, the late Archbishop Alejandro Olalia asked for the assistance of Mr. Jesus Meir (Field Sec of the Community Services), Knights of Columbus, Manila Council 1000 for the purpose of establishing Credit Unions within the Diocese. Thru their concerted efforts, the Calamba Parish Development Cooperative was established on March 1, 1963.  The Cooperators/incorporators started with 15 members. It increased to 51 then it continued to be operating as a Credit Union (Calamba Parish Credit Cooperative). It was year 1994 when it was transformed into a Multipurpose Cooperative and was renamed Calamba Parish Development Cooperative (CPDC).
The CPDC has been a by-word in the area of Cooperative endeavors in the City of Calamba for the last 57 years with a total membership of 3,098. Growth has been steady while expenses have been controlled, giving the members consistently high rate of returns in the form of Dividends and patronage refund.  The total Assets of the cooperative is roughly Two Hundred Fifty One Million pesos (Php251,000,000.00) for the year 2019.
The annual programs of the cooperative are: bloodletting drive, free pap smear, free bone scanning, free RBS, BP taking, aids awareness seminar, garbage segregation seminar, herbs propagation, street feeding, giving food and providing school supplies to indigents, tree planting activities which inspires the members to join and be a part of every activity.
Along with its continuous eagerness to promote cooperativism and be of service to members and non-members, the Board of Directors partnered with the doctors of St Luke's doctors and were able to establish a Dialysis and possible Diagnostic Center at Paciano. Providing jobs to nearby residents as well as providing health service to patients.
Aside from the big stride that the cooperative has accomplished in the field of medical service, the cooperative has also pioneered the stewardship of Laboratory Cooperative that teaches the youth of the value of money and how to save at an early age.
At present, the CPDC is still seeking for more avenues of service.  Its newly acquired property beside the main office makes the officers more eager to think of better ways to utilize the property that could make the cooperative more productive and helpful to the members.
Different awards were given and received by CPDC, these are the proof of their hardwork and perseverance. They have been awarded by CLDD as Natatanging Koopereytor for Three Years now. (1st and 2nd placer), and the CPDC as Natatanging Kooperatiba (1st yr 2017, 2018) and 2nd placer last year, and other awards from different institutions like schools. Red Cross of the Philippines, also recognizes the coop's continuous desire to help save lives, and alleviate their hardships in life.