The Cooperative Development Authority (CDA) CALABARZON is continuously creating linkages with various government agencies in response to the needs of cooperatives under its jurisdiction. Among its reputable partners are the Department of Labor and Employment (DOLE) and the Overseas Workers Welfare Organization (OWWA). Among the programs identified for collaboration is "Tulong Pangkabuhayan sa Pag-unlad ng Samahang OFWs" (TulongPuso). The said program was a reintegration project that aims to grant cash assistance to Overseas Filipino Workers (OFWs) who wish to elevate their way of living by entering into business ventures. According to the Philippine Information Agency website, this programmay provide the needed capital, raw materials, tools and equipment to support the qualified OFW organization that aims to start-up, enhance or restore their business and/or livelihood project.
The Atimonan OFW Families Producers Cooperative is one of the chosen beneficiaries of this program. Its business activities are producing rags, doormats, and school and office uniforms. Their current paid-up capital is P168,000.000 from sixty-two (62) active members.
The cooperative's efforts to garner government assistance gained positive results when last April 2021, OWWA's Regional Director Allan A. Ignacio, its Head of Welfare Assistance Unit/ Laguna Area Supervisor Ms. Verusckha Ardel Maling, with Sr. Cooperative Development Specialist (CDS) Romel P. Mabilangan of CDA R4A's Cooperative Project and Development Assistance Section (CPDAS) and the Officers and Board of Directors of the said OFW Cooperative, gathered via zoom and conducted an evaluation of documents which was then followed by a face-to-face meeting last May 7, 2021.
Finally, last May 20, 2021 at Atimonan District Cultural Building (Campo Rizal) Atimonan, Quezon, the DOLE-OWWA Region IV-A granted Atimonan OFW Families Producers Cooperative cash assistance amounting One Million Pesos, which was attended by the CDA representative Mr. Mabilangan, Atimonan Municipal Councilor Estela A. Lim, Councilor Angeza Tamayo, Mr. Rey del Mundo from Federation of OFW and Mr. Zaldy Berangga of PESO Quezon and PCDC-Chairperson. On the same event, the cooperative's Certificate of Compliance (COC) was awarded to the cooperative as well.
During the Awarding of the TulongPuso, the DOLE-OWWA also awarded the grants from National Reintegration Center for OFW's (NRCO) for individual beneficiaries from Quezon Province. These grants came from different programs, namely; "Sa Pinas Ikaw ang Ma'am and Sir Program" with nine (9) beneficiaries who each received one hundred eighty thousand pesos (P180,000.00); "Death and Burial Benefit" amounting one hundred twenty thousand pesos (P120,000.00) with one (1) beneficiary; "Balik Pilipinas Balik Hanap-Buhay" with three (3) beneficiaries who received sixty thousand pesos (P60,000.00); and Welfare Assistance Program of OWWA R4A with four (4) beneficiaries who received fifty thousand pesos (P50,000.00).
Because of the sacrifices of our modern-day heroes, our country is given economic boost even in this time of pandemic. Their hard-work and contributions deserve recognition and through cooperativism, the same fruits of their sacrifices will not go to waste but permanently improve their lives after returning home.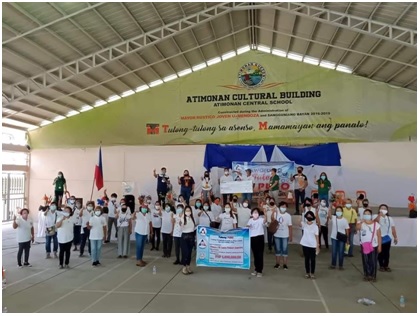 Thank you, dear OFWs!
(Written by: Ms. Hannah Leah V. Panaligan, CDS II-Quezon)