"This time may be dark, but all regrowth starts in the darkness of a seed."
― Daris LaPointe
A dark alley is an intimidating path, facing the unknown and uncertainty alike, is quite frightening. What we are facing today is like a dark alley, a future of uncertainties; we worry not just for ourselves, but also the future of our children. However, in this dark time that we are in, allow us to showcase a tiny bit of spark, if all of us will hold on to it, the light will be brighter. And the future will be dark no more.
The cooperatives in the CALABARZON Region value the 7th cooperative principle which is "Concern for the Community". Besides to serving members, it is imperative to be one of the backbones of development. It is a natural attribute to be part of rehabilitation programs and vehicles of sustainable growth.
With this in mind, the cooperatives channel their collective strengths to others. If there is a need to fulfill a gap to bridge, our dear coops will surely make a way.
The Kadiwa ni Ani at Kita was viewed by the cooperatives as a window for golden opportunities to serve. The "Katuwang sa Diwa at Gawa para sa Masaganang Ani at Mataas na Kita" (Kadiwa ni Ani at Kita) of the Department of Agriculture (DA) materialized in 2019. As informed by the DA Communications Group (2020), it aims to bring the agricultural products fresh from the farmers to the urban areas. Having launched the DA-ATI Kadiwa Mobile Market in March 2020, the said program was observed as a success when thousands of Quezon City residents patronized and benefited from a lesser price of up to 20% compared to the agricultural products sold in the public markets (DA-AFID, 2020).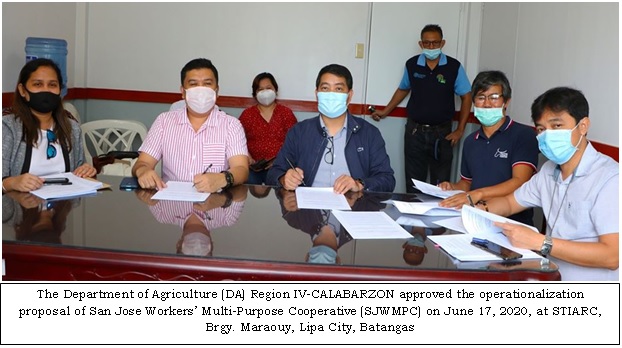 As the Department of Agriculture expanded the program to various provinces, the cooperatives in CALABARZON took great parts to reach the affected families of the Enhanced Community Quarantine (ECQ). They used the three modes of the DA's marketing program, namely Kadiwa on Wheels; Kadiwa Express; and Kadiwa Online.
From March to April 2020 operations, the Cooperative Movement in the said Region was able to cater to 26,861 consumers/buyers and generate a gross sale of PhP6,772,522,75.
True to the Program's slogan, "Nakabili ka na, Nakatulong kapa," local farmers and various agricultural producers in CALABARZON can sell their goods despite of the difficulty raised by the on-going quarantine, at the same time, the localities being served are given proper access to the most basic need, which is food. And with the e-Kadiwa ni Ani at Kita, sellers and buyers may meet both their needs online.

The "Kadiwa ni Ani at Kita" continues its journey; on its way, it gathers small farmers to be uplifted. The cooperatives have built the Movement through the years of passion, in this coming new normal, they are taking part with an earnest desire for the Filipinos to not just get through it, but to pass this season with flying colors.
This coronavirus disease (COVID-19) has put us to the very lows, we were unprepared, but it does not mean that we are not proficient of getting up. We are, strong, resilient, and very much capable.
Every cloud has a silver lining and this program of the Department of Agriculture is just a start for our cooperatives to bounce and rise above this pandemic. (by: Ms. Jeramel B. Valdez)
References:
DA Offices in Metro Manila to Set up Kadiwa Stalls Amid Quarantine. (2020,
March 23). Retrieved from https://www.da.gov.ph/da-offices-in-metro-manila-to-set-up-kadiwa-stalls-amid-quarantine/
DA to Rollout More Kadiwa Outlets in Metro Manila. (2020, March 31).
Retrieved from https://www.da.gov.ph/da-to-rollout-more-kadiwa-outlets-in-metro-manila/
CDA Regional Office IV-A
Cooperatives in CALABARZON