April is regarded as a significant month for a variety of reasons. Here are a few examples:
Season: April marks the start of the summer season, when most people go out to enjoy the weather and make memories.
Holidays and celebrations: There are numerous holidays and celebrations in April. For example, Christians all across the world celebrate Easter in April. April is also historically noteworthy, on April 9, we honor our all-time heroes with the Day of Valor.
Tax season: In many countries, including the Philippines, individuals and businesses must file their tax returns in April. For many people, this is a difficult period, but it is also a crucial responsibility that helps pay government services.
Overall, April is a significant month for a multitude of reasons, ranging from the start of a new season to notable historical events and holidays, and every month is important to us at CDA. Here are some of the events that occurred this month.
HANDHOLDINGS & TECHNICAL ASSISTANCE. Since the month of April for CDA is a submission of the mandatory reports of our cooperatives. Our CDS including all the section heads of the regional offices continuously serving the clients in the submission of their report.
For the CDA MIMAROPA the key to succeeding as a technical support representative is making sure that our technical personnel put the clients first. We listen to the coop's concerns and take the time to ask questions before rendering an opinion or making a suggestion. We need to be calm even when clients are irate, and should be able to keep clients' temperaments and reactions from influencing their moods.
To succeed in technical assistance, We must be able to exhibit patience and understanding when speaking to coops/clients. But we must also be able to troubleshoot over the phone and have the communication skills to teach coops/clients how to overcome the technical challenges they're experiencing.
 April 12, 2023. The municipality of Mansalay, Oriental Mindoro, hosted a barangay orientation. The Cooperative Development Authority Regional Office's extremely beneficial debate and introduction on the development and organization of cooperatives in the area became even more exciting for barangay officials, particularly those in areas where no registered cooperative existed. The goal of this orientation is not only to introduce the office, but also to honor the efforts of each municipality that has supported cooperation in the area.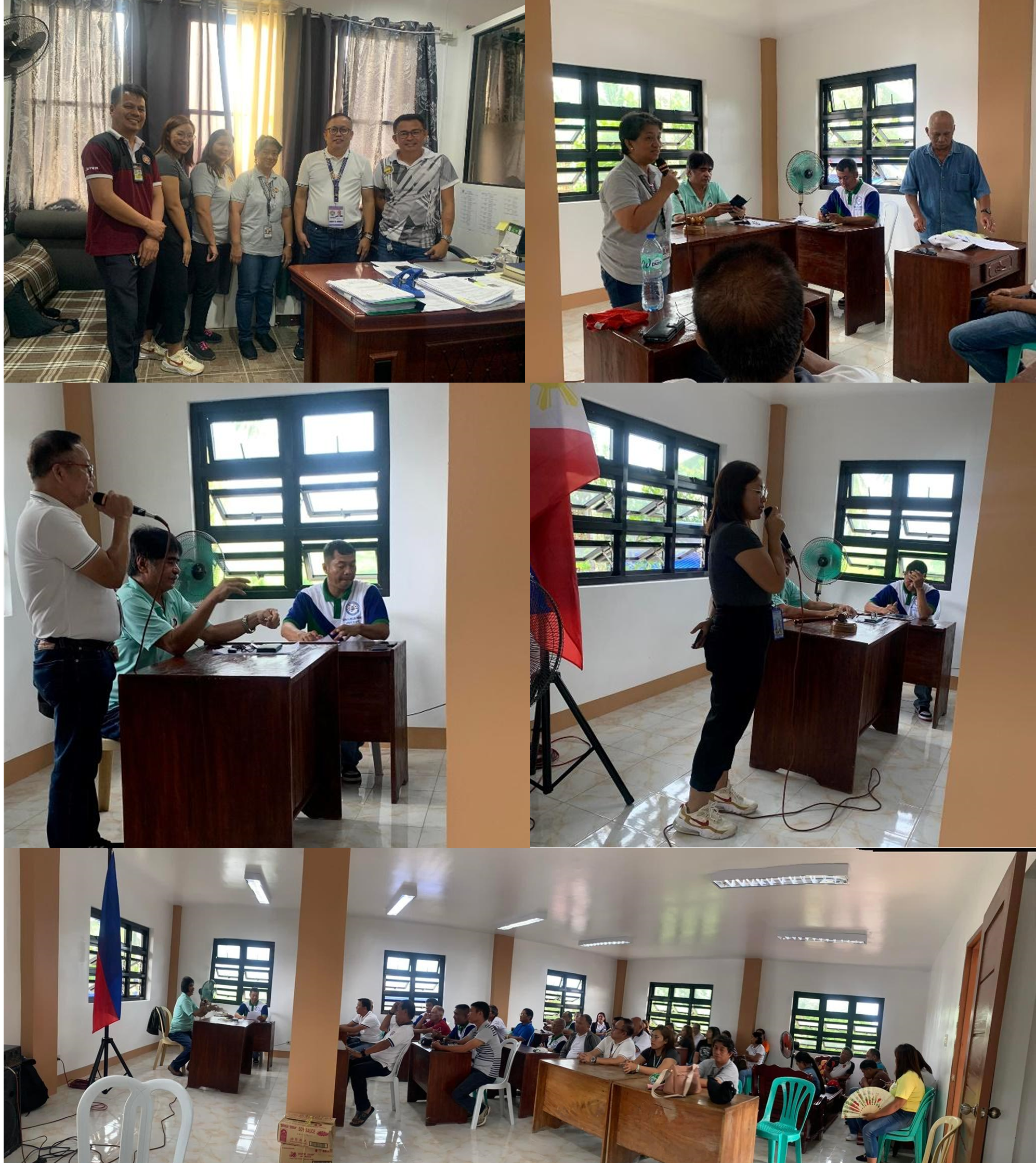 April 13-14, 2023. Mr. Ronnel Pidor, Palawan CDS II, successfully conducted a Compliance Review and Planning Session for 12 cooperatives in Brooke's Point, Palawan, at Agri World. Various memorandum circulars (MCs) from various government line agencies were thoroughly reviewed, including the prerequisites as well as the consequences for report delays and non-submission. The many Cooperative reports that must be submitted have been demonstrated and explained, as was how to properly submit such reports online. Brooke's Point MCDO Ms. Noime Presto and her staff, as well as Brooke's Point, Palawan LGU led by Mayor June Benedito, participated and supported the activities.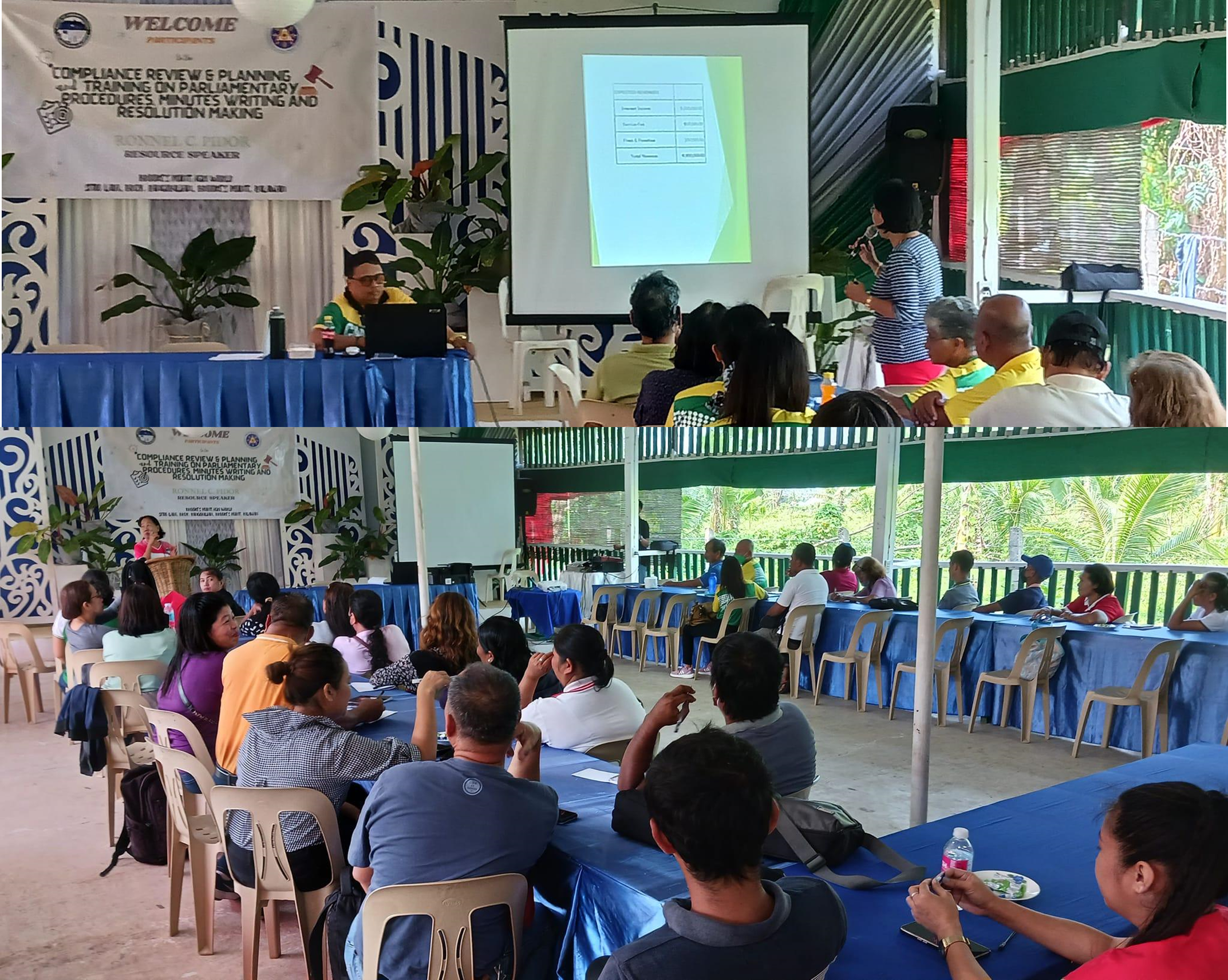 April 13, 2023. CRITS CDS II Ms. Fatima A. Casaul fruitfully conducted Pre-Registration Seminar for prospective Dalahican Fishermen Cooperative with 34 members held at Dalahican Fish Port, Roxas, Oriental Mindoro. The seminar aimed to educate the prospective cooperative members on organizational set-up and operational management.
Prospective cooperative members were encouraged to organize themselves with a defined common goal in mind. They were also shown how to properly begin, including capitalization and membership structure. Management and leadership were also discussed. Participants were also reminded to follow the legal requirements for cooperatives and the registration process. The seminar's key takeaways were as follows: 1) A cooperative is an autonomous and duly registered association of members working together to meet their social, economic, and cultural needs and aspirations; 2) Cooperatives have cooperative values such as self-help, self-responsibility, democracy, equality, equity, and solidarity; and 3) Cooperatives have ethical values such as honesty, openness, social responsibility, and caring for others.
April 13, 2023. The Authority requires cooperatives to complete Fundamentals of Cooperatives Training. This training is provided to cooperatives in order for them to have a thorough understanding of what a cooperative is, which includes the history of the cooperative movement, the history of the Philippine Cooperative Movement, the various Republic Acts concerning cooperatives, cooperative concepts, and the reiteration of cooperative principles, values, and other things as outlined in Republic Act 9520.
In line with this, Oriental Mindoro CDS II Mr. Jefhtee Panganiban successfully conducted the Fundamentals of Cooperatives Training for the newly registered cooperatives including PISDEV-AC and SEACAT with Mindoro Federation of Cooperatives (MiFedCo) and MMGHMCOM happened at MMG Activity Hall, MMG Hospital Tawiran, Calapan City on April 13, 2023. The request for the conduct of said training was initiated by Calapan City Cooperative Council (CCCDO) headed by Ms. Nol Collera in cooperation with the Bureau of Fisheries and Aquatic Resources (BFAR).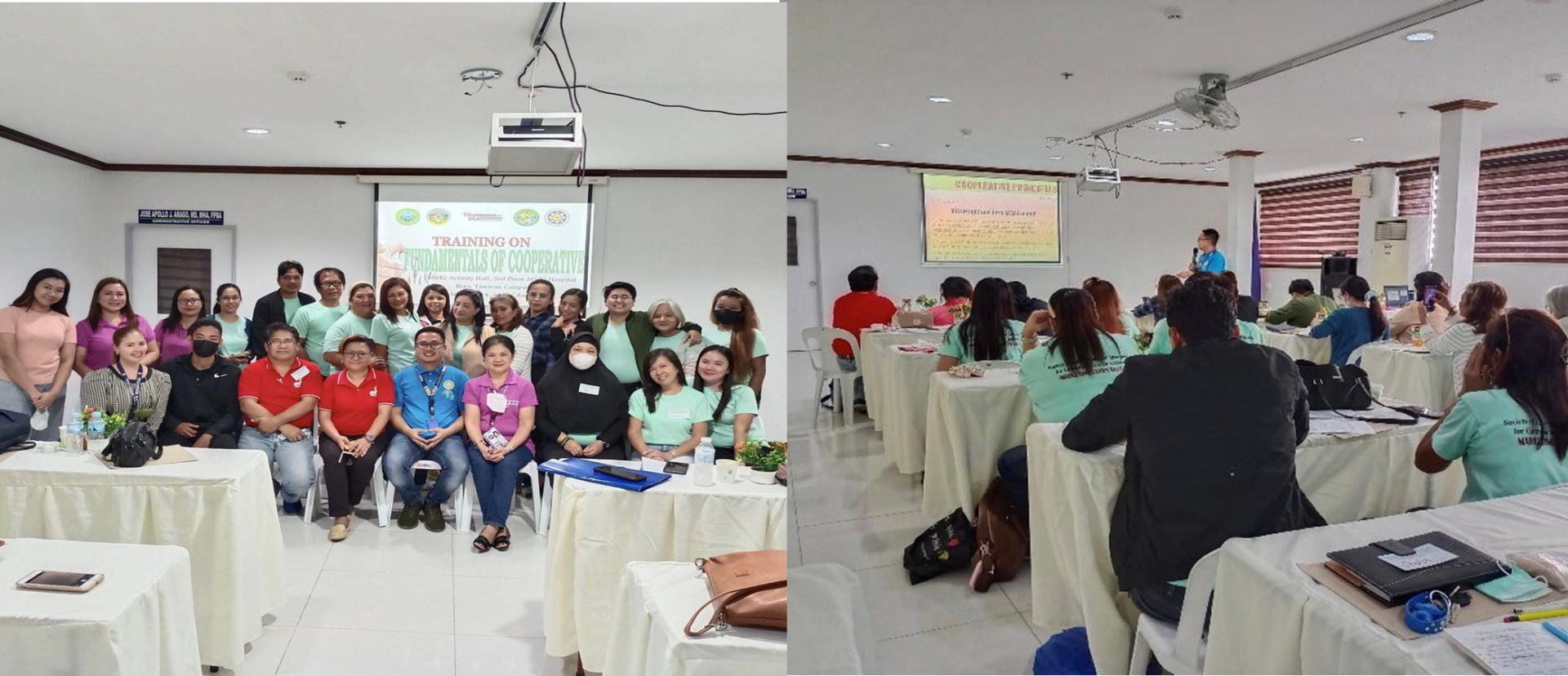 April 14, 2023. Pre-Registration Seminar conducted for the last cluster of Community Based Sustainable Tourism (CBST) Associations in the city of Palawan. Seventy-two (72) members from various CBST associations of this cluster attended the seminar. The seminar aims to provide the basic knowledge in organizing a cooperative, cooperative purpose and existence, the organizational and management structure, functions and responsibilities of members, sources and uses of funds, allocation and distribution of net surplus and others, all of which are based on RA 9520, the Philippine Cooperative Code of 2008. The seminar was enthusiastically conducted by Palawan Acting Senior CDS Ms. Marian Concepcion.

April 15, 2023. The Cooperative Development Authority (CDA) is statutorily mandated to promote the viability and growth of cooperatives as instruments of social justice and economic development in pursuance of the Constitutional mandate under Article XII, Section 15 of the 1987 Philippine Constitution. The CDA adopts the inspection of cooperatives as a mechanism to directly pursue its mission of ensuring the safe and sound operation of cooperatives.
In line with this policy, CDS II Mr. Ronnel Pidor strictly enforced the inspection to Batong Buhay Multipurpose Cooperative in the Office of the Senior Citizen Affairs, Municipal Hall Compound, Bataraza, Palawan and and Biag na Pangarap Marketing Cooperative in Sitio Sagay, Inogbong, Bataraza, Palawan respectively. The inspection process to the two cooperatives ensures that their business operation is still in line with their policies and regulations under their Articles of Cooperation and By-Laws as well as the policies of the Authority.
April 18, 2023. Acting Senior CDS Ms. Marian Concepcion conducted the compliance review which aims to provide participants with a better understanding of regulatory compliance and best practices for submission of mandatory reports and the different regulatory requirements that cooperatives need to comply with, and the consequences of non-compliance to 52 Cooperatives in the City of Puerto Princesa, Palawan happened at the Sangguniang Panlunsod Lobby, New City Hall, Puerto Princesa City. The training was organized by the CCDC in partnership with the City's appointed CDO.

April 21, 2023. A successful Pre-Registration Seminar was held by CDS II, Mark M. Manrique, assigned at MAPSSA Area of Occidental Mindoro to a viable 24 Cooperators of proposed "Paluan Farmers and Fisherfolks Agriculture Cooperative" at Sitio Pamutusin, Brgy. Harrison, Paluan, Occidental Mindoro. The seminar was attended by 14 males and 7 females, three of whom are Senior Citizens and five of whom are Indigenous People (IPs). The request for the conduct of PRS was launched by its coordinator, Mr. Lester G. Evangelio, who saw a need in the community to organize a cooperative to act as a vehicle in fostering self-help, self-responsibility, democracy, equality, equity, and solidarity. Among other things, he aspired to develop the ethical values of social responsibility. The participants were enthusiastic throughout the entire day session and stated that they learned a lot. They think that by forming a cooperative with all of the knowledge learned from the seminar and their own experiences garnered through their long quest of improving their quality of life for the benefit of their children, family, and the community, they were on the right path.