As the Gender and Development (GAD) goals and general objectives of the 2023 National Women's Month Celebration, the Philippine Commission on Women encouraged government agencies and instrumentalities, non-governmental organizations, sectoral groups, private and civil society organizations, and other stakeholders to organize pertinent and significant activities anchoring on the 2023 National Women's Month Celebration  new recurring theme from this year to 2028: WE for gender equality and inclusive society.
The following activities are conducted by the CDA MIMAROPA:
Issuance of Memorandum dated February 23, 2023 requesting all the employees to wear anything purple on all the Wednesdays of March (1, 8, 15, 22 & 29) or even use the hashtags #WEcanbeEquALL and #PurpleWednesdays2023 in all your social media post to signify support for women's empowerment and gender equality.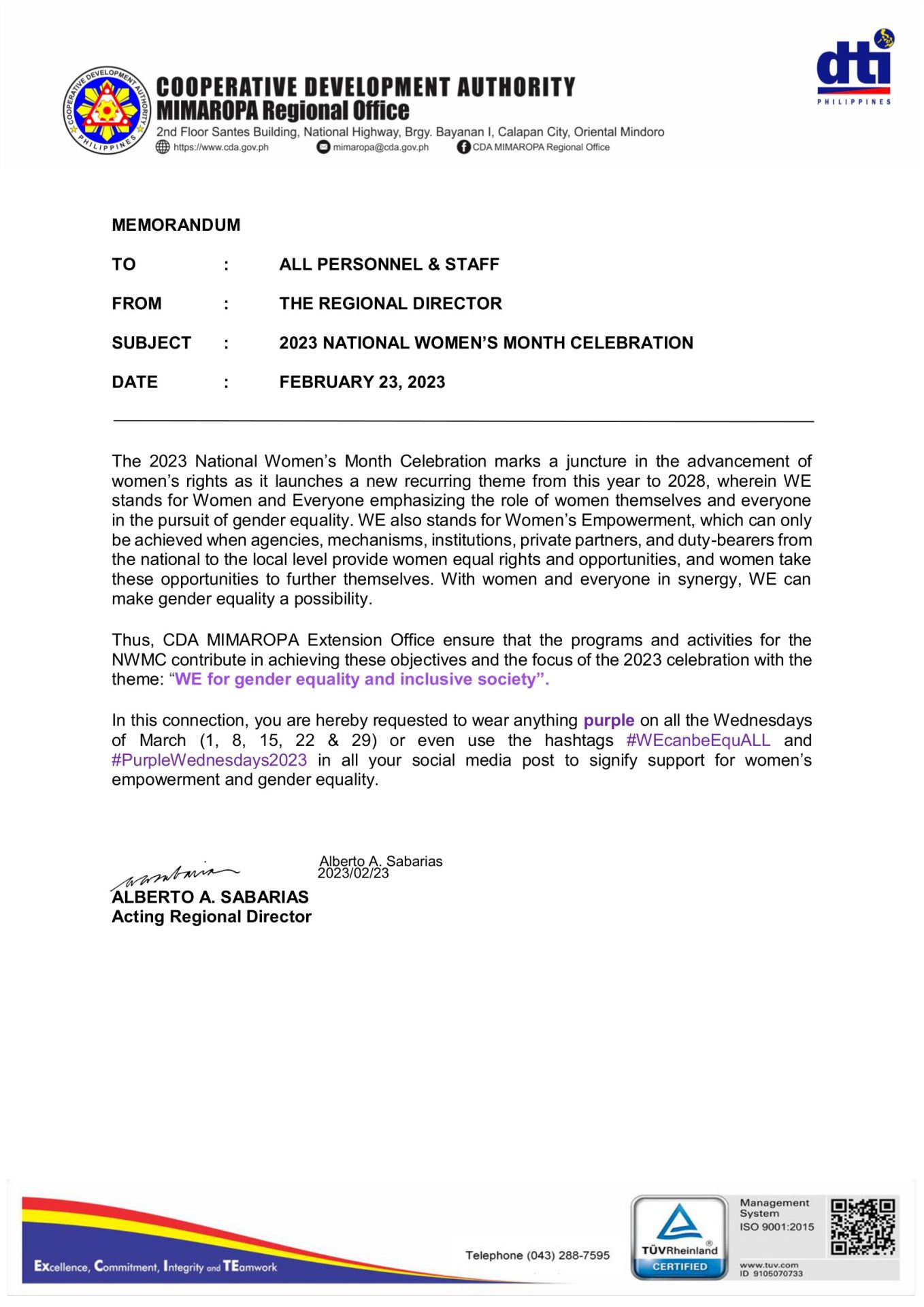 2. Support banner for 2023 NWMC. Displaying the banner by uploading the digital counterpart to CDA MIMAROPA's official website and social media accounts.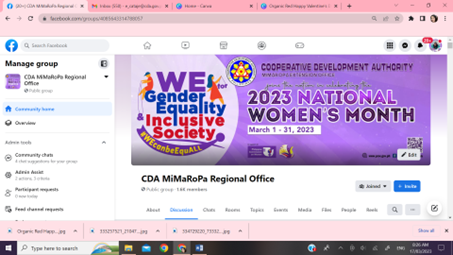 3. The Electronic Cooperative Clinique Program (ECoopCLiP) for the region was launched with the slogan "Serbisyo para sa Kooperatiba, Serbisyo para kay Juana 2013" and ran on the Zoom platform for one (1) full day. All sections were present to respond to inquiries from cooperatives, members, and other stakeholders after the presentation of the various Memorandum Circulars. Also, there are contests or activities focusing on gender and development (GAD) or addressing particular problems and concerns of women that are relevant to cooperative objectives.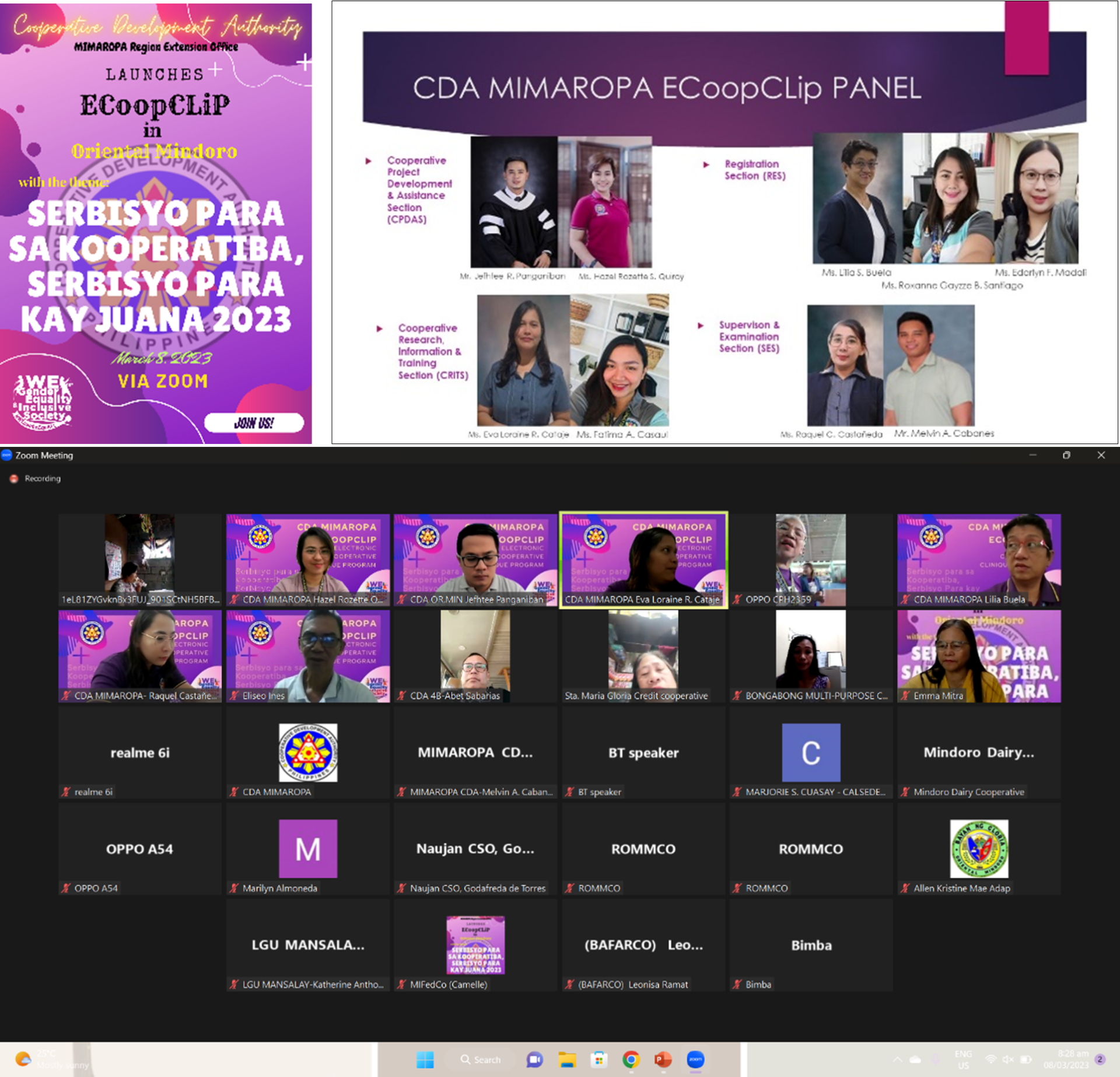 4. In conjunction with the Cooperative Development Authority's 33rd anniversary celebration, the GAD Forum for Cooperatives was held. We presented the Common Findings in the Inspection of Cooperatives, Relative to the Gender and Development Implementation to Cooperatives, and then discussed the Recommending Actions for the Cooperatives.

5. We also did the statement cards aim to provide a dose of inspiration and motivation that can encourage women and girls to pursue careers and rally behind women's rights in these fields, which was shared the statement cards within the month of March, through our official social media platforms.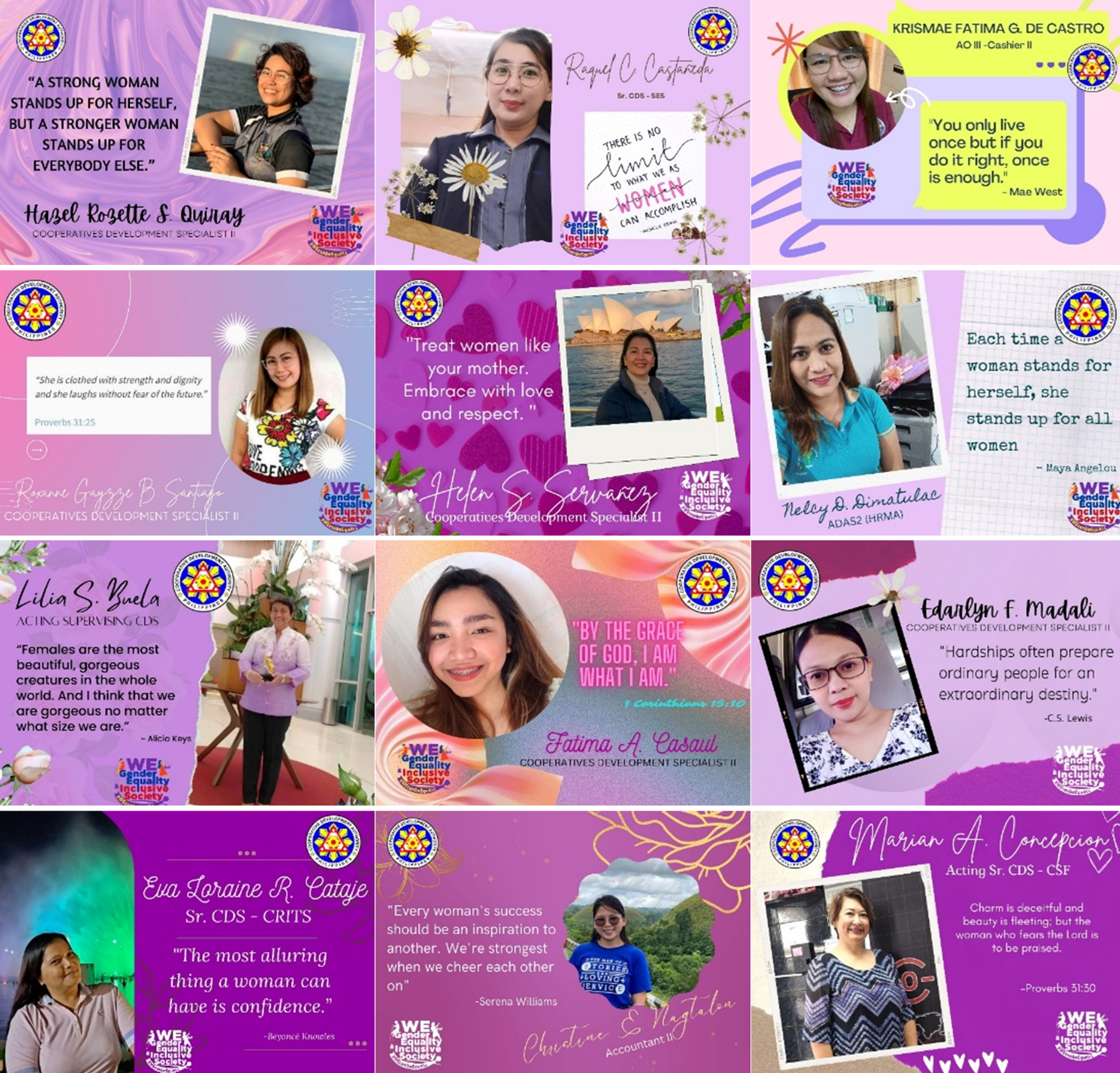 The 2016–2022 theme, WE Make CHANGE Work for Women, highlighted the need for sympathetic and coordinated networks to advance gender equality and women's empowerment. The current theme of the NWMC inspires a fresh commitment to advocacy and builds on the successes made during that theme's tenure (GEWE).
Salutations to all ladies in the country from CDA MIMAROPA.