President Rodrigo Duterte signed into law the landmark Republic Act No. 11524, otherwise known as the Coconut Farmers and Industry Development Trust Fund Act. This law prescribes the management and utilization of the coco levy fund, the tax exacted from farmers during the Marcos Administration from 1971 to 1983 currently deposited in the national treasury, and assets acquired through the said fund for the benefit of the coconut farmers and development of the coconut industry. With this, the Department of Agriculture-Philippine Coconut Authority (DA-PCA) braces itself to face new and enormous challenges of effectively implementing the law that aims to consolidate the benefits due to coconut farmers and sustain the development of the coconut industry.
The new law also reconstitutes and strengthens the PCA that is tasked to craft and implement a Coconut Farmers and Industry Development Plan (CFIDP). On Section 4, Preparation of the Coconut Farmers and Industry Development Plan. – The Coconut Farmers and Industry Development Plan shall be prepared by the Philippine Coconut Authority (PCA) and approved by the President of the Philippines. The utilization of the Trust Fund created under this Act, or any portion thereof, shall be in accordance with the Development Plan. In the performance of its functions, the PCA shall consult coconut farmers and their organizations, industry associations, civil society organizations, academe, government agencies concerned, particularly the Land Bank of the Philippines (LBP), Development Bank of the Philippines (DBP), Cooperative Development Authority (CDA), Department of Science and Technology-Philippine Council for Agriculture, Aquatic and Natural Resources Research and Development (DOST-PCAARRD), Bureau of Micro, Small and Medium Enterprise Development under the Department of Trade and Industry (DTI), Commission on Higher Education (CHED), Technical Education and Skills Development Authority (TESDA), Agricultural Training Institute (ATI), Philippine Center for Post-Harvest Development and Mechanization (PhilMech), Department of Agriculture's High Value Crops Development Program, Department of Agriculture's Bureau of Animal Industry's Philippine Native Animals Development Program, National Dairy Authority (NDA), Department of Public Works and Highways (DPWH) and other stockholders in the coconut industry. The Plan shall set the directions and policies for the development and rehabilitation of the coconut industry within fifty (50) years.
Thus, PCA partners with the Cooperative Development Authority (CDA) aims for an intervention of:
Firm up target beneficiaries: cooperatives and coconut farmers' organizations.

Benchmarking of individual members and coconut farmer cooperatives – baseline data to be established

For Existing Coconut Farmers Co-ops

Needs assessment of existing cooperatives

Provision of capacity building program

Assist in the registration of coconut farmers in the National Coconut Farmers Registry System (NCRFS)

For Coconut Farmers Organizations or CFOs:

Social preparation

Training on cooperative organization and registration

Pre-registration Seminar

Registration cost subsidies
For individual coconut farmers

Exposure to existing cooperatives

Orientation whether to join an existing cooperative or organize their own cooperative
Engagement with other coops for enhancement of coconut farmers' coops

Promotion of GAD and youth development in the organization of cooperatives

Information and learning materials development

Network and linkaging for development of cooperatives such product development, training, financing, and related concept

Market matching through traditional, online or digital platform

Support mechanism

Preparation of FS and audit subsidy

Development of Computerized accounting system

Provision of computers and accessories for office operation

Organization or assessment of existing Federations

Financial assistance for start-up business and livelihood, and seed capital

Training facilities and processing plant

Research and Development

Project Documentation

Monitoring
The Main Objective of the partnership is based on the PPA's of the program implementation:
Strengthening of coconut farmer cooperatives through Capacity Building Program

Cooperative Organizational Development Training:

Cooperative Management and Governance;

Fundamentals of Cooperatives

Accounting

Financial Management
With established Processing Centers Operation and Physical Plant Management

Accounting

Skills training

Value chain

Warehousing management

Sales & marketing

Transportation & maintenance management

Inventory management

Organizational Development training

Disaster Resiliency Training

Social Preparation and Training of Coconut Farmer Organizations and Organizing of Individual Coconut Famers
Conduct of Pre-Registration Seminar (PRS)

Provide technical assistance on the preparation of registration requirements

Provision of registration cost subsidies
Implementation of Support Mechanisms such as Enterprise Development, Value Chain, Market Matching, Registration and Audit Subsidies, Financial Assistance, Research and Development, Networking and Linkaging, Organization of Cooperative Federation, and other appropriate interventions
Provision of Financial Assistance to existing and newly registered cooperatives

Hiring of Development Management Team

Conduct of meetings/consultations and planning activities

Establishment of Processing Centers

Seed capital for the federation

Monitoring and evaluation
The partnership program implementation shows the conceptual framework of the project
PROBLEM AREAS
Unorganized coconut farmers as cooperatives;

Existing cooperatives not fully capable of managing cooperatives and coco-based enterprises;

inadequate livelihood and market opportunities

lack of available logistics, processing and other postharvest facilities

inadequate financing
OUTPUT
Capability enhancement activities are conducted

Existing cooperative assisted

Coconut Farmers Organizations organized into cooperatives

Information materials developed

Network and linkage with appropriate organizations established for coconut farmers coop development

Market opportunities identified

Support systems and mechanisms developed and extended

Financial assistance extended

Processing plant established

Research and Development conducted

Project implementation documented
OUTCOME
cooperatives are operating viable agribusiness enterprise

skills of the coconut farmers are enhanced

CFOs registered as cooperatives

market for coconut and by-products are established

Common facilities for coconut farmers established and utilized

Information, audio-visuals, and learning materials utilized for capacity building

New coconut related products and strategies developed and discovered through research
IMPACT
Contributes to:
Increased income of coconut farmers and cooperatives

Employment generated

Competitiveness of cooperatives and coconut farmers including their products
Prior to the commencement date according to the CDA – PCA Partnership MOA, CDA MIMAROPA started to engage with different agencies to undertake the communication campaign on RA 11524. Also CDA MIMAROPA worked harder to implement the program in order to give the quality service and provide the extra superior technical service to our Coconut Farmers.
August 31,2022| The Information Caravan for Coconut Farmers and Industry Development Plan (CFIDP) was conducted in Marinduque Convention Center, Boac, Marinduque to disseminate information on the Implementation of RA 11524. Different National Government Agencies were involved in this program including CDA, represented by CDS II Edilberto Sager which also presented the agency's plans and programs for coconut farmers associations and cooperatives.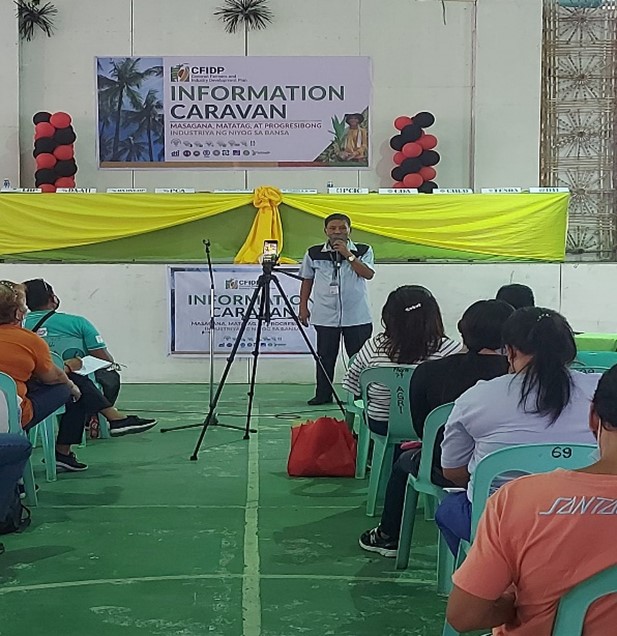 The activity was spearheaded by ATI, PCA and the Provincial Agriculture Office headed by its Provincial Agriculturist former DA Asec. Edilberto M. De Luna and was graced by Provincial Administrator Mike Vincent Q. Velasco representing Gov. Presby Velasco, Province of Marinduque and Congressman Lord Allan Jay Q. Velasco, PCA Regional Manager, Sr. CDS Raul Evangelista of CDA, Edilberto M.Sager of CDA Marinduque, LBP, PCIC, CHED, TESDA, DA, DOST, PHILHEALTH, DTI and ATI (Agriculture Training Institute).
September 13, 2022 |INFORMATION CARAVAN-Inter-Agencies of the Coconut Farmers and Industry Development Plan (CFIDP) successfully conducted the activity at MDDRMO Hall, Roxas, Oriental Mindoro hosted by the Agricultural Training Institute – MIMAROPA.
The activity was participated by diffe rent agencies involved in the CFIDP namely PCA, ATI, PhilMech, PCIC, PhilHealth, TESDA, NDA and CDA, represented Mr. Cristian De Ade. The Provincial Government of Oriental Mindoro and Provin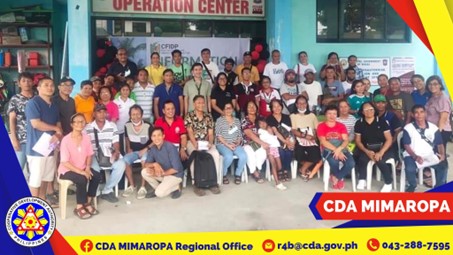 cial Agriculture Office was also present in the activity. Coconut farmers from different municipalities of Oriental Mindoro were the main audience of the Information Caravan. Different agencies explained their part in the CFIDP as well as the projects they will implement for the coconut farmers.
September 20, 2022 | Philippine Coconut Authority headed by Regional Manager III Bibiano C. Concibido, Jr., Regional Staffs, PCA Romblon personnel, and more than 60 farmer leader representatives from different municipalities of Romblon participated the Coconut Farmers and Industry Development Plan (CFIDP) Information Caravan facilitated by Agricultural Training Institute (ATI) held at Simple Living Hotel, Odiongan, Romblon. During the information campaign, different representatives of Implementing Agencies (IAs) presented their programs aligned to coconut industry development under RA 11524. IAs includes PCA, ATI, DA RFO, NDA, CDA, TESDA, PCIC, and others.
The CDA Provincial Office represented by CDS, Edarlyn F. Madali, presented the plans and programs for CFIDP particularly for the Coconut Farmers Organizati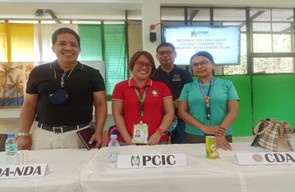 on and Development. During the open forum, all queries from participants were also answered and they offered support towards successful implementation of CFIDP. The assistance to the cooperatives occurred at the same time as the partnership's strategic plan was transmitted to the region. It was the start that the CDA MIMAROPA began to deliberate in accordance with the strategy. This technique was lauded by the region since they were the first to provide financial aid to the Coconut Farmer cooperatives. It began with two and has progressed to numerous milestones for the CDA-PCA Partnership program.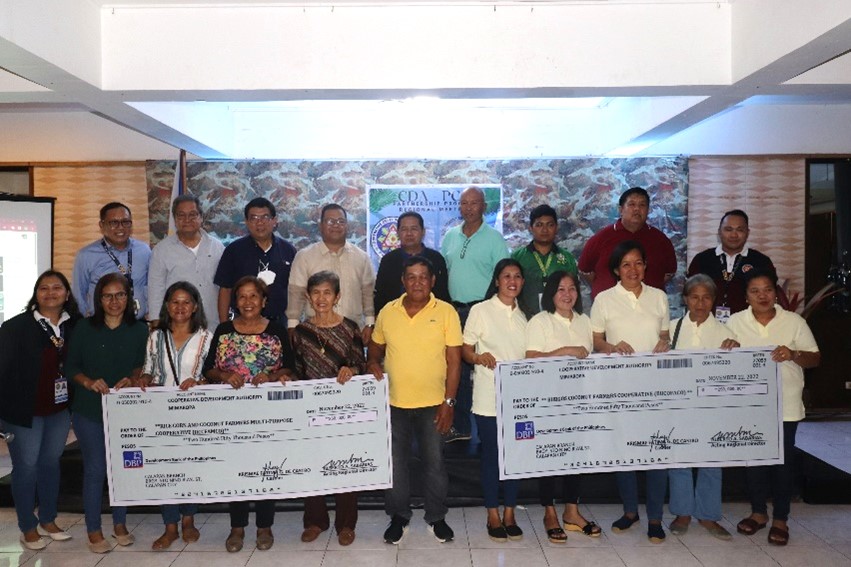 Occidental Mindoro
𝘊𝘰𝘤𝘰𝘯𝘶𝘵 𝘍𝘢𝘳𝘮𝘦𝘳𝘴 𝘰𝘧 𝘖𝘤𝘤𝘪𝘥𝘦𝘯𝘵𝘢𝘭 𝘔𝘪𝘯𝘥𝘰𝘳𝘰 𝘔𝘶𝘭𝘵𝘪-𝘗𝘶𝘳𝘱𝘰𝘴𝘦 𝘊𝘰𝘰𝘱𝘦𝘳𝘢𝘵𝘪𝘷𝘦 (𝘊𝘍𝘖𝘔 𝘔𝘗𝘊)

𝘒𝘢𝘭𝘪𝘱𝘶𝘯𝘢𝘯 𝘯𝘨 𝘛𝘳𝘪𝘣𝘶𝘯𝘨 𝘉𝘶𝘩𝘪𝘥 𝘢𝘵 𝘏𝘢𝘯𝘶𝘯𝘶𝘰 𝘈𝘨𝘳𝘪𝘤𝘶𝘭𝘵𝘶𝘳𝘦 𝘊𝘰𝘰𝘱𝘦𝘳𝘢𝘵𝘪𝘷𝘦 ( 𝘒𝘈𝘛𝘙𝘐𝘉𝘜𝘏𝘈𝘕 𝘈𝘊𝘖)

𝘒𝘢𝘭𝘪𝘱𝘶𝘯𝘢𝘯 𝘯𝘨 𝘮𝘨𝘢 𝘒𝘢𝘵𝘶𝘵𝘶𝘣𝘰𝘯𝘨 𝘔𝘢𝘯𝘨𝘺𝘢𝘯 𝘯𝘢 𝘗𝘪𝘯𝘢𝘨𝘱𝘢𝘭𝘢 𝘢𝘯𝘥 𝘋𝘳𝘰𝘱𝘴 𝘰𝘧 𝘍𝘢𝘪𝘵𝘩 𝘊𝘩𝘳𝘪𝘴𝘵𝘪𝘢𝘯 𝘔𝘪𝘴𝘴𝘪𝘰𝘯 𝘈𝘨𝘳𝘪𝘤𝘶𝘭𝘵𝘶𝘳𝘦 𝘊𝘰𝘰𝘱𝘦𝘳𝘢𝘵𝘪𝘷𝘦 (𝘒𝘈𝘒𝘈𝘔𝘗𝘐 𝘋𝘍𝘊𝘔 𝘈𝘊)

𝘛𝘳𝘪𝘣𝘶𝘯𝘨 𝘐𝘳𝘢𝘺𝘢 𝘴𝘢 𝘒𝘢𝘶𝘯𝘭𝘢𝘳𝘢𝘯 𝘔𝘪𝘯𝘥𝘰𝘳𝘰 𝘈𝘨𝘳𝘪𝘤𝘶𝘭𝘵𝘶𝘳𝘦 𝘊𝘰𝘰𝘱𝘦𝘳𝘢𝘵𝘪𝘷𝘦 (𝘛𝘐𝘒𝘔𝘈𝘊𝘖)

𝘉𝘢𝘵𝘢𝘴𝘢𝘯 𝘉𝘶𝘭𝘢𝘯𝘨𝘩𝘰𝘵 𝘍𝘢𝘳𝘮𝘦𝘳𝘴 𝘈𝘨𝘳𝘪𝘤𝘶𝘭𝘵𝘶𝘳𝘦 𝘊𝘰𝘰𝘱𝘦𝘳𝘢𝘵𝘪𝘷𝘦

𝘗𝘢𝘯𝘥𝘢𝘯 𝘋𝘪𝘬𝘦 𝘍𝘢𝘳𝘮𝘦𝘳𝘴 𝘈𝘨𝘳𝘪𝘤𝘶𝘭𝘵𝘶𝘳𝘦 𝘊𝘰𝘰𝘱𝘦𝘳𝘢𝘵𝘪𝘷𝘦
Oriental Mindoro
Alcate Coconut Farmers Agriculture Cooperative (ALCOFARCO)

Bigaan Farmers Agriculture Cooperative (BARCO)

Bulusan Coconut Farmers Agriculture Cooperative (BCFC)

Gloria Coconut Farmers Agriculture Cooperative (GLOCOFACO)

Malugay Farmers Agriculture Cooperative (MALFACO)

Mulawin Coconut Farmers Agriculture Cooperative (MUCOFACO)
November 10-11, 2022| PCA Palawan participated in the Accreditation and Workshop for Project Proposal Presenation of Coconut Farmer Cooperatives conducted by Cooperative Development Authority (CDA) led by Program Coordinator Ms. Marian A. Concepcion and Mr. Ronnel Pidor at Sir Brookes Residence, Brgy. Pangobilian, Brooke's Point Palawan. Ten (10) qualified cooperatives having coconut farmers as majority members from Brooke's Point, Sof. Eapañola, Quezon and Aborlan presented their desired projects related to coconut farming. The Grant is part of the implementation of Coconut Farmer's Industry Development Plan (CFIDP) under the cooperation of CDA and PCA.
December 19, 2022| As part of the program execution, the province of Palawan also provides financial assistance to cooperatives authorized by the C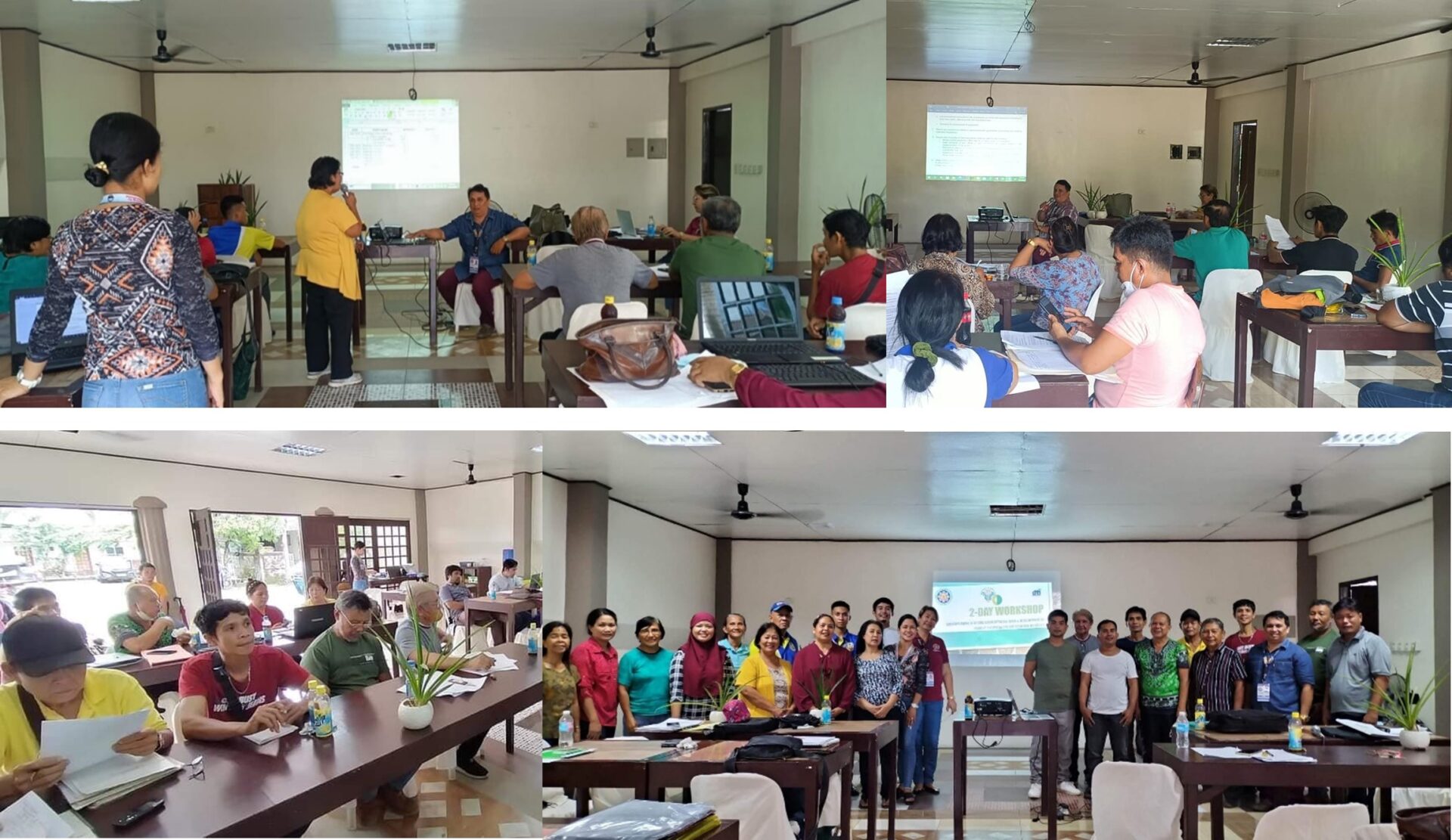 DA and PCA, namely:
Couples For Christ Family Ministries Cooperative (CFC FAMICO)

Ina Producers Cooperative

Agriculture Cooperative of Sofronio Espanola (ACSE)

Quezon Marketing Cooperative

Malalong Multipurpose Cooperative
December 19, 2022| St. Vincent Cooperative Compound, Brgy. Dapawan, Odiongan, Romblon. The Province of Romblon awarded the five (5) 250,000 financial assistance to the Coconut Farmer's Cooperative. The program was graced by the Sr. CDS of CPDAS on behalf of the Acting Regional Director via zoom. Cooperatives accredited include:
Kabalikat para sa Diyos at Bayan MPC (Kadbayan MPC)

Vincent Ferrer Parish Multipurpose Cooperative (St. Vincent Coop)

Longon Camili Agrarian Reform Cooperative

Arya Coconut Farmers Multipurpose Cooperative (ACF MPC)

Magdiwang Agrarian Reform Cooperative (MARC)