In a significant step towards improving cooperative education and training in the Philippines, the Cooperative Development Authority – MIMAROPA Extension Office (CDA-MIMAROPA) and Marinduque State College (MSC) joined forces in a round table discussion and presentation of a Memorandum of Agreement (MOA) this May 29, 2023.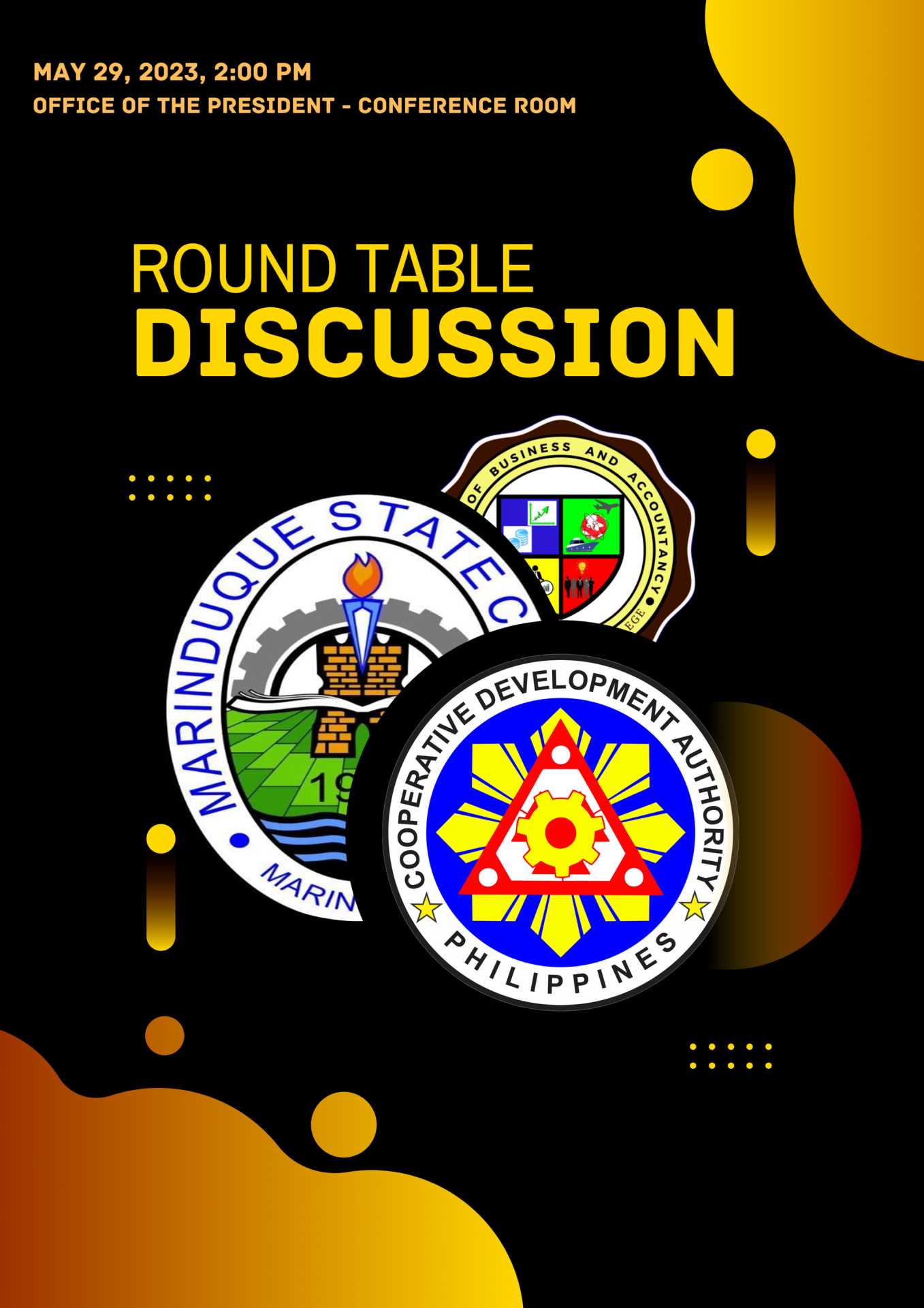 The event took place at the Office of the President Conference Room at Marinduque State College in Boac, Marinduque.
The collaborative effort between the CDA and MSC aims to enhance the education and training of cooperatives in the MIMAROPA region (Mindoro, Marinduque, Romblon, and Palawan) through the implementation of a Training of Trainers (ToT) program. This program targets trainers of accredited Cooperative Training Providers (CTPros) and prospective applicants of the CDA accreditation program.
Present at the round table discussion were key representatives from both organizations. The CDA-MIMAROPA Acting Regional Director Alberto A. Sabarias, Cooperative Research, Information, and Training Section (CRITS) Chief Eva Loraine R. Cataje, and Cristian B. De Ade, a Cooperatives Development Specialist II from the Marinduque Field Office. On behalf of MSC, attendees included Dr. Diosdado P. Zulueta, SUC President III, who was represented by Alfredo M. Ofrecio, CPA, Chief of Staff, along with Dr. Verna Liza L. Capiña, Dean of the College of Business and Accountancy, Dr. Ma. Edelwina M. Rase, Vice President for Research and Education, Dr. Michael V. Capiña, Director of Business Affairs Office, and other faculty heads from the College of Business and Accountancy.
The partnership between the CDA and MSC is expected to provide a platform for knowledge exchange, collaboration, and capacity building within the cooperative sector. The ToT program will equip trainers with the necessary skills and knowledge to deliver effective training programs that meet the standards set by the CDA. By enhancing the capabilities of trainers, the quality of cooperative education and training throughout the MIMAROPA region is set to improve significantly.
Acting Regional Director Alberto A. Sabarias of the CDA acknowledged the vital role of education and training in strengthening the cooperative sector. He expressed his confidence in the partnership with MSC, stating that it will contribute significantly to the growth and sustainability of cooperatives in the MIMAROPA region.
The round table discussion concluded with the formal commitment of both organizations to collaborate closely in implementing the ToT program. This milestone event marks the beginning of a new chapter in cooperative education and training, ultimately benefiting cooperative members and communities throughout the MIMAROPA region.