"New beginnings are in order, and you are bound to feel some level of excitement as new chances come your way." —Oscar Auliq-Ice
A remark from Oscar Auliq-Ice, author of "These Lucky New Year's Foods," encourages us to seize new chances in the coming year.
A new year signifies a new beginning, and we may use it to create new goals. Taking the right steps now can help us achieve our goals throughout the year. However, this Extension Office has made great gains in documenting milestones and major actions that influence the lives of cooperative members in this region through their activities and special programs and initiatives in accordance with the agency's Work and Financial Plan. Thus, this narrative report highlights cooperative and cooperative partner activities in which we have engaged through various actions and incidents around the Region:
January 9, 2023. 𝐹𝑖𝑟𝑠𝑡 𝑉𝑖𝑠𝑖𝑡𝑜𝑟𝑠 𝑜𝑓 𝑂𝑓𝑓𝑖𝑐𝑒 𝑜𝑓 𝑡ℎ𝑒 𝑅𝑒𝑔𝑖𝑜𝑛𝑎𝑙 𝐷𝑖𝑟𝑒𝑐𝑡𝑜𝑟. Courtesy call of three (3) cooperatives to Acting Regional Director Alberto Sabarias was an initiative to fortify the relationship between the Regional Office and cooperatives in the region.
Mr. Sabarias led the courtesy call of three (3) cooperatives represented by Chairperson Ramon Silverio of Occidental Mindoro Cooperative Bank (OMBC), Ms. Corazon Calaguas and Ms. Catalina Nicolas of Occidental Mindoro Credit Surety Fund Cooperative, and Ms. Mary Grace Frias of Occidental Mindoro Federation of MPC (OMIFEMCO).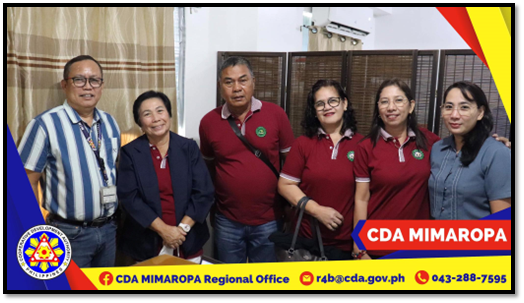 The pre-registration seminar will provide information to assist aspiring cooperative members in understanding what they need to know before registering to be a cooperative. Last January 13, 2023, Pre-registration seminar was cascaded for aspiring Fishermen Cooperative which consist of eighteen (18) members. Members' business focuses on the production and marketing of fish products and decided to convert their group into a cooperative to help their members and the community.
The seminar was successfully concluded by CDS II Fatima A. Casaul and took place at the BFAR Office in Brgy. Guinobatan, Calapan City, Oriental Mindoro on January 13, 2023.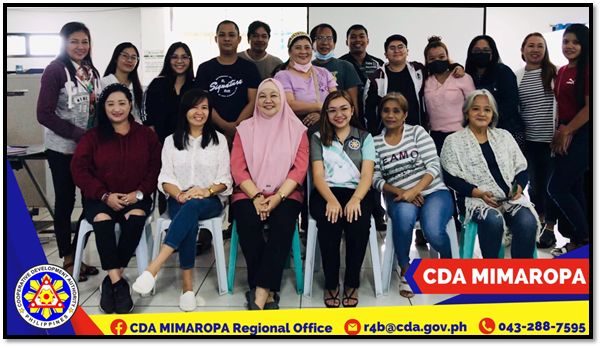 January 21, 2023. Successfully conducted the 26th Annual General Assembly Meeting of Brooke's Point Public Elementary & Secondary School Teachers Multi-Purpose Cooperative (BEST MPC) happened at Brooke's Point Central School Covered Gymnasium. The activity was themed: "Kooperatiba'y Kaagapay Sa Anumang Hamon Ng Buhay!" Kudos to all officers and members for the continuing support and trust to your cooperative and embracing the true spirit of cooperativism!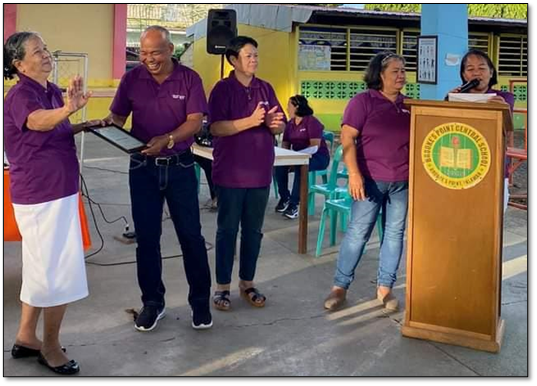 January 23, 2023 | Awarding of Certificate of Registration and Certificate of Compliance to Malaya Village Farmers Agriculture Cooperative (MaVFaCo) of Pinamalayan, Oriental Mindoro, the 2023-first newly registered cooperative in MIMAROPA Region Extension Office. After the awarding, the Registration Section headed by Senior CDS Ms. Lilia S. Buela conducted post-registration orientation to MaVFaCo key officers for the purpose of guiding them on what to do after securing their registration to the Authority.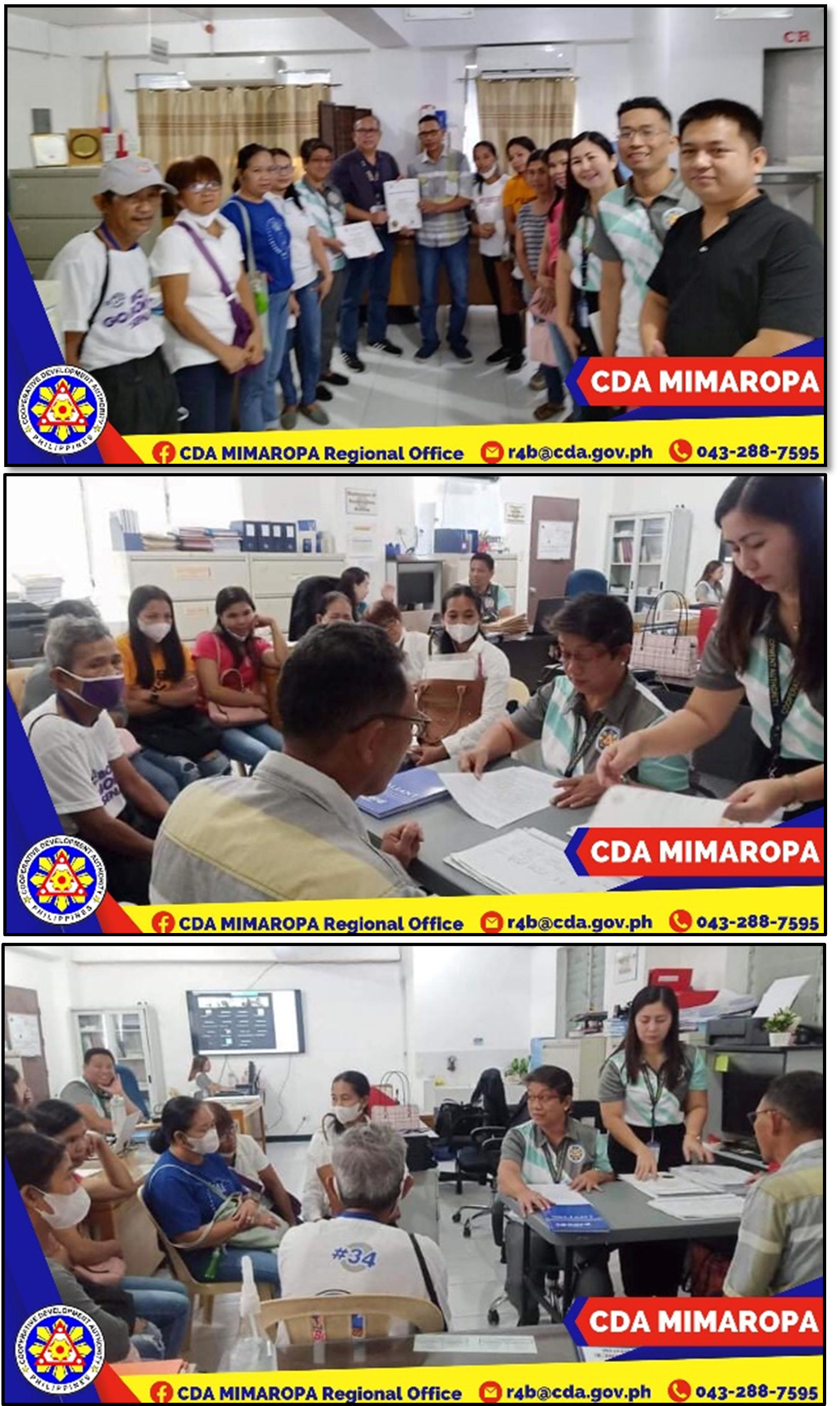 CDA Acting Regional Director Alberto A. Sabarias, and Oriental Mindoro CDS II, and Program Coordinator, Jefhtee R. Panganiban made a courtesy call to Calapan City's Honorable Mayor Marilou Flores-Morillo on January 23, 2023.
During their meeting, Acting Regional Director Sabarias and Mayor Morillo discussed cooperative movement programs in the city. The city mayor will prioritize converting farmer associations into cooperatives and implementing farmer programs. Another important aspect of the conference is the collaboration of the two offices for the benefit of the city's citizens.
"As the Director of Cooperative Development Authority MIMAROPA, it is essential to have a strategy in place to promote the activities and projects of the agency."
As part of CDA MIMAROPA Work and Financial Plan, Acting Regional Director Alberto A. Sabarias was invited to be interviewed on January 25, 2023 at 105.5 DWOM FM tackling about the organization's significance and what it does as a government agency. This is also an opportunity for the agency to promote the benefits of forming a cooperative, as well as creating awareness and engaging the public in the important work, contribution and plans of the CDA MIMAROPA to the economy.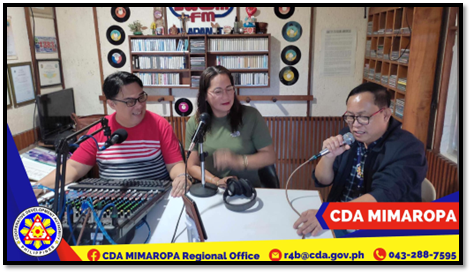 Trainings, mentoring, cliniquing, consulting, and the rendering of legal opinions are all forms of technical assistance. TAS is required from all employees.
The majority of such services focused on ensuring that registering cooperatives quickly comply with the documentary requirements for the registration of their coop articles of cooperation and bylaws, and that their officers are fully informed and adequately trained on the laws, rules, and guidelines, as well as the standards to which the coop is expected to adhere. Last January 25, 2023, CDS II Fatima Casaul conducted the Validation of the Application for Registration as part of CDA technical assistance to the proposed cooperative, MANGYANMANACO, an aspiring Agriculture Cooperative, which members are mainly IPs from the different municipalities of Oriental Mindoro Province.