by MAY CELESTINE S. NERY, CDS II
Naga City – Six (6) Cooperative Development Authority Regional Offices simultaneously hold the signing of Memorandum of Agreement (MOA) for the Wi-fi Connectivity Project on April 28, 2023. Eleven Cooperative beneficiaries from the Region V-Bicol signed the MOA for CDA's Wi-fi Connectivity Project through hybrid setting.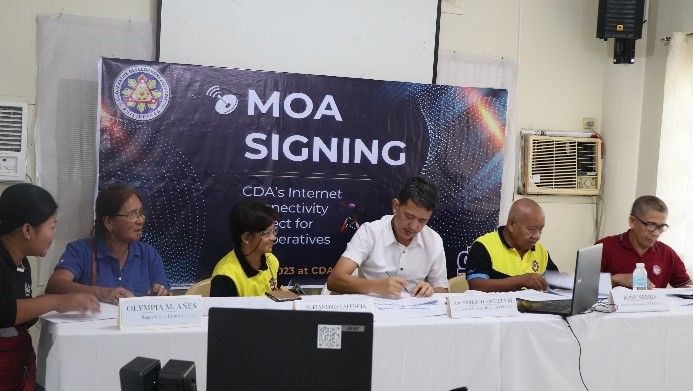 The activity was graced by Deputy Administrator Ray R. Elevazo and USec. Joseph B. Encabo who both give their messages to the beneficiaries. The MOA signing held at CDA Regional Office was attended by the representatives of Sipocot-Libmanan Auto-Supply and Transport Service Cooperative (SILASTRASCO), Ragay Coco Eskwela Turismo Kabuhayan Agriculture Cooperative (Ragay Coco Sentral), Atty. Emilio D. Escueta III, CDA R5 Officer-in-Charge and Engr. Zaldy G. Bermejo, Sr.CDS/Chief-CPDAS. The other nine (9) cooperatives from different provinces joined and simultaneously signed the MOA while on the zoom platform.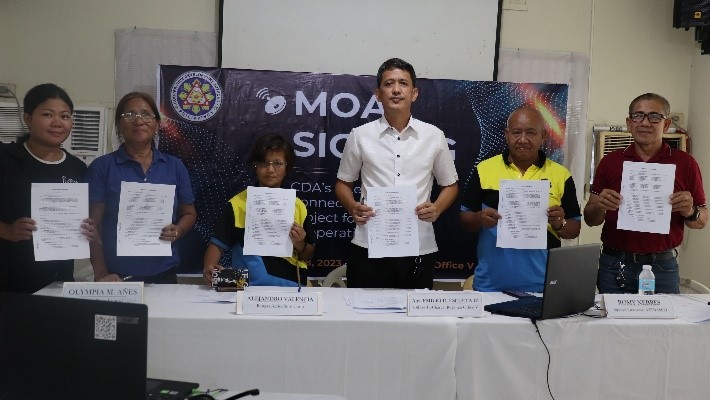 After the MOA signing ceremony, Mr. Bertito M. Laganson, Chairperson of Bantonan Community Development Cooperative gave his message of gratitude for granting the project especially that the Bicol Region has the highest number of cooperative beneficiaries. Two (2) other coop beneficiary's representatives from Visayas and Mindanao also gave their messages. The activity ended through the closing message given by Asec. Virgilio Lazaga.
This project aims to provide internet connectivity to the unserved and underserved community. Through this, the cooperative beneficiaries will be able to submit and comply with the reports required by the CDA. Moreover, it will help the cooperative increase their income by selling internet vouchers and coop products through online marketing platforms.
Download Article here: WIFI_CONNECTIVITY_MOA_SIGNING