by Larry L. Villaluz, CDS II
The Cooperative Development Authority Regional Office 5 (CDA RO 5), in partnership with the Bicol University (BU), and with the help from Camarines Norte Federation of Cooperatives (CANOFECO) as training management, conducted the much awaited Training of Trainers (ToT) of Accredited Training Providers (ATPs) and Prospective Trainers of CDA last March 6-8, 2023 at BU Main Campus, Legazpi City, Albay. It was participated by 33 individuals all coming from the Bicol Region. The opening program was graced by no less than the newly elected Bicol University President in the person of Dr. Baby Boy Benjamin Nebres III, BU College of Business Economics Management Dean Dr. Edgar Barrameda, and CDA Senior CDS and CRITS Chief, Ms. Monina Bechayda, representing CDA Regional Director Salvador Valeroso. The activity aimed for the improvement of education and training of cooperatives in the Bicol Region.
The ToT lasted for three (3) days with the following topics and speakers:
Topic 1: History of Cooperative and Cooperative Education by Ms. Roma Belano of CDA, CDS II of CDA
Topic 2: Adult Learning and Teaching by Dr. Julie M. Lustan, Research Coordinator and Assistant Professor of BUCBEM
Topic 3: Training Cycle and Training Needs by Prof. Ma. Crestia Banares, Technical Staff of CTCED and Assistant Professor of BUCBEM
Topic 4: Training Design and Training Delivery by Prof. Mary Ann L. Ansano, Chairperson of Department of Entrepreneurship
Topic 5: Training Evaluation and Monitoring by Dr. Dimson M. Rivero, Director of International Relations
Topic 6: Training Using Online Platform by Prof. Shiela B. Desuyo, Associate Dean of BUCBEM
Topic 7: Focus on Trainer: Facilitating Learning and Teaching Methodology by Dr. Marcia Corazon P. Rico, Professor of College of Education
Topic 8a: Focus on Content, Principles of Cooperative by Prof. Edgar S. Barrameda, the Dean of BUCBEM
Topic 8b: Focus on Content, Cooperative Management by Dr. Nolan G. Belaro, Program Adviser of Master in Cooperative Management
Topic 9: Developing Training Session by Prof. Elmer A. Lorenzana, Director of CPSD
The last day of the training was devoted to teaching demonstration where the participants were divided into four (4) groups in order to assess their individual skills and knowledge learned based on the discussed topics. The panel members were composed of mixed experts both in the field of academe and cooperative sector.
At the end of the activity, CDA Regional Director Salvador Valeroso, highlighted the vital and important role of the newly graduated pool of trainers of cooperative sector in the Bicol Region.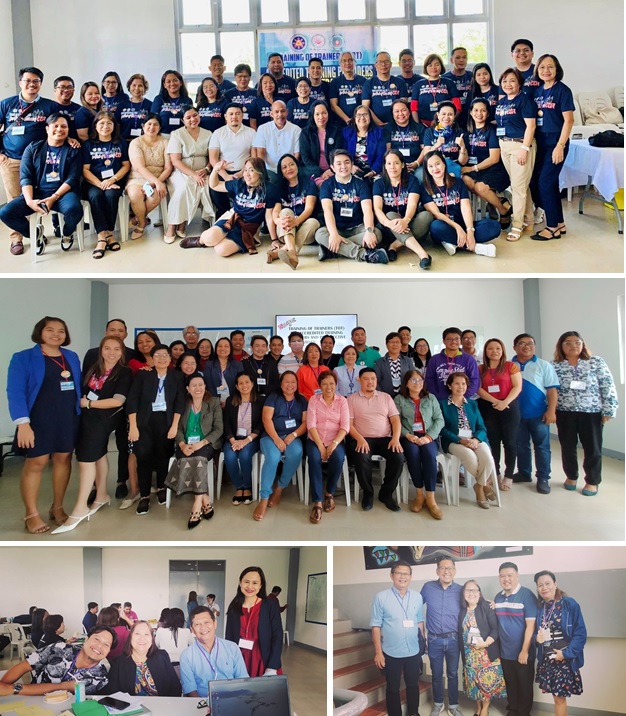 Download full article here: CDA-BU-CANOFECO-TOT