by: Cristine C. Cantes, Regin M. Aycocho and Ma. Lucia Myrlin S. Botin
Legazpi City – As part of the celebration of Magayon Festival in the province of Albay, the Albay Provincial Cooperative, Enterprise and Manpower Development Office (APCEMDO) initiated a Magayon Coop Forum in partnership with Cooperative Development Authority Albay Provincial Office last May 26, 2023. Its purpose is to become aware of the latest economic issues and concerns which aims to motivate and develop competencies in strengthening their commitment to cooperative development. The activity served as an avenue for information dissemination and a bridge to find solutions on concerns and compliance by the cooperative to regulations of different agencies.
The Magayon Coop Forum has invited different agencies to keep cooperatives updated with their programs and services and answer queries on concerns of coop. Tables were provided to invited agencies and stakeholders to Landbank of the Philippines (LBP), National Food Authority (NFA), Department of Labor and Employment (DOLE), Small Business Corporation (SBCorp) and 1CISP Life and General Insurance.

Also, there are cooperatives invited to showcase, promote and sell their products to participants. A total of 156 cooperators from 77 cooperatives have attended the Coop Forum. Seven (7) coops have showcased their products namely; Overseas Filipino Workers (OFW) Multi-Purpose Cooperative, Quipia Agrarian Reform Beneficiaries Cooperative, Men and Women of Daraga Agriculture Cooperative, Pioduran Community Managed Savings Credit Cooperative, Socio-Economic Development Program Multi-Purpose Cooperative (SEDP MPC), Entrepreneurs Alumni Development Cooperative (EADCOOP), Sa Agrarian Reform Irriba Gabos Sa Kauswagan (SARIGAN) Daraga ARC Multi-Purpose Cooperative. They had approximately Php 20,000.00 total sales.
In the afternoon session, Atty. Magdalena A. Borbe-Mallari, Legal Officer IV of Department of Interior and Local Government (DILG) Regional Office V have shared a brief discussion on RA 11535, An Act Making the Position of a Cooperative Development Officer mandatory in the Municipal, City and Provincial Levels. She emphasized the significance of the said law to the development of the cooperative sector. She even acknowledged the presence of Municipal and City Cooperative Development Officers of Albay.  Another speaker was Mr. Alden D. Ragay, Senior Agriculturist of Department of Agriculture (DA) Regional Office V all the way from Pili, Camarines Sur. His topic is all about the Enhanced KADIWA ni Ani at Kita Financial Grants Assistance Program, specifically the types of financial grants that cooperatives can avail.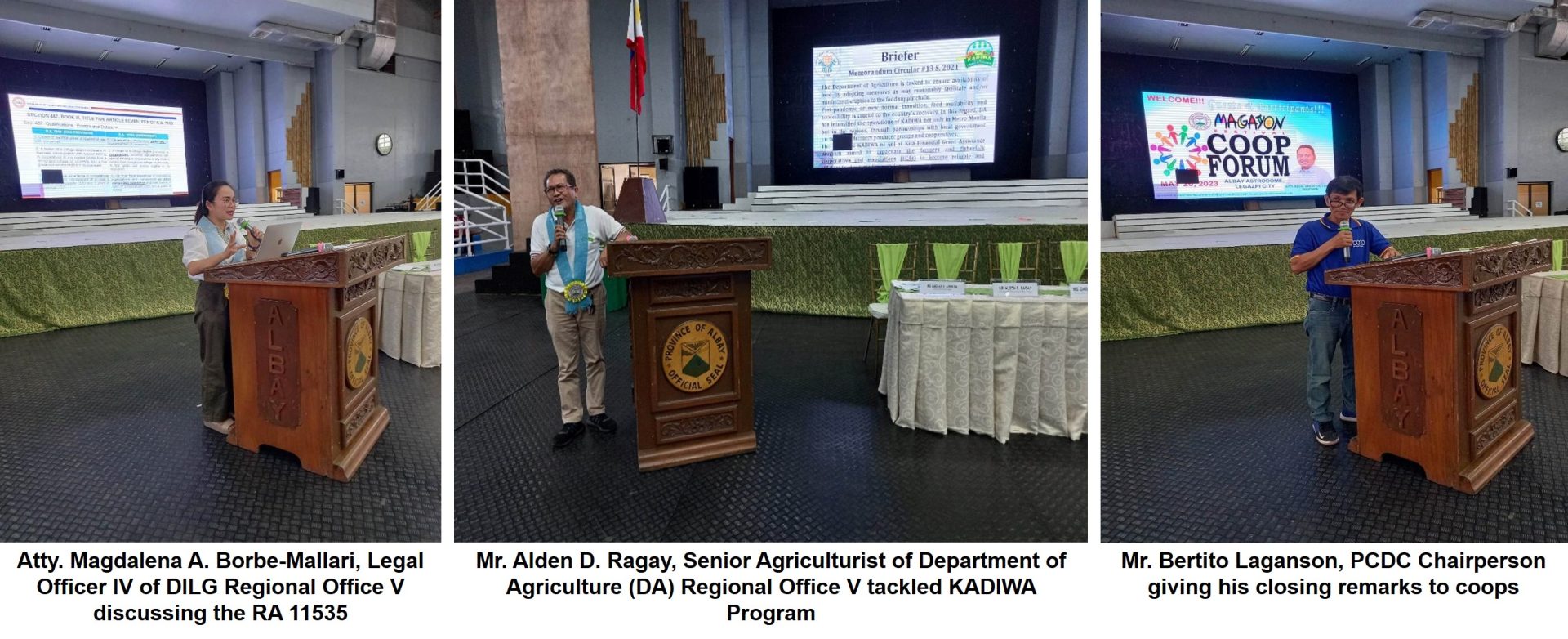 In order to address the concern of the transport cooperatives from the Utilities Cluster, we ensure that the Land Transportation Franchising and Regulatory Board (LTFRB) will be part of the resource speakers. Mr. Glenn Orante and Jay Obiña, Project Development Officer II presented the Guidelines on Consolidation for transport cooperatives as well as the status of compliance. Good news was brought to transport coops as their main concern is about the issuance of LPTRP, the LTRFB shared that alternative certification will be issued by their respective office as a requirement by the DBP & LBP provided the transport cooperatives should submit initially their application and documentary requirements.

Every after the discussion of the speakers, the cooperative participants were given the chance to raise their queries or concerns in the different agencies present. Furthermore, all questions raised were positively and satisfactorily answered by the resource speakers.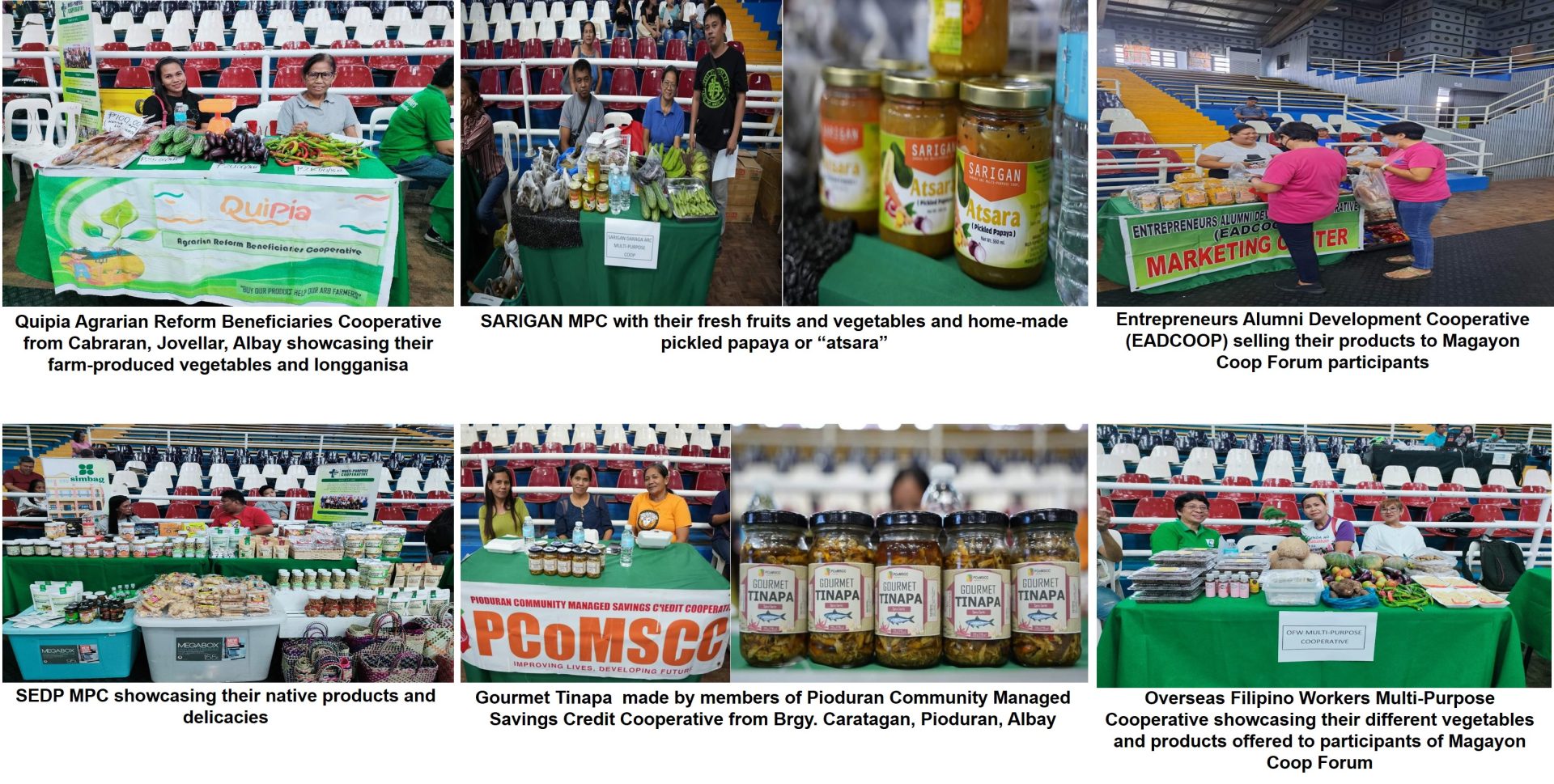 Then, the closing remarks was delivered by PCDC Chairperson, Mr. Bertito M. Laganson thanking all the cooperators, stakeholders, exhibitors and partner agencies for their time, presence and contribution for the success of the event.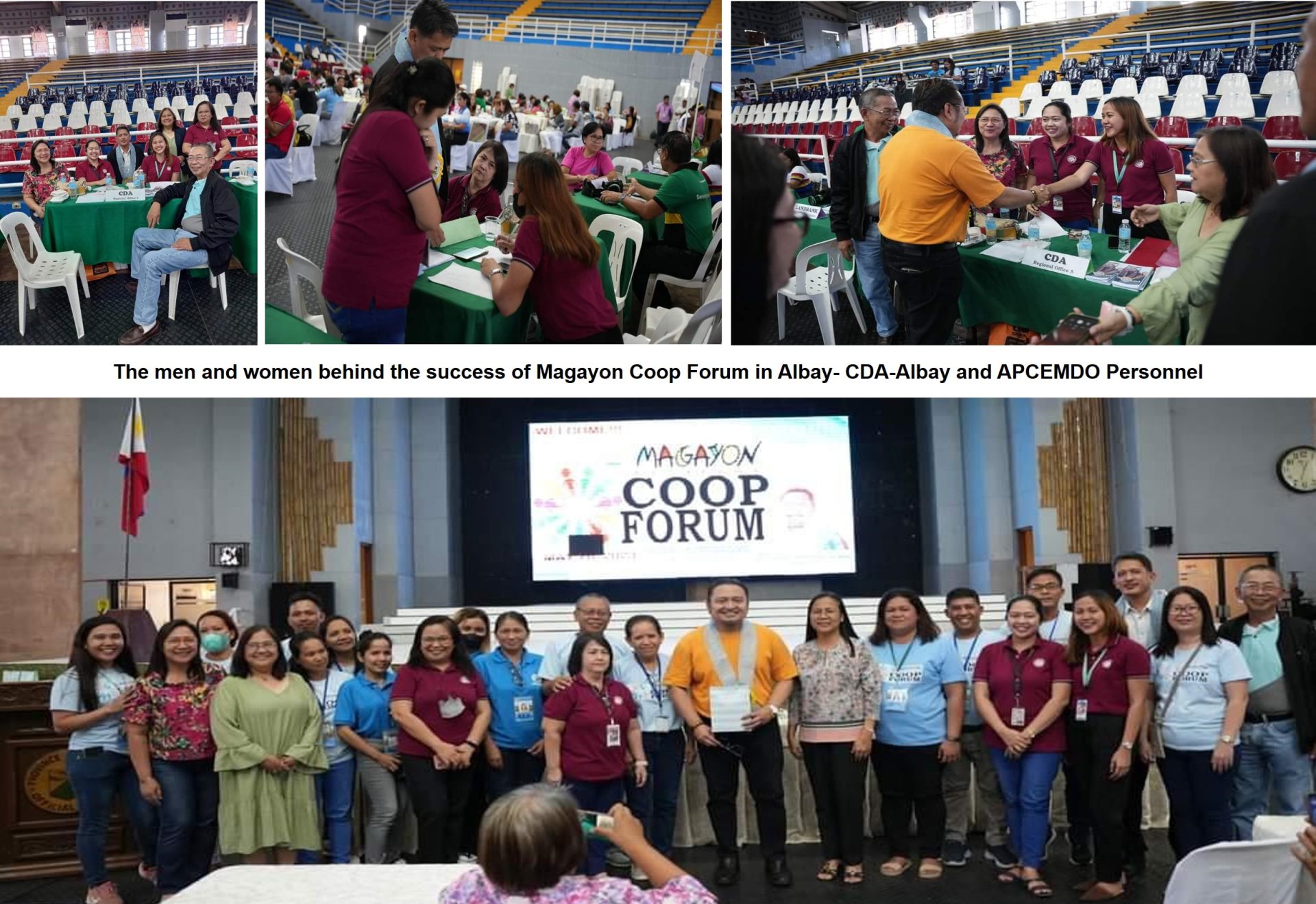 Download Article here: Magayon Coop Forum sets as new milestone of Albay Provincial Cooperative, Enterprise and Manpower Development Office (APCEMDO) and Cooperative Development Authority