by: Lady Lorebeh S. Bernal
Masbate City – A Sangguniang Panlalawigan joint Committee Hearing was held last May 29, 2023, at the SP Session Hall, Capitol Bldg., Masbate City to comment regarding a Resolution giving full support to the Implementation and Operation of Credit Surety Fund Cooperatives and to manage and administer Credit Surety Funds in the Province of Masbate in order to enhance the accessibility of Micro, Small and Medium Enterprises, Cooperatives and Non-government organizations to the credit facility of banks and for other purposes.
The Committee Hearing, initiated by the Sanguniang Panlalawigan members, was attended by several SP Members with Atty. Allan B. Cos as the author/sponsor and primary mover being the former Chair of the Committee on Cooperatives and with his long experience with coop operations in the Province of Masbate. The activity was also attended by Mr. Alden Moises M. Avila, the manager of Land Bank of the Philippines – Masbate Branch, Mr. Raul Z. Barcillano, Sr. CDS of CDA CSF Section, and the staff of CDA Masbate Contact Office.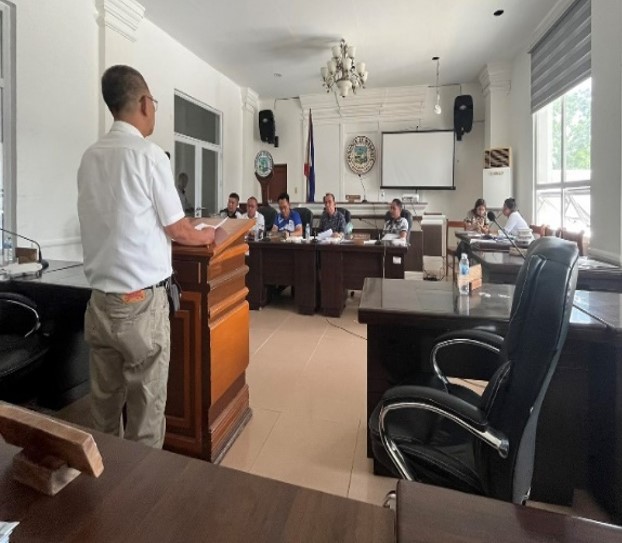 Mr. Raul Z. Barcillano discussed and explained the Salient Features of R.A. 10744 or the Credit Surety Fund Cooperative Act of 2015. Having the CSF as an LGU-partnered cooperative, the importance of the support and contribution of the Local Government Unit (LGU) was highlighted in the discussion as well as the consequent positive effect on the community, the MSMEs in Masbate, and the LGU thru the existence of this CSF Cooperative. To clarify issues pertaining to the said Act and the process of registration of this special type of cooperative, queries and concerns raised were addressed by Mr. Barcillano.
With the Land Bank as one of the cooperators and partner agencies in this program, Mr.  Alden Moises M. Avila, the manager of Land Bank of the Philippines – Masbate Branch also expressed his positive support for the organization and registration of the CSF Cooperative in Masbate. He also shared the positive news of the possibility of having an LBP Masbate Lending Center which will aid and facilitate the easy access of the members of the CSF Cooperative to loan facilities and transactions.
With the positive response of the SP Members and Atty. Allan B. Cos, as the author/ sponsor of the committee hearing, it was concluded with the endorsement of the Committee on Appropriation and Cooperatives for recommendation to the Provincial Governor. The registration of the Proposed Masbate Credit Surety Fund Cooperative still has a long way to go, but it is now one step closer to its registration.
Download Article here: "ONE STEP CLOSER TO REGISTRATION" – Proposed Masbate Credit Surety Fund Cooperative