The first-ever water transport cooperative in Albay, the Rapu-Rapu Batan Transport Cooperative was organized by former owners/operators of wooden-hulled banca and some private investors in Rapu-Rapu, Albay.
On a sunny Saturday morning, September 18, 2021, the Rapu-Rapu Batan Transport Cooperative (RRBTC) formally held the Ribbon-Cutting Ceremony, Blessing and Inauguration of its M/V RRBTC, a 200-seater vessel powered by two new engines, at Legazpi City Base Port and to celebrate the launching of the new, first-ever fiber glass fast craft in Albay.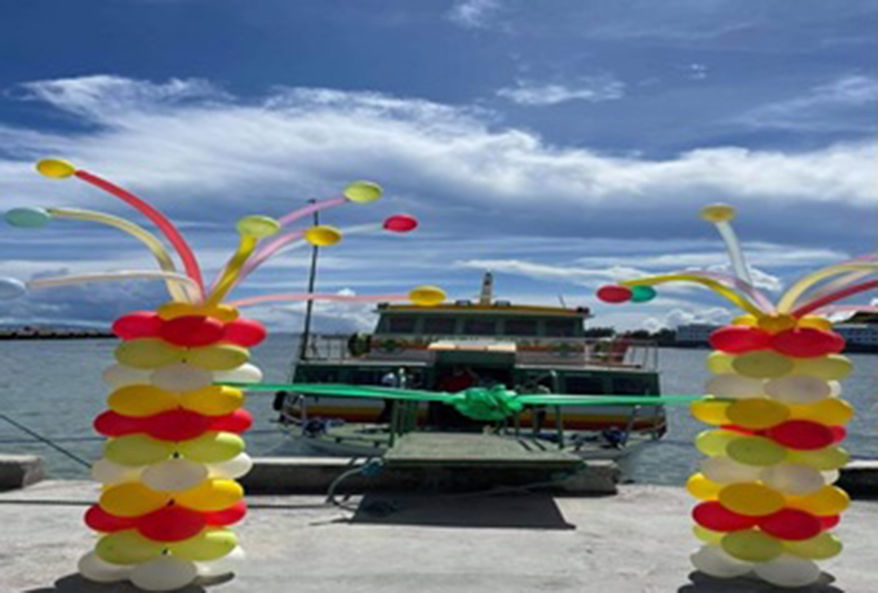 The short program commenced by an invocation led by Rev. Fr. Reynato A. Padilla, SOLT-Parish Priest of Sta. Florentina Parish, Rapu-Rapu, Albay, and followed by Ribbon-Cutting and Blessing of the M/V RRBTC fast craft.
The RRBTC Chairman Samuel Batas said that forming this water transport cooperative will give the people of Rapu-Rapu and Batan Islands, and other travelers a reasonable fare, fast, safe & quality water transport service. Their main objectives are to help decrease the cost of living in Rapu-Rapu and to improve the quality of life of Rapu-Rapunhons. He also said that this new vessel will somehow boost the morale of former owners/operators of the phased-out wooden hulled motor boats.
Leading the ribbon cutting ceremony were Albay Gov. Honorable Al Francis C. Bichara, Rapu-Rapu Municipal Mayor Hon. Ronald A. Galicia, RRBTC Chairman Mr. Samuel N. Batas, and RRBTC Vice Chairman PLTCOL Jefferson B. Araojo.
PD Albay PPO, PCOL Arnold C. Santiago, CDA Representative Ms. Tin Cantes, CGS SCPO Nemesio L. Quator, Legazpi Baseport Terminal Supervisor Mr. Stephen Agnas, JCI Pres. Gregorio A. Lipa, Rev.Fr. Reynato Padilla, RRBTC Cooperators, and some media personalities were also in attendance. After the short program a lunch buffet at the 2nd deck was served, and a quick boat tour over Albay gulf followed.
The RRBTC has completed the 2-decker fiber glass one-unit fast craft this year. The cooperative has been duly registered with the CDA on January 21, 2021, and with MARINA on Sept. 5, 2021 and has completed all the requirements needed for its business operation. In the coming weeks, the M/V RRBTC will operate in the route covering Rapu-Rapu, and Batan Islands to Legazpi and vice versa.
-o0o-
(Editors: Atty. Emilio D. Escueta III / ODPrivaldos) with Cristine C. Cantes / Myrlin S. Botin