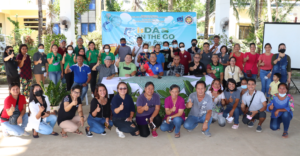 The Cooperative Development Authority (CDA) in partnership with the Philippine Fisheries Development Authority (PFDA) and in coordination with the Bureau of Fisheries and Aquatic Resources (BFAR) implemented the isDa on the Go project through a launching ceremony held at the BFAR's Central Visayas Multi-Species Nursery Demonstration and Training Center, Bentig, Calape, Bohol on June 24, 2022.
The project's objective is to ensure food security and augment the income of the fisherfolks of micro and small cooperatives through the turn-over of freezers and provision of accessible and affordable fish and fishery products such as tuna and other variety of fish, squid rings, shrimps, and mixed sea foods. The freezers were provided as a grant to the cooperative beneficiaries.
Present during the activity were the CDA Officials led by USec. Joseph B. Encabo, ASec. Abad L. Santos, Deputy Administrator Ray R. Elevazo, CPDAD Chief Melissa C. Santos, Regional Director Doreen C. Ancheta, Assistant Regional Director Cipriana D. Mumar, Ms. Niza S. Cagulada, Mr. Saldy E. Balate, Ms. Gemma G. Resquir, and Mr. Victoriano B. Digal. The activity was also witnessed by the PFDA's RMPOD Division Chief Ms. Janet T. Manalo and iOTG Head Secretariat Mr. Antonino Carlos O. Del Prado, the Regional Director of BFAR Region 7, Dr. Allan L. Poquita, the Provincial Fisheries Officer, Mr. Candido T. Samijon, and Atty. Abeleon Damalerio, Chief of Staff of Cong. Edgar M. Chatto of the 1st District of Bohol.
USec. Encabo explained that the project is a start-up activity for the fishermen cooperatives who were affected by typhoon Odette. The program is new to the cooperatives for it involves selling of high valued fishery products.
The isDa on the Go project is an approach to assist the fisherfolks in the sustainability of livelihood, with consideration to the present environmental issues.