The Cooperative Development Authority Region 7 personnel participate in the RETOOLING PROGRAM FOR CDA TECHNICAL PERSONNEL for regions 6,7 and 8.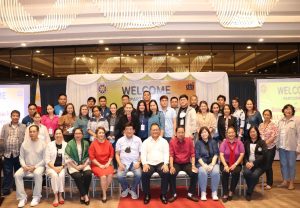 The activity started on January 30 until February 3, 2023 at Zuri Hotel, Iloilo City. It aims to have a uniform learning among the technical personnel and to be updated with the latest issuances.
Dr. Nora P. Patron, Regional Director of CDA Region 6 welcomed everyone. CDA Board of Directors, Asec. Sam Guinomla and Asec. Virgilio Lasaga, M.D. were present to oversee the activity.
CDA Chairman, Usec. Joseph B. Encabo, talked of the tagline "For Cooperatives: we partner, we share" which summarizes the continued partnership of the Authority for the good of the cooperatives. Deputy Director, Atty. Elizabeth Batonan, of the Registration, Supervision and Examination Services, headed the implementation of the program.
CDA officials are all in one that the education program is the call of the time and see the need for more activities of such kind in the future.