CDA RO VIII HOLDS REFRESHER WEBINAR ON
COOPERATIVE DOCUMENTS PRESCRIBED PER
R.A. 9520 AND OTHER RELATED TOPICS
The Supervisory and Examination Section (SES) of the CDA Regional Office VIII conducted a refresher webinar on cooperative documents prescribed per R.A. 9520 and other related topics on December 3, 2021, to the Micro and Small cooperatives in Region VIII – Eastern Visayas. It was successfully convened via the Zoom platform and actively participated by eighty-five (85) representatives of the invited cooperatives.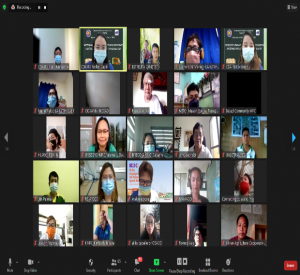 This initiative of CDA RO VIII started with the analysis of the inspection findings
done by its SES, subsequent to the inspections conducted by its Field
Cooperative Development Specialist to the cooperatives. As a result, the
section discussed the cooperative documents that should be kept open to all
members and representatives of the Authority as prescribed per Art. 52 of R.A.
9520 like the Share and transfer books, Registry of Members, and etc., as well
as topics re: Certificate of Tax Exemption (CTE), Savings Mobilization, and
Capital Build-up Program (SMCBUP), Allocation and Distribution of the Net
Surplus, and Financial Management. Thereupon, the refresher webinar
transpired as one of the interventions of the CDA RO VIII to help the
cooperatives comply with RA 9520 and enhance cooperative management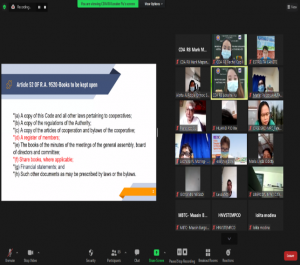 The webinar ended with positive feedback and appreciative closing remarks
from the CDA RO VIII Assistant Regional Director, Ms. Venus M. Jornales, on
behalf of Director Giovanni T. Platero who was at the time in attendance with
another activity in the region, recognizing the cooperatives' willingness to
participate and be reinvigorated through the particular webinar. She further
affirmed that the CDA RO VIII team shall continue extending technical
interventions subsequent to conducting annual inspections and apt programs
that the CDA is putting forward for the cooperatives.