PROFILE OF REGION VIII
Sinirangan Kabisay-an Sidlakang Kabisay-an Silangang Kabisayaan
Region VIII, also known as Eastern Visayas is an administrative region in the Philippines. It consists of three main islands,   Samar, Leyte and Biliran connected by the San Juanico Bridge.
The region has six (6) provinces, twelve (12) Congressional District, seven (7) Cities, one hundred thirty six (136) municipalities, four thousand three hundred ninety (4390) Barangays and four million four hundred forty thousand and one hundred  fifty (4,440,150) constituents, as shown in the map below.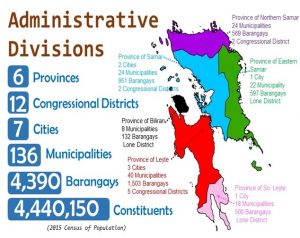 Biliran is one of the smallest provinces in the Philippines. It was formerly a sub-province of Leyte but it became a regular province on May 11, 1992 after a plebiscite was conducted in accordance with R.A. 7160. The Biliran island lies between Northern Leyte and Samar.
The major industries of Region VIII in the three economic sectors, namely, Agriculture, Fishery, and Forestry; Industry; and Services contributed almost equally to the region's RGDP.
Region VIII is inhabited by the Waray-Warays, the country's fourth largest cultural linguistic group. Cebuanos from the nearby island of Cebu live in Ormoc City, Western Leyte and parts of the Southwest of Leyte. The eastern portion of the region is frequently visited by storms from the Pacific Ocean.
The culture is basically Visayan. The Waray-Waray are often stereotyped as brave warriors, as popularized in the tagline, "basta ang Waray, hindi uurong sa away" (Waray never back down from a fight.) Farming and fishing are the main livelihood.
Of the region's provinces, Leyte has the biggest alienable and disposable lands while Samar has the biggest forest lands.