1st five years "Initiating, organizing from 1998 – 2002 experiencing the coop way of life"
In 1997, Msgr Jaime C Villanueva parish priest of Abuyog St Francis Xavier was deeply troubled by the 5 – 6 lenders that flourished in Abuyog that prompted him to propose to the parish pastoral council the establishment of a cooperative to assist parishioners meet their economic needs initially and develop the cooperative way of life eventually. AFCCO was finally born in 1998 with 38 initiators and Sixty Five thousand (P65,000) as initial capital.
The spirit of volunteerism was AFCCO's battle cry then and now, which was responded well by officers, staff and members. AFCCO opened with a volunteer managing director, LUZ H. YRINGCO for 5 years and Carmela Guston-Canas as our first and only volunteer employee for 3 years. Other volunteers followed like Jonathan Almedora, Rolando Verra, Joan Perez-Balo, Julita Adtoon, Jenny Tausa-Bero, Cristita Risos-Almedora, Nimfa Villamor, Nimfa Tunday, Dieliza Altejar and Belinda Ong. They were tagged the volunteer brigade.
AFCCO was officially registered with CDA in 1994. It underwent a series of trainings with VICTO with NILO CAZON and NARCISA VELASO as trainors. Labrador facilitated our first strategic planning while ATTY ADOLFO YBANEZ was our first guest speaker of our first official General Assembly. We organized our members into clusters to open communications to the Board from members, management and back.
We partnered with schools for our kiddie and youth savings as an attempt to start financial literacy among the youth.
We attended credit management trainings that resulted in our own credit and collection policies. We were also able to acquire our own land and building, thanks to Mana Daday and Joel Denestrosa for granting us very friendly terms on our land and building which we paid as agreed thanks to the member's fund raising activities. We operated with guidance from our cooperative development specialist Mr Clyde Colis from 1998 – 2016.
Financial performance:
Special help from Gracoz Pharmacy and Taburada Hardware is worth remembering. When we were short of cash, we could borrow their sales for the day to be returned after office hours which always gave us a sigh of relief for the trust. This we will forever be grateful to Connie and Ewin.
2003 – 2007 was focused on "strengthening building human resource capacities and building a safe, stable and sustainable"  AFCCO.
Very significant during the 5 years for AFCCO was being chosen as one of the partners of WOCCU CUES VICTO project in region 8. The partnerships empowered and strengthened AFCCO through the Model Credit Union Building  (MCUB) Technology. This MCUB project emphasized the practice of standards in operations which were internationally proven very effective in managing credit unions. Best practices were adopted resulting in awards for AFCCO's performance, noteworthy of which is the world class savings and credit cooperative brand in 2004.
Satellite offices were opened in Mahaplag and Mayorga. Our members benefit package improved with additional benefits that included hospitalization-allowance, Philhealth counterpart and retirement bonus.
Mass wedding of employees that took care of spiritual needs of staff were fully sponsored by AFCCO in January 2007.
We have close partnership with the LGU and the church. We have an annual family day and christmas party intended for bonding and strengthening cooperation among members.
2008-2012 – 5 years Partnership and Expansion of Services
This era can be described as amazing because AFCCO was introduced to the outside world. The principle of cooperation among cooperatives was fully operationalized nationally and internationally.
The visit of the late congressman Gil Cua who taught us the need to engage in community projects benefitting the members;
Representatives of the Swedish housing movement proposed a partnership thanks to the effort of Ms Inga Osber, Rolf Hakan Berg and Susanne. These visits gave us the courage to engage in housing which gave birth to our 28 medium rise housing project for homeless employees.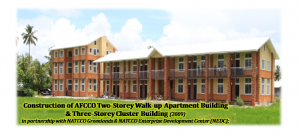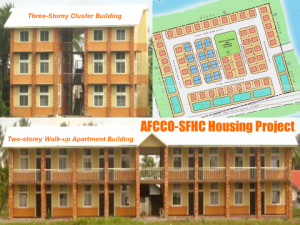 An invite from NACUFOK through Congressman paez enabled our manager to train and learn coop movement in Korea, the best model in asia whose best practices were applied in AFCCO;
This era likewise opened doors for AFCCO from an invite from Canadian Cooperative Alliance for a month of mentoring program for women This was another great opportunity for AFCCO to learn more knowledge and skills on managing AFCCO based on western model where the father of the credit union, Raffiesen, lives in Quebec Canada. During this era we experienced the downside of calamities, pests which resulted in our rising delinquency since 80% of our members are farmers or farming dependent landowners. We partnered with SEDPI an adjunct to Ateneo de Manila University (ADMU) which capacitated us in our recovery and moving forward efforts in our delinquent loan portfolio management;
Implementation of the zero service fee for MIGS for at least 10 years as well as for officers as their incentive for their volunteer work. AFCCO's way of giving back to the hardworking pioneers of AFCCO was launched;
Organic farming and tree planting were also intiated as part of AFCCO'S efforts to conserve the environment and improve income;
Operations of our coco coir plant to provide income to our member twiners and coco husk suppliers was unfortunately stopped when China stopped importation of coco coir, resulting in losses to our operations.
Fonus / mortuary services for members was launched to maximize members' availment of funeral services.
Loan ceiling increased to 3M and penalty reduced to 2% while member's benefit program included hospitalization allowance, Philhealth counterpart and discounts at the AFCCO beach resort. Medical clinics in all offices were conducted;
Feeding of malnourished children in Brgy Victory and involvement of the youth through the AFLATOUN Program was launched. Summer dance, literary and musical summer workshops were conducted;
Housing project, beach resort, training center were completed.
In summary AFCCO's first 15 years was about growth, strengthening, stability, safety and sustainability making sure that we followed international standards in operations and best practices.  We were fortunate to learn from our lakbay aral, training and mentoring which gave us the opportunity to avoid their mistakes and adopt best practices.
5 years 2013-2018
Rehabilitation and Resiliency Building
God in his infinite goodness made AFCCO strong before the Typhoon Yolanda phenomenon. Speeches before by project director Luis Sasuman of WOCCU CUES VICTO project was proven right "that indeed AFCCO can withstand a tsunami".  Despite our over 100M losses in 2013, AFCCO  with the help of partners and most importantly Divine Providence rose victorious. In this time of devastation the spirit of the people helping people help themselves was truly seen among AFCCO Officers, members and partners resulting in:
Construction of 270 disaster houses built in Abuyog and Dulag for our homeless members;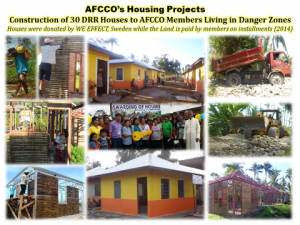 Utilization of medicines and purchase of relief goods added to donations from partners which were distributed to our members. EVACOH pharmacy helped much but was closed due to losses;
Completion of Tanauan office building with 1.7M donation from WOCCU Australia through VICTO's facilitation and efforts;
Won CDA GAWAD PARANGAL 1st place leadership category in Region 8 and 3rd place in national category;
PEF partnerships under Sir Bong Soho and Sir Jun Roslinda aimed at helping coco farmers rebuild their devastated coconut land into Banana Cacao growing project;
Year of mercy amnesty for past due accounts to give financial relief to members;
Serving the marginalized in partnership with DSWD through convenient on site 4Ps, CCT pay outs, financial literacy and pro-por banking services;
Partnership with PCIC to build resiliency among our farmer members through Crop Insurance as we implement projects with JICA IFAD on micro agri loan and OFW wealth building program respectively;
Partnership with USAID and Peace and Equity Foundation in cacao and banana growing project and the establishment of cacao nursery was operationalized;
Lobbying in congress for retention of coops tax exemption was participated by AFCCO;
Won National Housing Authority best housing project national category; completion of Tanauan office with the help of WOCCU – Australia were bonus to AFCCO.
We in AFCCO are grateful for every gift received. We are open serving our members even during unfortuanate events which gives us the opportunity to appreciate God's hands in our lives making us better persons for others. In difficult times we found true friends and most importantly we are humbled to realize that God in all our sinfulness and ungratefulness will always be there for us 24/7 lifting us up and comforting us all the time.
The next 30 years AFCCO will journey still anchored and founded in love, hardwork, trust and grateful  for divine providence. The values that we started and will continue Yesterday, Today and Tomorrow.
AFCCO will be true to its vision – mission of empowering our members towards financial freedom. AFCCO will make sure that services will respond based on needs of members. AFCCO will advocate for –
Youth involvement and participation
Gender and Development
Wealth building among OFW and their families
Financial literacy as basic service in every opportunity that we encounter with our members towards financial freedom
AFCCO will be the link with the markets and the farmers in the value chain approach that would make farming profitable with the end in view of new generation farmers practicing the cooperative way of life.
This and more we hope to accomplish with God's blessings as we share our blessings to the best of our members.