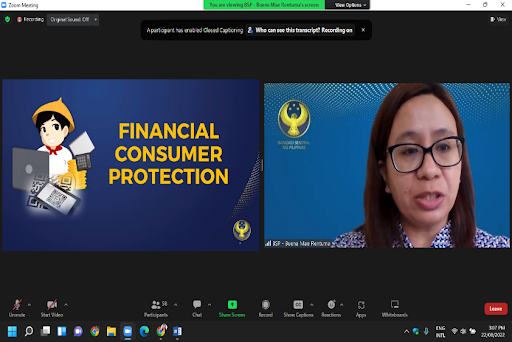 Cooperative Development Authority Region VIII Office and the Bangko Sentral ng Pilipinas Visayas Regional Office conducted a series of CDA – BSP Partnership Webinars on Digital Payment and Cyber Hygiene Practices on Online Financial Transaction to cooperatives in Region VIII in four batches for August and September 2022. The activity was attended by Eighty –eight (88) cooperatives with a total of One Hundred Eighty-Four (184) participants targeting the cooperative officers, managers, cash handlers, and other staff involved in financial transactions. The webinar seeks to improve the digitalization of payments in the country as chartered in the BSPs Digital Payment Transformation Roadmap 2020-2023.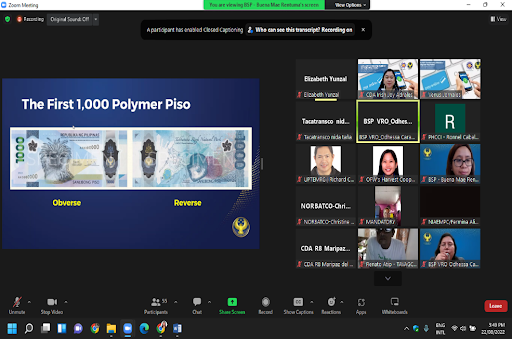 Acting Assistant Regional Director Maripaz M. Del Pilar acknowledged the participants, speakers, and guests and appreciated their attendance in the conduct of the partnership webinar between CDA and BSP.  The dynamic Acting Regional Director of CDA Region VIII, Dir. Venus M. Jornales welcomed the partners from BSP, the different cooperative leaders and officers, and other participants of the cooperatives from the six (6) provinces of Eastern Visayas. She mentioned that the partnership webinar is an advocacy of the BSP, in collaboration with CDA, to the cooperative sector as business enterprises. She added that this webinar is very relevant to the sector, especially amid pandemic restrictions and making the online transaction a need for the cooperatives to continue its operation to serve their members and the community. The webinar will educate cooperatives on online financial platforms and how to adapt them in their respective businesses including mitigating their risks. She also extended her appreciation to the BSP for always considering CDA as a partner in their advocacy programs.
There were three (3) speakers from the BSP Visayas Regional Office. The first speaker Ms. Erma L. Lagarto, Bank Officer II provided an overview of the Digital Payments Transformation Roadmap and discussed the Familiarization with common online Scams. She emphasized the four words to remember – Efficient, Inclusive, Safe and Secure. Ms. Odhessa E. Caranzo, Acting Sr. Research Specialist discussed getting to Know the Cyber Hygiene Practices for Online Financial Transactions. Ms. Buena Mae Rentuma, Bank Officer IV, shared the topic of Financial Consumer Protection. They also provided an overview of the design highlights and security features of the P 1,000.00 First Polymer Piso (FPP). The activity aims to equip online financial transaction users with adequate knowledge about cyber security measures. CDA Region VIII is thankful to BSP for always partnering with CDA on their programs and services to the public, particularly in the cooperative sector. The webinar ended with a closing message from Dr. Gregorio E. Baccay, III, BSP Regional Economic Affairs Staff, who is appreciative of the opportunity of sharing the BSPs mandate through the cooperatives, especially in Region VIII.
Contributor: CPDAS