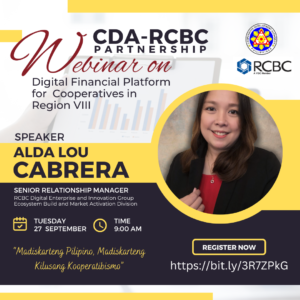 September 27, 2022, 9:00 A.M the Cooperative Development Authority (CDA) as the lead agency for the  promotion of sustained growth and full  development of the cooperatives in  partnership with the RCBC conducted  the Webinar on Digital Financial  Platform for Cooperatives in Eastern Visayas via zoom platform. The activity was  attended by 51 cooperatives with  a total of 69 participants. The  webinar with the Rizal  Commercial Banking Corporation  (RCBC) aims to promote digital  financial inclusion in the country's  cooperative groups. Through this  partnership, RCBC will provide  financial seminars, workshops  and other activities to  cooperatives in the current trend  of using digital financial platforms  such as RCBC's DiskarTech and  ATM Go. The guests and participants were  acknowledged by Mr. Rowan L. Delos Santos, Sr. CDS of the Cooperative Project  and Development Assistance Section from which the activity was channeled through.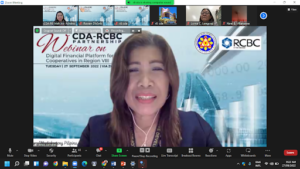 Dir. Venus M. Jornales, in her message  greeted the RCBC Partners, its officers and personnel from Head Office and the participating cooperatives, its board of  directors, managers and staff who joined the webinar. Dir. Jornales thanked the RCBC  Partners for including cooperatives in the RCBC Digital Innovation Program. She shared  a brief background on the CDA – RCBC Program dubbed as "Madiskarteng Pilipino,  Madiskarteng Kilusang Kooperatibismo which aims to support cooperative members  through digital financial inclusion and educate them on personal finance management,  insurance, payments, investments and the use of digital finance apps and platforms. The  products and services will be of great help to the unbanked and underserved  communities. In Region VIII there are still areas that are unbanked and through the  cooperatives being the conduit of the government funds in their delivery of services to the  community. Through this program members of the cooperatives will also be able to participate on the digitization platform. Dir. Jornales  encouraged the cooperatives to  adapt, embrace this kind of  technology and innovation so as  to continue their operation  especially in this pandemic. 
Mr. Rolex Campos, RCBC  expressed his message of  gratitude to CDA for  accommodating them to share  their programs to  Region VIII  Cooperatives.  They have customized  packages – an  end to end digital  ecosystem  offered to the  cooperatives.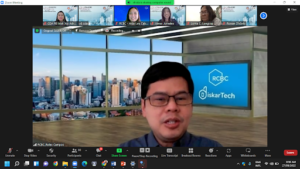 The topic on RCBC digital innovation was discussed by Ms. Alda Lou Cabrera, Senior  Relationship Manager of the RCBC Digital Enterprise and Innovation Group Ecosystem  Build and Market Activations Division where she presented the different products and  services offered like the RCBC's DiskarTech and ATM Go, RCBC Digital and QRph. 
Cooperatives manifested their  interest in digitalization through  their active participation. The  webinar was formally closed by  Ms. Maripaz M. Del Pilar , the  Acting Assistant Regional  Director who extended gratitude  to RCBC as the new partner of  CDA in promoting digital  platforms to cooperatives.