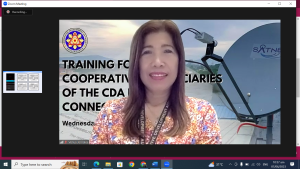 The Cooperative Development Authority Region VIII in collaboration with the CDA Region II holds the Training for the Cooperative – Beneficiaries of the CDA Internet Connectivity Beneficiaries Project on June 7, 2023 at 9:30 AM via Zoom platform. "The Internet Connectivity Project is in line with the digitalization program of the Cooperative Development Authority."  Acting Regional Director of CDA Region VIII, Dir. Venus M. Jornales gave her warm welcome and rationale of the activity. Director Jornales is delighted for this training for the cooperative as this is an important part of the business activities of the wifi connectivity cooperative beneficiaries particularly on the information and technology. This project is a CDA grant which the beneficiaries may utilize it and use it in their operation to generate livelihood and provide assistance to the members and most importantly to be of relevance to the community in providing internet connectivity an added feature on the business of the cooperative.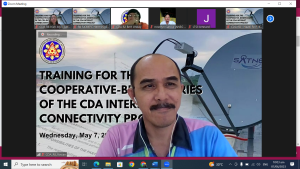 The Cooperative Project Development and Assistance Section (CPDAS), Sr. CDS Rowan L. Delos Santos discussed on the Internet Connectivity Project and on the Management of Internet Service. CPDAS is the anchored section for the CDA Wifi Project. Mr. Jennard Whesley Quilatan , from the Limitless Tech Solutions, Inc. (LTSI), Service Provider for the CDA Internet Connectivity Project, conducted a virtual Training for cooperative beneficiaries and presented the technical requirements in the installed VSAT Equipment , Voucher -based System and other Features of the Project.
In closing, Regiona Director of CDA Region II, Atty. Jovilyn Gaffud -Marquez, thanked the cooperative beneficiaries for participating this training as this provides digital connection between CDA and the cooperative in building e-commerce capability and access to government services and compliance to registration and regulatory. He also thanked the LTSI, the service provider for this project.