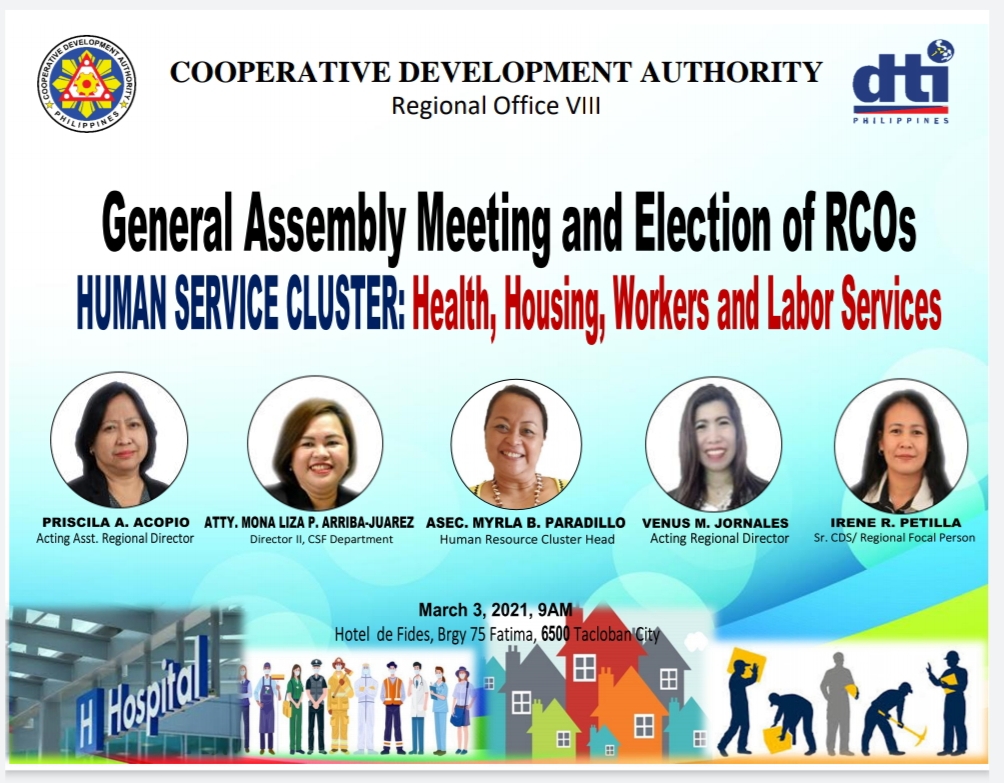 On March 3, 2021 at Hotel de Fides, Brgy. 75 Fatima, Tacloban City, a blended activity with first face to face event held in time of Pandemic was conducted. The objective of the activity is the conduct of the General Assembly and Election of Officers of the Regional Clustered Organization   under the Human Services Cluster and presentation of the guidelines governing the organization and recognition of National Alliance of Cooperatives (NAC), Sectoral Apex Organization (SAO) and Regional Clustered Organizations (RCOs) and Mechanics of the Election of Officers of the RCOs. The event was participated by Eight Cooperatives equipped with Board Resolution as duly authorized representative.
Hon. CDA Assistant Secretary Myrla B. Paradillo, Human Service Cluster Head, Atty. Mona Liza P. Arriba-Juarez, Director of the Credit Surety Fund Department and Ms. Shinerin E. Dipolog, Executive Assistant were the honorary guests.
Asec. Paradillo in her message, expressed gratitude towards the participants and congratulated the CDA RO Office VIII for conducting the first GA and Election of RCOs nationwide. She conveyed her eagerness to meet up face to face with the cooperative sector and highlighted in her speech the roles of the President of the RCOs as a sectoral Apex Representative to the Human Service Cluster. She encouraged cooperation among the cluster coop members so that together they will bring the issues, concern and problems to their respective Sectoral Apex and also for the cooperatives to join the federation/ union which are aligned to the Cluster Type as this will facilitate easy access, support and guidance in running the type of business operation and problems, issues and concern they may have shall be addressed appropriately. Cooperatives were encouraged to subscribe the YouTube channel "Serbisyo Kooperatiba ni Asec Luck." to have the opportunity to communicate with her and the members of the Human Services Cluster team for issues and concerns that they may have.
Sr. CDS Irene R. Petilla, Human Service Cluster Focal Person presented a brief walk through of the profile of the cooperatives under the cluster and Acting Regional Director Venus M. Jornales, presented the Legal Bases of the NAC, SAOs, and RCOs particularly Sec. 2A and Rule IV Section 2 of the IRR and the Mechanics and Procedures in the conduct of Election of the RCOs
The Election of Officers of the RCOs was facilitated using the Zoom Poll Survey in determining the winners since two of the participants were on board via Zoom Meeting. Oath taking of the newly elected Officers was administered by Asec.  Paradillo.
Concluding the event, Acting Regional Director Jornales, conveyed her warmest gratitude to the guests from Head Office for their presence and guidance in the conduct and to the cooperatives for their participation.  She mentioned her heartfelt thanks to the staff for the excellent support and service in making this activity truly a success.