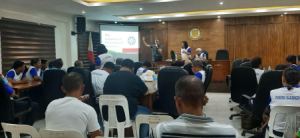 In a collaborative effort to promote equity, social justice and economic development, the Cooperative Development Authority in partnership with Borongan City Cooperative Development Office and Liga ng mga Barangay embarked on an innovative initiative on August 2, 2023 at 3rd Floor, SP Hall, Borongan City Hall, Borongan City. This initiative entails conducting an orientation during the Liga ng mga Barangay session to enlighten and engage barangay officials about the significance of cooperatives in local development. 
The CDA Region VIII Extension office, represented by Sr. CDS Jordan Madjus of the Cooperative Research and Training Section, conducted the orientation. The primary objective of this orientation-workshop is to provide barangay officials with a comprehensive understanding of cooperatives and their potential to foster socio-economic progress within the community. By sharing insights on the advantages of local governments with registered cooperatives and its benefits, the workshop aims to encourage greater cooperation and collaboration among barangay leaders and their constituents. 
Out of 61 barangays, 50 barangay officials participated in the orientation. During the open forum, concerns had been addressed. Clarified as well were (a) the role of barangays on cooperative development; (b) barangay officials are not qualified to be an officer of a cooperative; and (c) advantages of barangay with registered cooperatives.