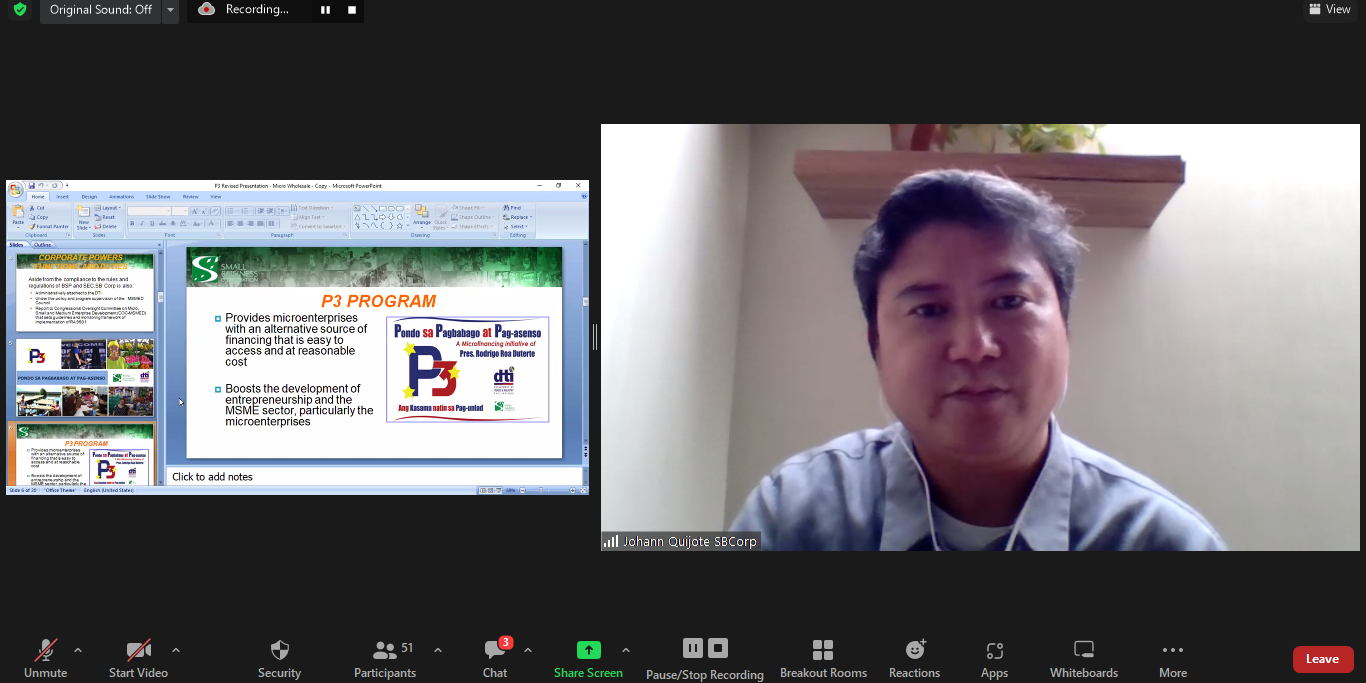 A total of 52 participants from 40 cooperatives attended the Small Business Corporation Webinar on the programs and services for the cooperatives. The activity was held on May 27, 2022, at 9:30 a.m. via the zoom platform. Mr. Johann B. Quijote – the Account Officer of the Microfinance Wholesale of the SB Corporation Cebu City; was the resource speaker. The activity was conducted in coordination with the SB Corporation Visayas Group through Mr. Antonio Elmer M. Garado. The objective of the CDA and the SB Corporation's renewed partnership is to extend credit and financial access to cooperatives through Pondo sa Pagbabago at Pag – asenso (P3) Program and the Bayanihan Covid 19 Assistance to Restart Enterprises (Bayanihan Cares) Program.

Acting Regional Director of the CDA Region VIII,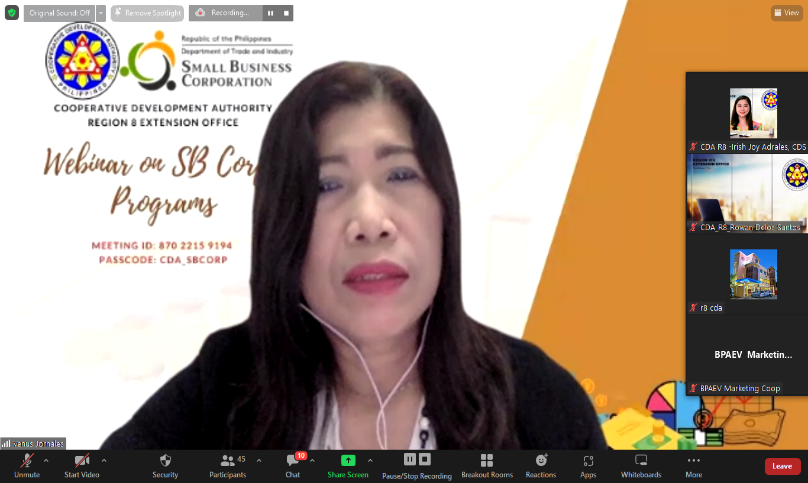 Venus M. Jornales, extended her warm greetings to the participants and guests. She mentioned that CDA is very dynamic in making partnerships with other government agencies with programs and services that could help cooperatives for their sustainable development: amongst is the Small Business Corporation for the development of micro, small and medium enterprises through cooperatives.
For Region VIII, there are already cooperatives accredited with the SB Corp. Among those are the following: Almeria Seafarers Multi-Purpose Cooperative, Lico Agrarian Reform Cooperative (Larcoop), Nagkaisang Magsasaka Ng Caibiran (Namaca) Cooperative, Samahang Pangkabuhayan Ng Riverside Multi-Purpose Cooperative, Fatima Multi-Purpose Cooperative, Libercon Multi-Purpose Cooperative, Omaganhan Farmers Agrarian Reform Cooperative, Ofmpc, Talisay Primary Multipurpose Cooperative, Gamay Municipal Employees Multi-Purpose Cooperative, Integrated Provincial Health Employees Mpc, Libagon Area Multi-Purpose Cooperative (Lamp Coop), Pinoy Credit Cooperative, San Francisco Multi-Purpose Cooperative, Tomas Oppus Multi-Purpose Cooperative (Tompco), Snposa MultiPurpose Cooperative, and Ayupanan Credit Cooperative.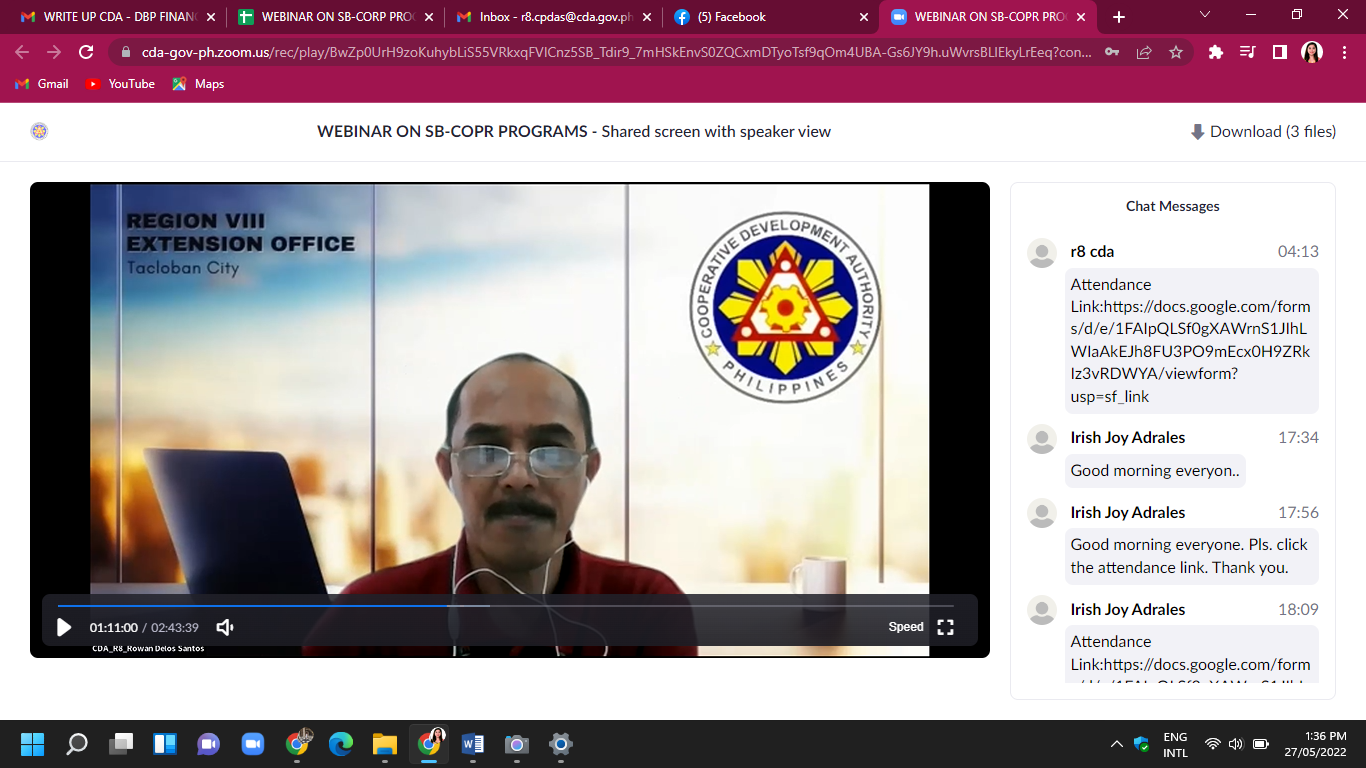 In closing Sr. CDS Rowan L. Delos Santos thanked the team of Small Business Corporation for sharing their programs and services with the cooperatives. He encourages the cooperatives to avail the financial programs that would help recover their operation from the effect of the pandemic over the past two (2) years. He also thanked the participants for supporting the activities of CDA.

Prepared by: COOPERATIVE PROJECT DEVELOPMENT AND ASSISTANCE   SECTION (CPDAS)  |  ROWAN L. DELOS SANTOS SR. CDS,  IRISH JOY I. ADRALES, CDS II,