COop VIsibility Despite (COVID-19)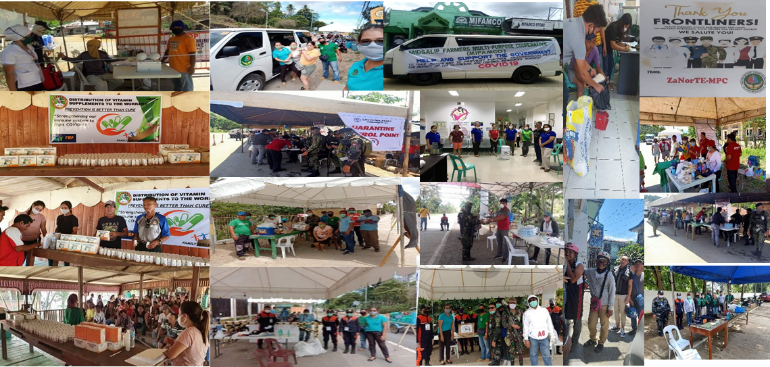 Concern for the Community, a coop value which showcased the strength of the cooperative sector and defined the characters of cooperative leaders who are making critical decisions during trying times.
While the whole nation is facing the constant threat of the pandemic, many of the cooperatives in region braved the threat and immediately acted in support to the Philippine Government's efforts to prevent the spread of the disease while ensuring availability of coop services to its members.
The people leading and working behind these cooperatives never ceases to amaze us, thank you for what you have done, and what you continue to do for your members, your community and our Country. You are once again making history of bravery, heroism, and resilience.
Kudos to the following cooperatives from the Province of Zamboanga del Sur:
Mantiliba Farmers Irrigators Association MPC (MANTILIBA-FIAMCO) who distributed face mask to members;
ZDS Government Officials, Employees and Community MPC (ZAMSURGOFEMCO-MPC) who gave 3 kilos rice, canned goods and noodles to members;
Midsalip Farmers MPC who donated chlorine and food to AFP personnel manning the check points thereat;
AimCoop who provided sanitation kit to frontliners in Aurora, ZDS;
JHCSCMPC who provided lunch to PNP and Barangay Tanod in San Miguel, Zamboanga del Sur;
Mantiliba Farmers Irrigators Association Multi-Purpose Cooperative (MANTILIBA-FIAMCO) who distributed face mask to members; and
Ramon Magsaysay Employees MPC (RAMEMCO) who donated P15,000.00 to RHU for goods, alcohol and sanitizers.
Kudos to the following cooperatives from the City of Zamboanga and Isabela:
Micro-Entrepreneurs MPC who distributed pamphlets / leaflets on COVID 19 prevention tips to members;
Mega group of Companies Zamboanga-Credit Cooperative (MGOCZCC) who gave emergency financial assistance to their members at P2,000.00 each for sustainance;
Zamboanga Edwin Andrews Airbase MPC who provided snacks to assigned frontliners and guards of the Zamboanga City Edwin Andrews Airbase;
Western Mindanao State University MPC who donated 25 sacks of rice to Brigada and Ebenezer (NGO) and allowed employees to work-at-home;
Layag-Layag Agri-Marine Producers Cooperative assisted in the implementation of barangay curfew in Talon-Talon, Zamboanga City;
Fatima Fishermen Cooperative gave sanitation kit to frontliners of Barangay Luuk Bungsod of Isabela City; and
ZC Kings Manpower and Janitorial Services Cooperative distributed rice to more or less 200 members.
Kudos to the following cooperatives in action from the Province of Zamboanga del Norte:
Tampilisan United Farmers MPC (TUFMPC) who gave P10,000.00 to LGU for relief distribution;
Labason MPC will provide rice and groceries to its members and donated P21,000.00 to LDRMMC for food assistance to the frontliners (7 days allocation for 40 persons);
Sindangan FACOMA Co mmunity MPC (Sindangan-FACOMA) who gave 25 sacks ,f rice to Sindangan LGU);
Siayan Officials and Employees MPC donated 100 pieces packed meals and Siayan Federation of Cooperatives also donated 200 pieces packed meals to AFP personnel manning the checkpoints in Siayan, Zamboanga del Norte; and
Zanorte MPC is continuously distributing essential goods among the AFP personnel manning the quarantine control point at Brgy. Punta, Sinaman, Obay, Gampis, Bucana and BIR Sicayab in Dipolog City.
Kudos to the following cooperatives in action from the Province of Zamboanga Sibugay:
Sibuguey Valley MPC (SIVAMPCO) for relief goods distribution to LGU Buug and Kumalarang, Zamboanga Sibugay Province; and
Goodyear ARB Cooperatives (GARBEMCO) is giving vitamins to its members;