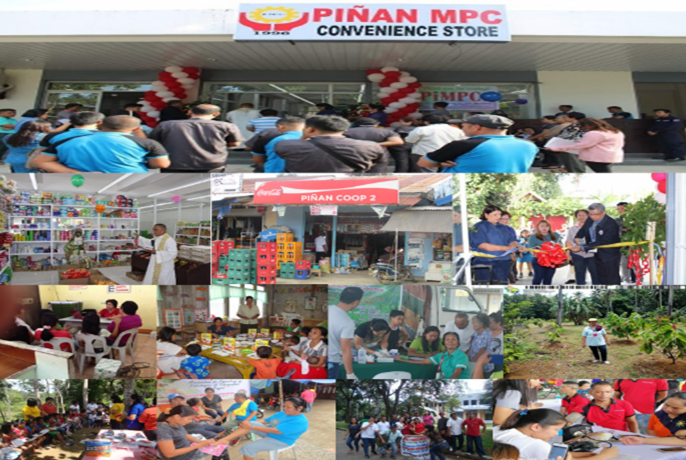 In 1996, Piñan Multi-Purpose Cooperative was founded by only 21 officials and employees of the Municipal Government of Piñan in the province of Zamboanga del Norte because some LGU employees were reluctant to join the cooperative at its inception. That time, many of its founding members even shy away from the burden of leading the cooperative and managing its business operation, but Ms. Merlie Regencia took the cudgel as the first chairperson with Mr. James Tagapan as Manager.
Armed with courage and optimism, they started selling consumer goods within the municipal compound using their meager capital of Four Thousand Pesos (Php4,000.00), which operation continue to thrive through diligence and prudence.
By the end of the year 2001, they were able to set up a capital for lending activity but were limited to micro-financing. Fortunately, they were able to secure loan assistance from QUEDANCOR, which was instrumental in expanding their credit facility to include livelihood assistance to enterprising coop members.
With such additional capital, coupled with proper management and good governance, coop members witnessed the progress of the business and experienced the quality of services rendered, which in turn aroused the interest of other individuals in the community, and opened for them the opportunity to expand their area of operation.
Into their 3rd year of operation, they were able to hire 1 employee, which gradually increased through the years as their business operation expanded. At present there are 39 regular employees, 1 part time and 2 probationary, 4 hollow block makers, and 50 on call catering staffs.
When they expanded their area of operation in the year 2000, they recorded increased in membership between 60 to 80 yearly. As of 2019 their total membership is 1,649 strong.
In 2004, Congresswoman Cecilia Jalosjos-Carreon upon the indorsement of Mayor Ricardo R. Sabandal, awarded the cooperative with One Million Pesos livelihood assistance which was used as capital for yet another business activity, the Concrete Hollow Block making inspired by the "ISANG MILYON, ISANG PRODUKTO" program of President Gloria Macapagal Arroyo.
By year 2006, the coop rented the building which housed the Piñan Multipurpose Cooperative from the local government of Piñan. It was then that they formally opened the Savings and Credit Program, the Mini-Hardware Store, Consumer Store including office supplies and equipment, and Catering Service to the community.
In 2011, they opened additional consumer stores to serve the increasing demand for basic and other commodities. Today, Piñan MPC can humbly claim to be the primary supplier of consumer goods, and other products in the municipality of Piñan.
With expanding business and membership, the cooperative maintained a good credit line with the Land Bank of the Philippines Dipolog City Lending Center, which at present extends up to Twenty (20) million pesos, and the United Coconut Planters Bank Cagayan de Oro Branch of up to Nine (9) Million Pesos.
Aside from regularly receiving their Patronage Refund (PR) and Interest on Share Capital (ISC), coop members also enjoy other benefits such as door-prices, groceries and t-shirt during assembly meetings, member's social benefits in the form of Death Aide and Life insurance Program, Higher rate of interest on deposits and Lower rate of interest on loans plus VIP treatment.
As their business continue to grow, they make sure to share their blessing, through the following Social Development Programs undertaken annually:
Medical Outreach, bloodletting, and other activities in partnership with the Local Government Unit of Pinan;
Scholarship Program by supporting 5 students per year with yearly allowance until they graduate from college. The graduates will be required to render service for 12 months period at a minimum wage pay. At present, the coop is supporting 33 scholars and 4 graduates;
Twenty Day Summer Job for 30 college students in coordination with the Department of Labor and Employment (DOLE). The coop will pay the students 60% of the required wage while the Department of Labor and Employment will pay for the remaining 45%.
Environment Protection Program such as:
Planting of Bamboo and Moringa Tree;
Adopt-a-River and Clean-up Program; and
Collection of plastic bottles in exchange of rice and groceries;
5.Feeding Program for Malnourished Children, Pre-schoolers and Elementary students;
6.Community Services for the Senior Citizens thru massage, haircut, manicure, pedicure and blood sugar; and
7. Support to Prison Ministry.
As an affiliate of the Philippine Federation of Credit Cooperative Union (PFCCO) Piñan MPC enjoys the services provided by the federation such as (1) continuous education, instrumental in furthering the knowledge and skills of the coop officers; and (2) software technology used for efficient operation of its businesses, which strengthened the coop's internal control measures.
After 24 years of tests and triumphs, their shared labor and cooperation made way for sustainable development in the community and was duly recognized by different award giving bodies through the following awards and recognition, namely:
2013 Most Supportive Cooperative in Youth Dev. Programs in Zanorte
2013 Top 10 Biggest Cooperative of Zamboanga Del Norte
2014 Best Cooperative as Capital Build-Up Generation
2014 Certificate of Appreciation-Christmas Lights
2014 Top 6 Biggest Cooperative of Zamboanga Del Norte
2014 Best in Community Involvement
2014 Most Outstanding Cooperative in The Province -Small Scale Category
2014 Top 10 Millionaires Coop in Zamboanga Del Norte
2015 Regional Gawad Parangal Award
The 24-year journey afford them the luxury of planning, funding and proudly erecting a 3-storey building out of the accumulated optional fund only. And on February 18, 2020, Director Ruben L. Cunanan cut the ribbon during the inauguration of the New Piñan MPC business edifice.
The Pinan Multi-Purpose Cooperative has served as the right hand of the Piñan Government in fulfilling its mandate of serving the public.  It has become the center of commerce in the municipality and is relentless in its endeavors to help uplift the lives of its members and the whole community.
Submitted by: CDS II Mark Christian Hamoy
Rewritten by: Sr. CDS Ellen M. Ando
Reviewed and Approved for posting by: RD Ruben L. Cunanan
Posted by: CDS II Raul T. Alcoran, Jr.