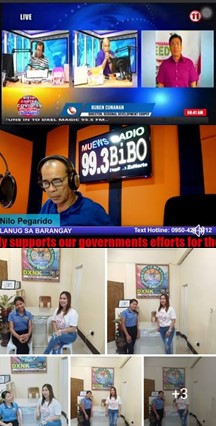 CDA Region 9 in partnership with the Muews Radio Bibo 99.3 FM station in Dapitan City, the DXNK Radyo Kahupayan 96.9 FM Station in Siayan, Zamboanga del Norte, the Radyo Natin 92.1 FM station in Sindangan, Zamboanga del Norte, the Energy FM 98.3 in Pagadian City, Zamboanga del Sur, the DXMG Radyo Bisdak 88.7 FM station in Ipil, Zamboanga Sibugay and TV 11 Teledyaryo, Zamboanga City, broadcasts with live streaming on facebook, the CDA Press Releases on the activities initiated by the cooperative sector and the Authority in support of the government's prevention and control efforts against Covid-19, titled "CDA and Cooperatives Nationwide Join Hands to Fight Covid-19", and "The Whole Picture: PH Co-ops in Forefront of Battle Against COVID-19 Pandemic".
These media partners individually cover an entire province including neighboring provinces as far as Lanao del Norte, Lanao del Sur, Maguindanao and Cotabato. With such extensive coverage, it is expected that all 785 registered cooperatives scattered within the provinces of Zamboanga del Sur, Zamboanga Sibugay and Zamboanga del Norte were sufficiently informed.
The said radio broadcast with live fb streaming was scheduled at least once a day starting April 16 up to April 30, 2020, to ensure widest possible dissemination.
Regional Director Ruben L. Cunanan continues to encourage cooperative leaders to be updated and abreast through available channels, such as radio, facebook and cda website.
By: Ellen M. Ando