The Cooperative Development Authority – Cordillera Administrative Region (CDA-CAR) headed by Regional Director Marieta P. Hwang have turned over financial assistance to various cooperatives in Abra Province last January 10, 2023.
            Financial assistance coming from the Cooperative Development Authority in the amount of P 200,000 through the Program "Financial Assistance to Micro and Small Cooperatives for Recovery and Alleviation" under CDA Memorandum Circular 2022-12. The amount was distributed to four (4) qualified cooperatives in the Province to aid them in their recovery from the earthquake incident which happened last July 27, 2022.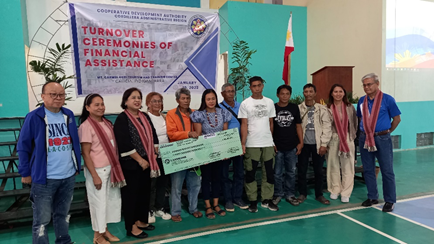 Another financial assistance coming from the cooperative sector of CAR, Region 1 and Region 3 in the amount of P608,807.44 was also distributed to 12 cooperatives for the same purpose.
            In attendance is Mr. Perfecto Cardenas, representative of Congresswoman Menchie"Ching" B. Bernos of Abra, who expressed their gratitude to the Authority in initiating, coordinating, and delivering food items last year coming from various cooperatives.   He further added that the needed financial assistance given to cooperatives would help in rebuilding their systems and operations for the benefit of its members.  He stressed that indeed the spirit of "bayanihan" is very much alive in the cooperative sector.
            Mrs. Jesusa Feir, representative of Governor Dominic B. Valera, also expressed their great appreciation on the in kind donations that have ease the burden on the need of basic necessities last year and the financial assistance that would help in the economic activities of the 12 cooperative-beneficiaries.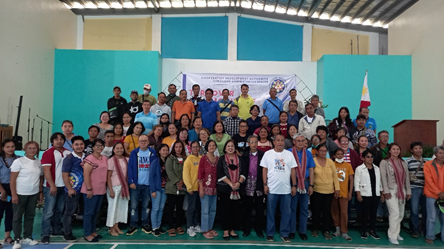 The 12 cooperative-beneficiaries were represented by the officers and staff.  Also present are the officers and CEO Engr. Irene Bringas of Abra Diocesan Teachers and Employees Multipurpose Cooperative who shared their facilities and manpower during the distribution of food relief last year.
            Donation of food items with an estimated amount of P 322,215 which was distributed last year and financial assistance with a total amount of P 608,807.44 came from the various cooperatives.  In summary, there are 38 cooperatives and 7 individual donors coming from CAR, 1 cooperative from Region 1, 1 cooperative from Region 2, and 125 cooperative donors from Region 3. Hauling logistics for the goods were provided by the Philippine Navy, Benguet Local Government Unit, and Baguio City Tourist Transport Cooperative. -FRC