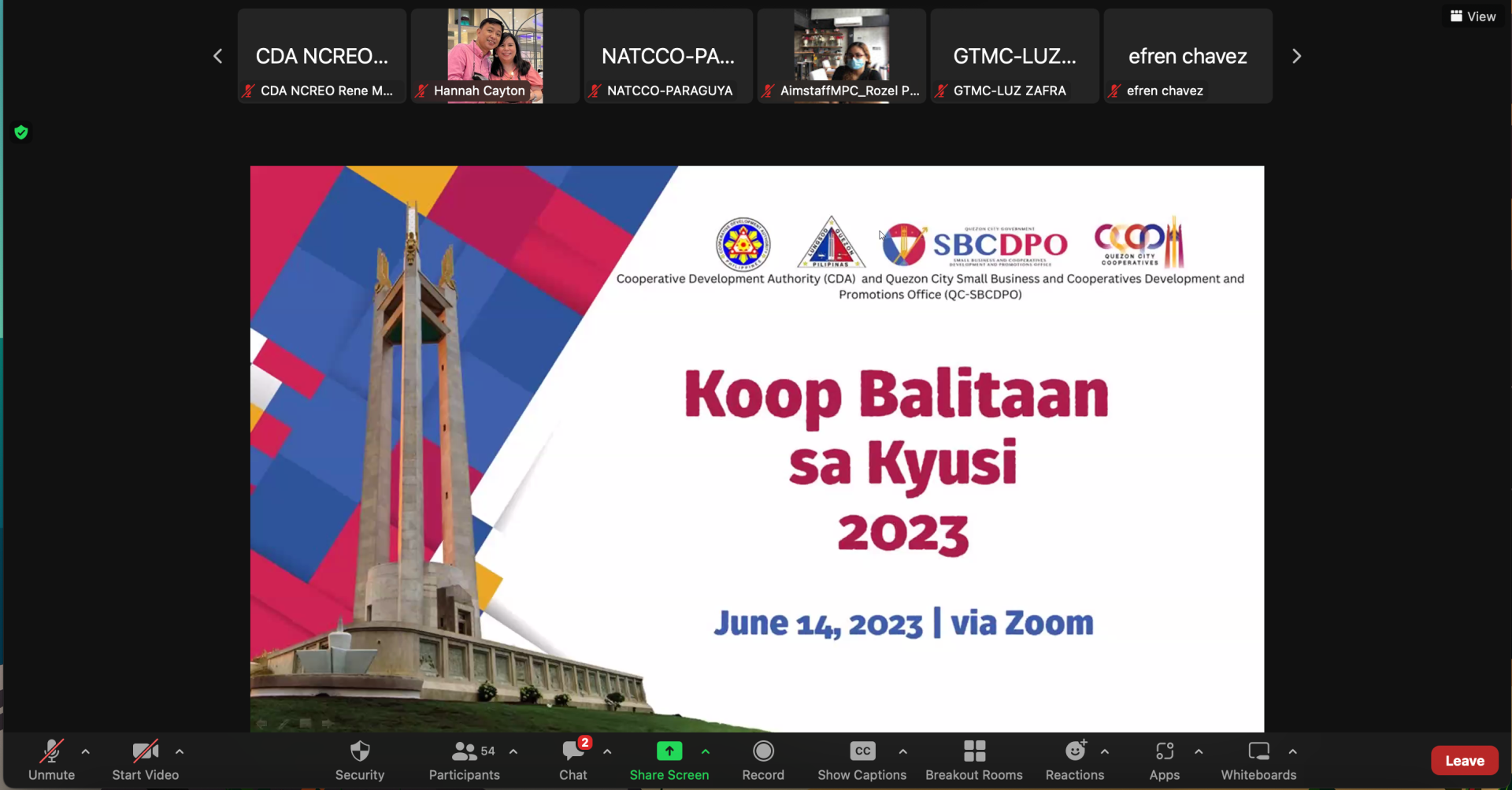 The Cooperative Development Authority – National Capital Region Extension Office (CDA- NCRO), in partnership with the Quezon City Small Business and Cooperatives Development Promotions Office (SBCDPO), launched the Koop-Balitaan sa Kyusi 2023 which aims to enlighten and update cooperatives on various issuances of the Authority and other regulatory agencies, thereby increasing the compliance of our Quezon City Cooperatives. The said program will be a regular activity that will be done on at least a quarterly basis.
Initially piloted on June 14, 2023 via zoom, at least ninety (90) participants from thirty-eight (38) cooperatives benefitted from this forum which focused on the discussion of the Memorandum Circular No. 2022-04 entitled "COOPERATIVES TO BECOME MEMBERS OF UNIONS, FEDERATIONS, INSURANCE COOPERATIVES OR COOPERATIVE BANKS." Representatives from different QC-based secondary and special type of cooperatives such as National Confederation of Cooperatives (NATCCO), Philippine Federation of Credit Cooperatives-National Capital Region (PFCCO-NCR), National Cooperative Marketing Federation (NCMF), Cooperative Health Management Federation, PHILAC Service Cooperative (Insurance Agency), Quezon City Union of Cooperatives, Union of Catholic Church Based Cooperative (UCC) and Union of Legitimate Service Contracting Cooperatives, presented their programs and activities to further encourage primary cooperatives to join secondary cooperatives.
The forum was graced by no other than the Regional Director of the CDA-NCRO, Mr. Pedro T. Defensor Jr., and Mr. Arnikan Abueva of the SBCDPO, who provided messages. To add excitement to the activity, the NCMF sponsored a raffle by providing bags of 5kg Mindoro Sinandomeng Rice to fifty (50) lucky participants.