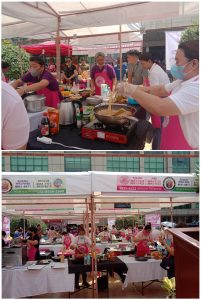 In line with the Women's month celebration, the Pasay Cooperative Development Office spearheaded the EMI's Pancit with a Twist Cook-off Showdown and Food Fair on March 30-31, 2023 at the City Hall's Flagpole Area. The said event was participated by Women in Cooperatives of Pasay City.  The project aims to discover the culinary talents of women who are involved in running a micro and small enterprises such as cooperatives that offer consumer products or into catering and canteen services.  This is also to give avenue for showcasing women's skills, competence and creativity in the food sector by creating authentic and unique dish using local produce and having Mayor Emi's special noodles as their main ingredient. 
Hon. Mayor Imelda Calixto-Rubiano graced the occasion and awarded the following cooperatives:
1st Prize – Jose Rizal Elementary School Teachers & employees MPC (Emi's Pancit with seafoods)
2nd Prize – Pasay Fish Dealers & Vendors MPC (Pancit Guisado con Spinach)
3rd Prize – Padre Zamora Elementary School MPC (Emi's Pancit Chicken with butter & toasted garlic)
The other nine participating (9) primary cooperatives were also given consolation prizes.