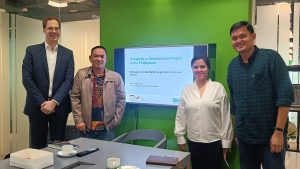 In the past, CDA worked with USAID and a Japanese organization to develop inspection and regulation guidelines as well as a uniform chart of accounts.  However, an examination handbook is not yet available.
On April 26, 2023, a meeting was held between representatives of the Cooperative Development Authority headed by Director Pedro T. Defensor, along with Ms. Ma. Flordeliza M. Chu, Senior CDS, and Mr. John Troy Sunga, CDS II, and the Deutsche Genossenschafts- und Raiffeisenverband (DGRV), represented by Mr. Marc-Andre, Project Director/Country Representative.
DGRV, which stands for "Deutscher Genossenschafts- und Raiffeisenverband e.V." (German Cooperative and Raiffeisen Confederation), is the national association for cooperatives in Germany. Its principal responsibility is to promote and advance the growth of cooperatives and other social enterprises both in Germany and internationally.
During the meeting, the conversation centered on the regulation of cooperatives, with a specific focus on Capacity building for CDA officers which includes in-depth exchange on supervisory practice, developing a manual for cooperative examination, and supporting the process of amending Philippine cooperative laws through technical seminars, consultations, and incorporating German best practices. They also discussed exploring opportunities for exchange programs that focus on risk-based supervision, with opportunities to transfer expertise through workshops and lectures, as well as visiting Germany for an immersion program to observe their inspection and examination processes. Additionally, they talked about formulating standards for cooperative federations and unions to obtain deputization licenses, and jointly creating a virtual ecosystem for cooperatives which includes a database for cooperatives with the most important information and e-learning modules.
Both organizations are committed to working together to achieve these objectives and support the expansion and development of the cooperative sector in the Philippines. By concentrating on capacity training, monitoring and evaluation, digital technologies, and partnership building, they want to foster an atmosphere that is more conducive to cooperatives flourishing and making a positive impact on the nation's social and economic growth.
Overall, the discussion was fruitful and demonstrated the dedication of the CDA and DGRV to supporting the growth of the cooperative industry in the Philippines. The meeting's outputs are essential for encouraging good governance, accountability, and openness in the cooperative sector, assuring its sustainability and expansion. Plans for the years 2024 to 2026 were also discussed, illustrating the long-term dedication of both groups to the Philippine Cooperative Movement.