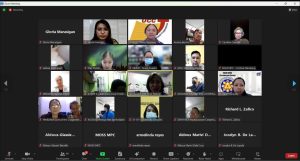 As part of the Cooperative Month Celebration 2023 and in view of the 5th Cooperative principle, "Education, Training and Information", the Quezon City Cooperative Development Council (QCCoopDC) and the Quezon City Small Business and Cooperatives Development and Promotion Office (QC-SBCDPO), in coordination with the Cooperative Development Authority – National Capital Region Extension Office (CDA-NCREO), conducted Free 16-Hour Virtual Trainings for Small Cooperatives in Quezon City.
Fundamentals of Cooperatives was conducted on October 23-24, 2023 with 30 participants from 13 cooperatives. Engr. Danilo C. Llena from the Quezon City Union of Cooperatives (QCUC) served as the Resource Speaker. The participants were refreshed on their knowledge on the elemental thoughts and practices, important underpinnings as well as the plans, programs and policies of their respective cooperatives.
Meanwhile, the Governance and Management of Cooperatives was conducted on October 25-26, 2023 and was attended by 20 cooperatives with 33 participants. The Resource Speakers on the said training were Ms. Ma. Theresa P. Pacatang and Fr. Romeo V. De Castro from the Union of Catholic Church Based Cooperative (UCC). The topics that were discussed during the 2-day seminar are the principles and practices of good governance, board-manager relationship, cooperative structure, financial management, human resources management and performance and measurement among others.