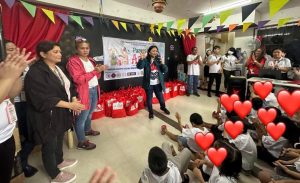 On August 31, 2023, the Taguig Cooperative Development Office led the conduct of the "Koop Pamasko Sa Agosto" for the Sixty-Eight (68) Taguig Lingap Center (TLC) Residents. The TLC is a temporary residential care facility being administered by the City Social Welfare and Development Office. It serves as a safe haven for children in need of special protection, children at risk, foundlings, abused women, elderly, and other adults in crisis.
"Koop Pamasko Sa Agosto" is a follow-up to the "Coop Easter Giving and Sharing" which was initiated also by the Taguig CDO on April 12, 2023. Involved in this activity are ten donor cooperatives which include the Union of Defense and Public Safety Cooperatives (UDPSC), Cooperative Union of Taguig and Pateros (COUNTPA), Philippine Army Finance Center Producers Integrated Cooperative (PAFCPIC), Department of Energy Employees MPC (DOE-MPC), Excellent People's Multi-Purpose Cooperative, Top Form Multi-Purpose Cooperative, Western Bicutan Stallholders and Vendors Multi-Purpose Cooperative, PNCGEPAI Credit and Savings Cooperative, Marine Corps Multi-Purpose Cooperative, and Monocrete Employees Multipurpose Cooperative (MEMPCO). This act of sharing their resources is a manifestation of the Cooperative Social Responsibility advocacy in a more meaningful way. Donations such as hygiene and dental kits, alcohol, slippers, white shirts, bath towels, bath soap, shampoo, sanitary napkins, diapers and milk for infants, vitamins and biscuits were distributed to the residents of the Taguig Lingap Center at Sitio Imelda Covered Court, Upper Bicutan, Taguig City.
Present during the said activity were representatives of the donor cooperatives, Taguig CDO staff headed by Ms. Lecira V. Juarez, and Taguig assigned CDS II, Marilou M. Valencia.