"Coming together is a beginning, staying together is progress, and working together is success." – Henry Ford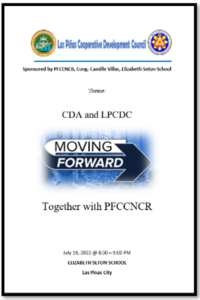 Spearheaded by LPCDC newly elected officers, Nancy Felipe, chairperson with the guidance of Sir. Sergio "Jhun" Herrero Jr., CDA District Head for South Sector and Sir. Rene "Renz" Mendoza, Field Cooperatives Development Specialist assigned in Las Pinas, officers of various Las Pinas Cooperatives sat down together to know some important MCs of CDA and its importance for the growth and continuous operation of all cooperatives.
This special event was sponsored by the Philippine Federation of Credit Cooperatives NCR headed by its Vice Chairman – Rommel, General Manager – Eduardo Bato and training officer – Malou Cabuntas. They welcomed all cooperatives to be part of the Federation's growing membership. They promised to provide necessary and mandatory training for equipping all cooperatives to be more productive and successful in the years to come.
LPCDC strengthened its partnership with the office of Cong. Camille Villar. She gave her support to the said event and sent her staff to know more about the value of creating cooperatives in various local communities and organizations for improving the economic situation in our city.
Also, LPCDC recognized the unwavering support of Elizabeth Seton School for utilizing its facilities free of charge for a successful one-day orientation.
Indeed, without this partnership, success will not be achieved.