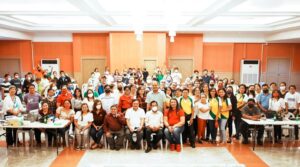 The Mandaluyong City Cooperative Development Council (MCCDC), in coordination with the Mandaluyong Cooperative Development Office (CDO), Cooperative Union of Mandaluyong City (CUMC), and Cooperative Development Authority – NCR conducted Koopbalitaan: Orientation on Credit Surety Fund during the Mandaluyong City CDC Quarterly Assembly meeting, which was held last September 27, 2022 at the Kaban ng Hiyas Auditorium, Mandaluyong City Hall Compound, Mandaluyong City.
The CSF orientation was presented and discussed by Sr. CDS Sergio E. Herrero, Jr. of the CDA NCR, while the team CSF of the CDA Head Office, represented by Ms. Josie Villaver and Ms. Leonie Memoracion, and team CSF of the CDA-NCR, CDS Marietta Bagundang, were ever ready to address and answer questions during the open forum.
The activity was attended by 40 cooperatives with 140 participants, which was graced by the beloved Mayor of Mandaluyong City, Hon. Ben. Abalos who gave an inspirational message.  Also in attendance were the Chairperson of the Committee of Cooperatives, together with other Councilors, namely, Councilor Leslie Cruz, Councilor Benjie Abalos, Councilor Mariz Manalo, Councilor Regie Antiojo, and Councilor Elton Yap, who all gave inspirational messages.
Raffle prizes were given to lucky winners and token of appreciation were distributed to all who have attended the event, thru the generosity and kindness of the Mandaluyong Multi-Purpose Cooperative. It was indeed a very fruitful and meaningful endeavor to all the cooperatives in the City of Mandaluyong.