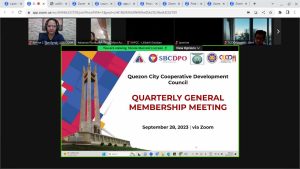 On September 28, 2023, at around 9:00 am, the Quezon City Cooperative Development Council headed by its Chairperson, Ms. Annabelle S. Espino, conducted its 3rd Quarterly General Membership Meeting via Zoom. This meaningful and fruitful activity was attended by sixty-one (61) representatives from twenty-nine (29) cooperatives, four (4) government offices and two (2) private entities.
Prior to the discussion of the approved agenda, the Head of the Quezon City Small Business and Cooperatives Development and Promotions Office (QC-SBCDPO), Ms. Mona Celine Marie V. Yap, and Mr.  Enrique C. Paynor, Jr., Chief of Staff from the Office Councilor Candy Medina, gave their messages of support. The highlights of the meeting include the finalization of the Revised Manual of Operation of the QC CDC, and the presentation of the proposed amendments to the QC Ordinance No. SP-2098, s. 2011 (An Ordinance Creating the Quezon City Cooperative Development Council and for other Related Purposes).  These documents were revisited to ensure their conformity with the provisions of the Memorandum Circular 2022-03 (Guidelines on the Structure, Organization and Operation of Cooperative Development Councils (CDCs).  Various activities in celebration of the Cooperative Month were likewise cascaded to the members of the council which include a Trade Fair, physical and online Mandatory Trainings for Micro and Small Cooperatives, Orientation Seminar on SCA and PFRF, Labor Service Cluster Job Fair, and Bowling Tournament.
 The next part of the activity is the regular Koopbalitaan sa Kyusi which focuses on discussion of different business opportunities for cooperatives and its members.  Representatives from SariSuki, Beep (AF Payments, Inc.), and CLIMBS Life and General Insurance Cooperative, provided insights and suggestions on how to have additional income through their short but concise presentation about their products and services.