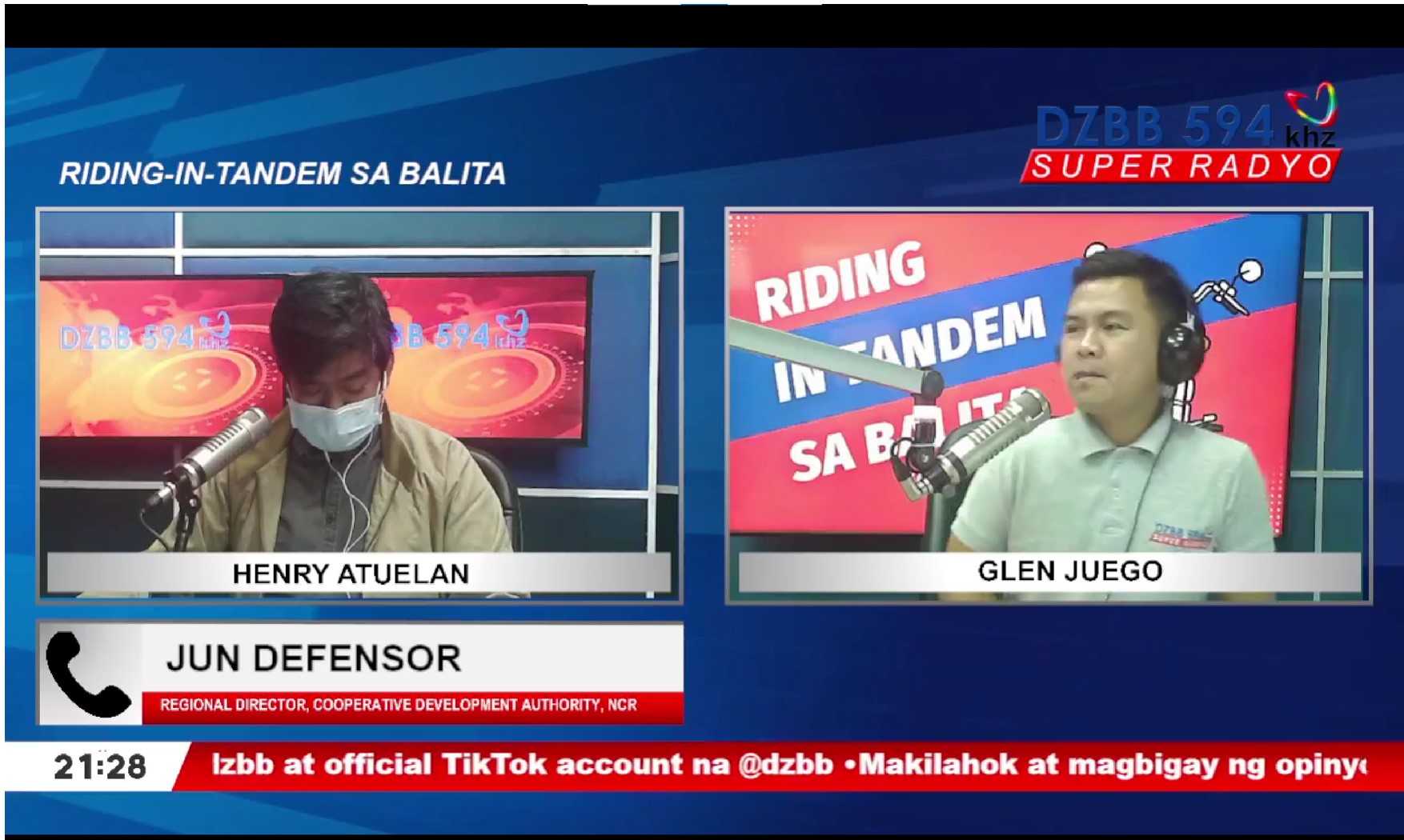 On February 2, 2023, CDA NCR Regional Director Pedro T. Defensor Jr. was interviewed on DZBB 594 Super Radyo program "Riding- in-Tandem Sa Balita", hosted by Glen Juego and Henry Atuelan.
Earlier that day Director Defensor attended a meeting at the Land Transportation Franchising and Regulatory Board with Board Member Engr. Riza Marie Paches and other officials together with several representatives from the cooperative transport sector. The meeting revolved on issues regarding the Vehicle Modernization Program of the government, problems encountered on the implementation of the program, problems on colorum units, those who did not comply but still enjoying the benefits of the franchise.
Director Defensor explained that deadline for the consolidation of all public transport vehicles affected by this program will be at the end of the March 2023, after which all individual franchises will expire and all franchises to be issued by LTFRB will now be owned by cooperatives or corporations, those who will not avail the consolidation of units will no longer be allowed to ply their routes. 
Host Glen Juego posted a question on the reason why jeepney operators and drivers are still reluctant in complying with program. Director Defensor replied that he believes that operators and drivers are adamant due to several reasons.  Some think that the implementation will not push through, that operators are at a loss if they surrender their franchises. He also explained that one of the objectives of this program is to protect the environment from pollutants coming from these old vehicles. He further talked about the benefits of being a member of a cooperative, that in being a member of a cooperative you become an owner of the business where you will enjoy all its benefits and services. Another benefit a member of a transport cooperative member is that when an individual would no longer wish to become a driver, he can avail the programs of TESDA and acquire new skills that can be another source of his income.  Moreover, if he wishes to become an entrepreneur, he can avail the Tupad program of DOLE where he can have start up capital of his business.
Also discussed during the meeting with LTFRB officials is how to resolve problems within the cooperatives themselves more particularly on the leadership issues. CDA and LTFRB came into an agreement wherein if a case arises on this particular issue and was not resolved within the cooperative itself, CDA will inform LTFRB where the latter may suspend the franchise of the cooperative.