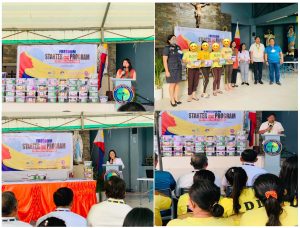 JUNE 27, 2023 | The City of Taguig and its Cooperative Development Office, in partnership with ACDI Multipurpose Cooperative (Program Donor) and BJMP Taguig City Jail Female Dormitory (Program Implementor), successfully launched the "𝐓𝐚𝐠𝐮𝐢𝐠 𝐂𝐢𝐭𝐲 𝐅𝐑𝐄𝐄𝐃𝐎𝐌 STARTER 𝐏𝐑𝐎𝐉𝐄𝐂𝐓" on 27 June 2023 at the Taguig City Jail, Female Dormitory, Activity Area. The program was highlighted with the signing of the Memorandum of Understanding of the City of Taguig, the ACDI Multi-Purpose Cooperative, and the BJMP Taguig City Female Dormitory foe the TC Freedom Starter Kit and the Ceremonial Turn-Over of the Freedom Starter Kits to Women PDLs.
The 𝐅𝐑𝐄𝐄𝐃𝐎𝐌 STARTER 𝐏𝐑𝐎𝐉𝐄𝐂𝐓, is part of the RENEW Program (Reform, Educate, Nurture, Empower Women) Female Persons Deprived of Liberty (PDLs) of Taguig in support of their smooth reintegration into society. While the City of Taguig provides them the opportunity to undertake skills and livelihood training during their residency, the Freedom Starter Kits of various kinds (Massage Therapy Kit, Manicure and Pedicure Kit, Baking Kit, Hair Care Kit, Hydroponic Kit and Rhinestone Art Kit) will be handed to them after serving their term to start life anew equipped already with skills and livelihood support. Taguig City Mayor Lani Cayetano addressed the Launching Program with her message of Hope and Inspiration for the Female PDLs, stating that "each starter kit from ACDI Multi-Purpose Cooperative in our City of Taguig comes with trust and a deep hope and prayers for a changed and transformed woman- recipient as you start a new life. This should be valued as priceless tangibles and gifts in your journey to a new beginning."
The TC FREEDOM STARTER PROJECT successful launching was graced by our City Mayor Ate Lani Cayetano and Hon. City Councilor Atty. Joy Panga, from ACDI MPC Vice Chairman BGen. Manny Natividad, President BGen. Augusto Gaite, and other officers, Taguig City Coop Development Council Chairman Col. Felino Natividad, from the city's cooperative unions, Cooperative Union of Taguig & Pateros and Union of Defense and Public Safety Cooperatives, other Heads of the City of Taguig and the Cooperative Development Office team.
By: Taguig CDO