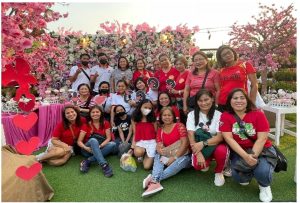 The CDS II assigned in the city attended and participated in the opening of Love at The Park in TLC Village, Lakeshore Laguna Lake Highway, Barangay Lower Bicutan, Taguig City, on a holiday 24th of February, 2023.  She was joined by the very dedicated and committed staff of Taguig CDO OIC, Ms. Lecira V. Juarez (Ms. Janeth, Ms. Belle, Ms. Jo, Ms. Bree, Jay-R, Carlo, Mhon, kuya Ranch) and the ever supportive Ms. Imee Heraldo.
It was attended by so many people including those from the Cooperative sector.
Everyone enjoyed the different park features like the magnificent art murals, Wall of Roses, a beautiful heart tunnel, Instagram-worthy sea of pink and red dandelions, an Aqua Luna Lights, free Caricature, sounds show and a lot more.